Research & Development
To continue to create products that appeal to consumers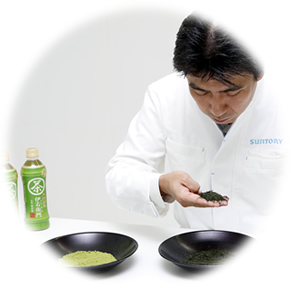 The driving force behind the creation of products popular with consumers is research and development.
Research and development is the life source of a manufacturer.
This concept can be described as the starting point of the Suntory Group, dating back to its very foundation. Positioning"good taste" backed by safety and reliability at the center of research and development, we have established specialized sections in Japan and overseas, and work daily on the development of highly value-added products, including content development, ingredients research, and processing technologies.
Ongoing research and development throughout our long history has made it possible for us to produce a wide variety of food for specified health uses (FOSHU) whose high quality and lasting popularity are strong evidence of the priority we place on realizing both efficacy for health and great taste.
To deliver high quality products to our customers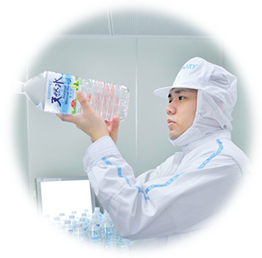 Another important mission for us is the delivery of safe and reliable products to our customers. To accomplish this we practice thorough quality assurance not only in manufacturing and sales, but in all processes with strict individual standards for safety management that place a particular emphasis on water, ingredients, and packaging to enable multilateral evaluation at each stage based on cutting-edge testing and analytical technologies to ensure a safety system that meets and exceeds international standards.
The challenge of introducing our brands globally to offer diverse "good taste" around the world
To offer diverse "good taste" around the world.
The brands, technologies and know-how of our group companies across the world are being used to their full potential to develop new products that meet the needs of various countries and regions.
Our challenge is to offer brands that can be trusted by consumers around the world.
Expanding through brand
Expanding through technology