Aiming to Become the "Most Beloved Beer" of Our Customers Through an "Overwhelmingly Delicious Taste Experience"
With The Premium Malt's, Suntory Beer's flagship brand, we have continued to strive relentlessly toward great flavor with the goal of creating the world's finest pilsner beer. As our customers' lives change significantly, we have also begun suggesting a new way for people to bring a change of pace to everyday life by spending a little quality time with a premium beer.
We will continue to evolve in touch with the times as we work to revitalize the beer market.
Suntory's Choice to Brew Using 100% Natural Water
Suntory insists on using only 100% natural underground water for our beer, happoshu, and the new category of beer-flavored beverages produced in Japan.
Since 1963, when Suntory first began making beer, we have strived for using quality water, which makes up for about 90% of the raw materials. Accordingly, we build our plants in locations with abundant access to ground water and take advantage of our excellent balance of minerals and ions when we produce our beverages. The water comes from deep wells and has been filtered through many rock layers over time, making the water clear and of reliable quality.
Starting in 2011, we attached the "Made in Natural Water Beer Plants" logo to all of our beer products and beer-flavored beverages sold in Japan. We express our dedication to water quality to our consumers.
Our Commitment to Creating Beverages That Add Value
In 1986, Suntory released the 100% barley Malt's beer and in 1994 we established the happoshu market by introducing Hop's Draft. We continue to introduce value into new categories, including Jokki-nama, which uses corn as its base, Kinmugi, with its barley carefully selected for flavor, and Kinmugi <75% Less Sugar*1>. In 2015, we released The Premium Malt's Master's Dream in the super premium class of beers and The Malt's as an "umami" beer. In March 2016, we released The Premium Malt's Kaoru Ale as a new concept of ale beer.
Suntory has also actively developed new non-alcoholic beer-flavored beverages in response to the rising consumer demand. In August 2010, we released the world's first*2 non-alcoholic, no-carbohydrate, zero-calorie*3 beer-flavored beverage, All-Free. All-Free's "beer-like flavor" and "clean aftertaste" have been highly regarded.
In 2019, we introduced KARADA-WO-OMOU All-Free,
the brand's first product with function claims.
We will continue our unceasing efforts in our R&D to deliver new value to our customers.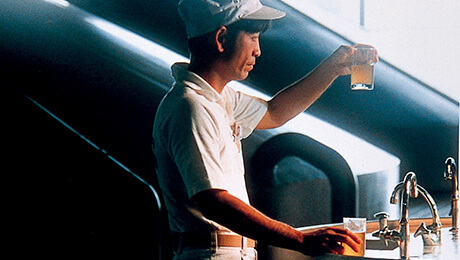 *1 Compared to Suntory's Kinmugi
*2 In the beer-flavored beverages category, according to a survey performed by Suntory
*3 In accordance with nutrition labeling standards