To realize coexistence with society and nature and become a truly valuable company, the Suntory Group is working toward the realization of our corporate philosophy "To Create Harmony with People and Nature" by developing a variety of activities together with stakeholders.
Suntory Group Sustainability Vision
The Suntory Group's vision on sustainability
As a multifaceted consumer-oriented company, we are dedicated to realizing our mission "To Create Harmony with People and Nature." This means promoting a sustainable society where nourishing and enriching people's lives and conserving the natural environment go hand in hand. To realize this ambition, we deeply respect the blessings of nature on which our products rely, and engage in a range of corporate social responsibility activities to promote responsible environmental management that ensures sustainable use of natural resources and a healthy natural water cycle. In addition to delivering safe, high-quality products and services that consumers love, we continue to look for opportunities across our entire value chain to contribute to a sustainable society.
Our world faces a wide variety of environmental and social issues, such as water shortages, loss of biodiversity, climate change, pollution and increasing waste, poverty, human rights violations, and more. The Sustainable Development Goals (SDGs)* adopted at the 2015 UN Summit call on businesses to address social issues and to promote a sustainable society. While the world works to solve these problems together, we will continue to tackle these issues as we expand our global business based on our vision "Growing for Good".
*

Sustainable Development Goals are targets adopted in a UN Summit in September 2015 that the whole world should tackle by 2030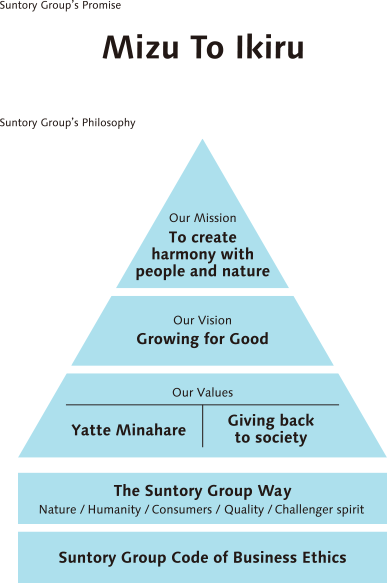 Important sustainability themes for the Suntory Group
We used the SDGs to identify priority areas for future activities. With the cooperation of external consultants and supported by reports from organizations such as the World Economic Forum, we analyzed important issues at our company. We assessed their importance both for stakeholders and for the Suntory Group, and identified four high priority initiatives: Target 6 - Water and Sanitation, Target 3 - Health and Welfare, Target 12 - Responsible Production and Consumption, and Target 13 - Climate Action. In addition, with the recognition that water is the most important area for our business as a "Mizu To Ikiru" company, we will work across the Group to protect water. In addition to environmental conservation, Suntory Group emphasizes "enriching people's lives," which includes providing goods and services to customers and promoting innovation that contribute to a society in which we coexist "To Create Harmony with People and Nature."
The Suntory Group's 7 sustainability themes
Theme

Commitment

Related SDGs

Water


Based on Suntory's "Sustainable Water Philosophy," we as a group promote activities to preserve water including understanding of the water cycle, reduction, recycling and wastewater management, watershed conservation, and work with external stakeholders to achieve water sustainability.

[Initiative]

Suntory Group's Sustainable Water Philosophy

CO2


In order to promote a decarbonized society and to address climate change, we reduce carbon emissions through the introduction of the latest energy-saving technologies and the use of renewable energy at our facilities as well as in our operations throughout the value chain.

[Initiative]

Raw ingredients


With regard to agricultural products and other raw ingredients that are essential to our products, we cooperate with business partners across the supply chain, identify social and environmental issues, and promote sustainability initiatives that enable us to grow together, thereby enriching our communities.

[Initiative]

Containers and packaging


We consider the environment throughout the product life cycle—from product design, packaging materials, and containers, to transportation and recycling after consumption—and work to achieve a circular economy.

[Initiative]

Health


To enrich society, the Suntory Group promotes activities under the following three themes:

Alcohol products

We contribute to a richer society through beer, wine and spirits, and other alcohol products that bring enjoyment to people, inspire human connections, and play a role in the celebrations and events that mark the milestones of their lives. We are committed to promoting the moderate consumption of our products and encouraging responsible choices about alcohol. We are a leader in working individually and in partnership with industry peers and other partners to reduce harmful consumption of alcohol, including overconsumption, drunk driving, underage drinking, and drinking during and after pregnancy, based on our Drink Smart alcohol responsibility program. We also offer non-alcoholic and low-alcohol products to meet customer preferences.

Soft drinks

In addition to leveraging "natural and healthy" beverage development technologies cultivated in Japan, we address health and wellness concerns through our beverages and make our consumers' lives more natural, healthy, convenient, and rich.

Health foods

In order to contribute to a longer active life, we research the relationship between "the power of nature" and health to support people's health, beauty, and wellness through daily dietary habits.

[Initiative]

Human Rights


Group Employees

In addition to promoting a safe work environment, we promote health management and provide growth opportunities with a long-term perspective. In addition to respect for people and prevention of harassment and other related issues, we promote diversity (including of race, religion, gender, sexual orientation, age, nationality, language, and disability) and inclusion (accepting and valuing the differences between each individual as an important part of who they are). We also ensure labor safety to promote an environment that is easy to work in and full of the "Yatte Minahare" spirit.

Value chain

In order to contribute to the well-being of all people involved in the value chain, we carefully review and understand our impact on human rights, and cooperate with external stakeholders including suppliers to conduct activities for the protection of human rights.

[Initiative]

To Create Harmony with Employees

Enriching life


We provide products and services that enrich peoples' minds and bodies, promote innovation and create new value, and contribute to the creation of a more "human" society. Based on our founding spirit "Giving Back to Society," we address social issues and contribute to enhancing social welfare, including the arts, culture, science, sports, and next generation education. In the regions where we do business, we value dialogue with the local community, and strive to help address local issues to enrich peoples' lives.

[Initiative]

To Create Harmony with Society Cultural and Social Contribution
Promotion Organization
With regard to the above sustainability themes and led by the Global Sustainability Committee, we promote global activities, formulate sustainability strategies, and monitor the progress on each project in coordination with the Board of Directors.
Suntory Group's Environmental Management Promotion Organization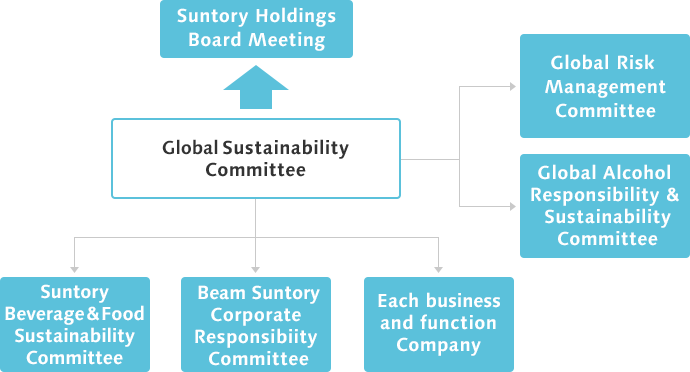 Relations with Stakeholders
The Suntory Group pursues its business activities amid a range of connections with a variety of stakeholders. To continue being a company that contributes to the realization of a sustainable society, we will make clear our responsibilities to our stakeholders and communicate with them in various ways. We aim to incorporate feedback we receive and social needs into our corporate activities and continuously work to build deeply trusting and collaborative relationships with them.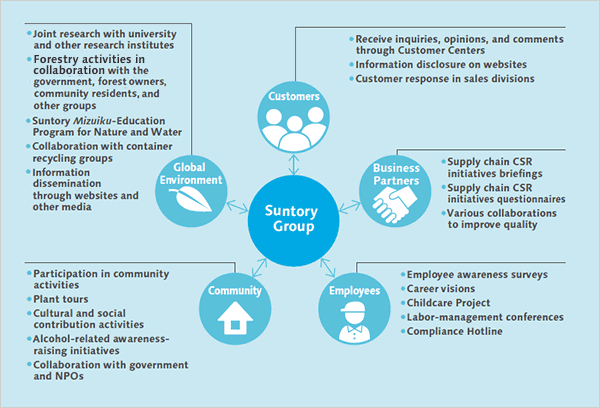 Four Sustainability Initiatives
In order to more fully realize social responsibility in a way unique to the Suntory Group with philosophy of Sustainability as a foundation, we are promoting activities based on ISO26000 since 2011. We grasped the current situation and shared identified issues, and engaged our stakeholders based on each of the seven priority initiatives.
The expectations and the level of interest of stakeholders is high in regards to global social issues and business challenges based on these results. We have also gathered our efforts into four initiatives by organizing challenges to realize our To Create Harmony with People and Nature corporate philosophy after we have identified challenges with an especially high-priority for the Suntory Group. At the Suntory Group, we continue to innovate and endeavor to be a Growing for Good company that is realizing a sustainable society as we expand globally while fulfilling our social responsibility by engaging in activities based on our corporate philosophy.
(1) To Create Harmony with Customers and Partners: Products and Services
To deliver joy to the customers with the highest-quality of products and services
Suntory Group incorporates opinion of its customers in wide range of corporate activities while maintaining and improving quality throughout the entire value chain based on the Suntory Quality Policy of "All for the Quality". We also actively engage in CSR procurement while tackling alcohol-related problems.
(2) To Create Harmony with Nature: Environment
To preserve limited water and resources for future generation
We have established "Suntory Environmental Vision toward 2050" to pass down sustainable and rich natural environment to the next generation and will promote environmental management as a Group through two axes of "Preserving and Regenerating the Natural Environment" and "Reducing Environmental Impact".
(3) To Create Harmony with Society: Cultural and Social Contribution
To build a bright future with initiatives rooted in the region
Based on the founding spirit of "Sharing the Profit with Society", we engage in wide range of cultural and social contribution activities that best suit the time, centered in the fields of arts and culture, sports and social welfare such as developing the next generation, supporting disaster affected areas and contributing to local communities.
(4) To Create Harmony with Employees: Diversity Management
To nurture employees with bigger global dreams
Suntory Group aims for human resource development rising to the challenge to create new values with diversity management as its basic policy and to create a working environment filled with creativity where all employees can exert their full potential.
Joining the United Nations Global Compact
The Suntory Group supports international standards such as the Universal Declaration of Human Rights as well as the United Nations Guiding Principles on Business and Human Rights, and it has signed the United Nations Global Compact (10 Principles below), which contain universal principles for human rights, labor, and the environment advocated by the United Nations.
Principle 1:

Businesses should support and respect the protection of internationally proclaimed human rights; and

Principle 2:

make sure that they are not complicit in human rights abuses.

3.

Businesses should uphold the freedom of association and the effective recognition of the right to collective bargaining;

4.

the elimination of all forms of forced and compulsory labour;

5.

the effective abolition of child labour; and

6.

the elimination of discrimination in respect of employment and occupation.

7.

Businesses should support a precautionary approach to environmental challenges;

8.

undertake initiatives to promote greater environmental responsibility; and

9.

encourage the development and diffusion of environmentally friendly technologies.

10.

Businesses should work against corruption in all its forms, including extortion and bribery.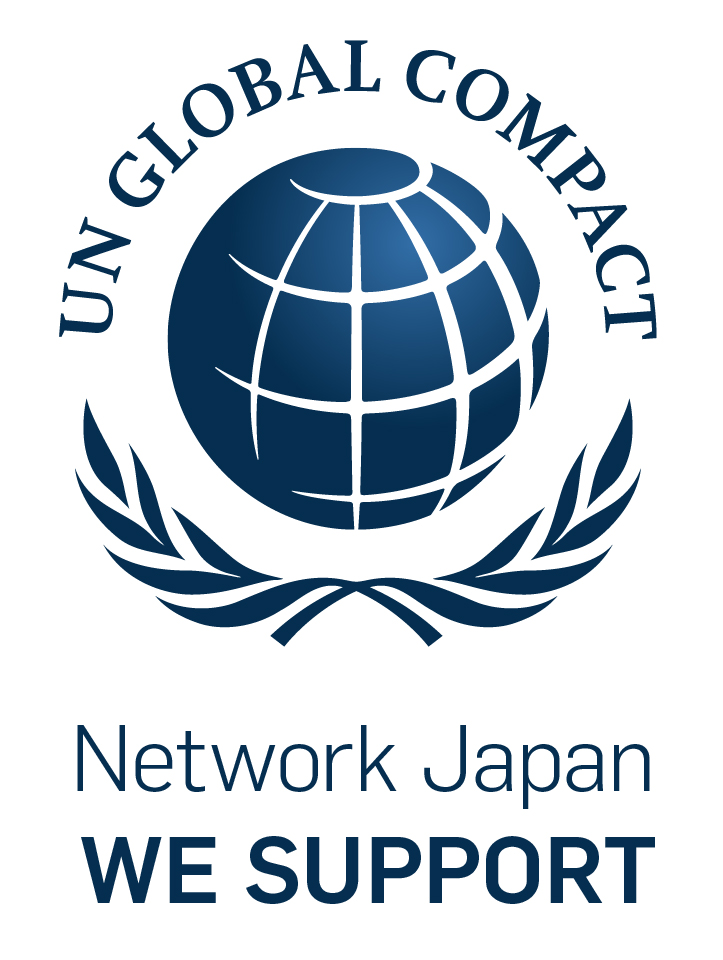 In 2017, we participated in the Human Rights Due Diligence Working Group of the Global Compact Network Japan and advanced our knowledge about the international trends of labor practices. We believe complying to international laws and fulfilling our social responsibility is the mission of the Suntory Group in the promotion of sustainable business globally now and into the future.