Contributing to the realization of creating harmony with people and nature through giving back to society
We aim "To Create Harmony with People and Nature" for society.
The mission of the Suntory Group is to contribute to building society sustainable over the long term by working toward relationships in which both parties benefit without sacrificing the prosperous life culture of people or preservation of the natural environment.
The Suntory Group is pouring its strength into a wide range of social contribution activities.
The foundation for our philosophy to value these social contribution activities is rooted in the "Giving Back to Society" spirit actively passed down since our founding.
Founder Shinjiro Torii was almost religious in advocating this management philosophy. His words taught us not only to reinvest in our businesses from our earnings but also ensure this revenue contributes to providing services to clients and business partners as well as to society.
As found in the basis of the "good for everyone" philosophy held by Omi merchants to conduct business good for the seller, the buyer, and for the people, Shinjiro Torii also always wanted to contribute to society.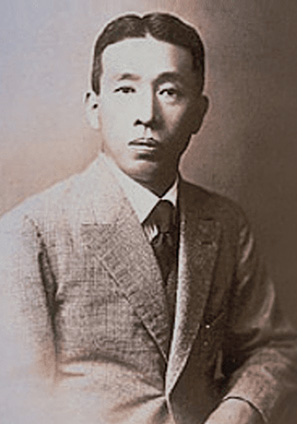 What only "Mizu To Ikiru" Suntory can do
This founding spirit has been passed down without fail to today. It is alive in our arts and culture initiatives represented by Suntory Museum of Art and Suntory Hall as well as in support to the Social Welfare Organization Hojukai and other social contribution activities.
As part of these efforts, we are especially active in water sustainability incorporated into our environmental activities conducted under Suntory Follow Your Nature.
Water is the most important management resource for the Suntory Group as well as a vital resource shared by everyone around the world.
That is why we are grateful for the bounty nature has given us as a source for our products. To ensure a healthy natural ecosystem giving us these blessings from nature, we will always endeavor in a variety of initiatives, including the Natural Water Sanctuary projects, Suntory Mizuiku - Natural Water Education Program and our bird conservation activities.
As a "Mizu To Ikiru" company, we will aim to stand as a corporate group which protects the forests that cultivate water and quenches the needs of society as water quenches the thirst of all living things.
Our hope to realize a society sustainable over the long term is the same as the passion shown by our founder.

Suntory Group Philosophy
"Mizu To Ikiru" is our corporate brand promise. It is not just a tagline, but an open door, welcoming employees, consumers, and external stakeholders to understand who we are and what we believe in. We strive to preserve the environment that nurtures and protects precious water vital to the earth while continuing to challenge ourselves for the creation of new value as a company that enriches society.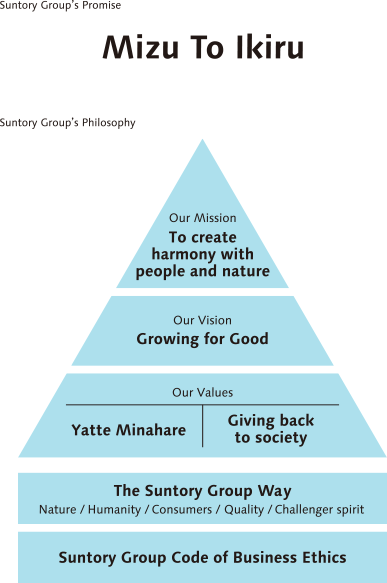 Our Mission
To Create Harmony with People and Nature
Our mission is the fundamental reason for Suntory to exist, and it guides and inspires our organization. We will focus on the needs of our customers. We deeply respect nature and will strive to protect the environment. By forging greater bonds of appreciation between people and the world around them, we will seek to promote richer, more fulfilling lives. This is the mission of the Suntory Group.
Our Vision
Growing for Good
Our Vision describes what Suntory wants to achieve. It applies both to the company as a whole, and to each individual within the company. The bigger we are, the greater our positive impact can be. We will grow to become a company that always benefits its community. By doing good things for society and the environment, we will help make a better, brighter future. This is the vision of the Suntory Group. Each and every employee must never forget the passion and desire to persevere in their work to continue to grow as individuals who earn trust through sincerity, which is the "Good" in Growing for Good.
Our Values reflect our organization's culture.
"Yatte Minahare"
It is forever fundamental to Suntory and expressed in the two statements: We earnestly accept challenges. United by our drive to succeed, we move together to create markets and provide new value. From the start, Suntory has been a pioneer. Today we look forward boldly and confidently. Those passions lead to the creation of new markets and also allowed us to offer new values. "Yatte Minahare" is the value that shall be the driving force of our business operations.
Suntory Group Way
It sets out the standards of behavior expected of Suntory employees practicing in their daily activities, to make Suntory Group a company which is selected and loved by customers through the provision of unique values.
Suntory Group Code of Business Ethics
It sets forth the basic ethical principles to be followed by Suntory Group to fulfill social responsibilities and gain trust of society.

"Mizu To Ikiru" is the Suntory Group's promise to our stakeholders.
Renew the world like water
As a company that delivers the blessings of water and nature to our customers, we will protect and pass on the natural environment to the next generation.
Satisfy people like water
Just as water quenches the thirst of all living things, so will we enrich lives by delivering products, services and social activities of value to customers and society.
Move freely like water
We will continue to be a company where all employees take up the challenge to create new value, moving freely and changing and adapting like water.
We will make continuous efforts in our daily activities to fulfill these three promises.
Relations with Stakeholders
The Suntory Group pursues its business activities amid a range of connections with a variety of stakeholders. To continue being a company that contributes to the realization of a sustainable society, we will make clear our responsibilities to our stakeholders and communicate with them in various ways. We aim to incorporate feedback we receive and social needs into our corporate activities and continuously work to build deeply trusting and collaborative relationships with them.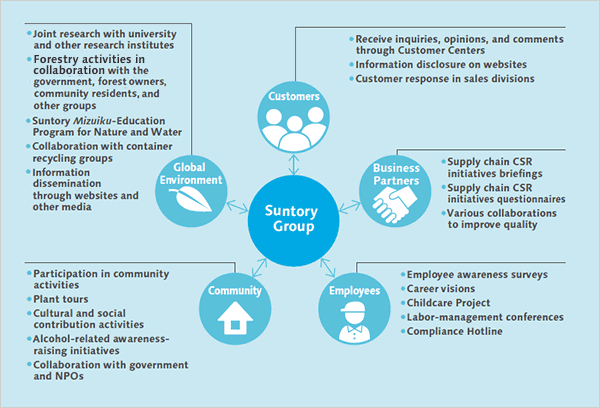 Four Sustainability Initiatives
In order to more fully realize social responsibility in a way unique to the Suntory Group with philosophy of Sustainability as a foundation, we are promoting activities based on ISO26000 since 2011. We grasped the current situation and shared identified issues, and engaged our stakeholders based on each of the seven priority initiatives.
The expectations and the level of interest of stakeholders is high in regards to global social issues and business challenges based on these results. We have also gathered our efforts into four initiatives by organizing challenges to realize our To Create Harmony with People and Nature corporate philosophy after we have identified challenges with an especially high-priority for the Suntory Group. At the Suntory Group, we continue to innovate and endeavor to be a Growing for Good company that is realizing a sustainable society as we expand globally while fulfilling our social responsibility by engaging in activities based on our corporate philosophy.
(1) To Create Harmony with Customers and Partners: Products and Services
To deliver joy to the customers with the highest-quality of products and services
Suntory Group incorporates opinion of its customers in wide range of corporate activities while maintaining and improving quality throughout the entire value chain based on the Suntory Quality Policy of "All for the Quality". We also actively engage in CSR procurement while tackling alcohol-related problems.
(2) To Create Harmony with Nature: Environment
To preserve limited water and resources for future generation
We have established "Suntory Environmental Vision toward 2050" to pass down sustainable and rich natural environment to the next generation and will promote environmental management as a Group through two axes of "Preserving and Regenerating the Natural Environment" and "Reducing Environmental Impact".
(3) To Create Harmony with Society: Cultural and Social Contribution
To build a bright future with initiatives rooted in the region
Based on the founding spirit of "Sharing the Profit with Society", we engage in wide range of cultural and social contribution activities that best suit the time, centered in the fields of arts and culture, sports and social welfare such as developing the next generation, supporting disaster affected areas and contributing to local communities.
(4) To Create Harmony with Employees: Diversity Management
To nurture employees with bigger global dreams
Suntory Group aims for human resource development rising to the challenge to create new values with diversity management as its basic policy and to create a working environment filled with creativity where all employees can exert their full potential.
Joining the United Nations Global Compact
The Suntory Group supports international standards such as the Universal Declaration of Human Rights as well as the United Nations Guiding Principles on Business and Human Rights, and it has signed the United Nations Global Compact (10 Principles below), which contain universal principles for human rights, labor, and the environment advocated by the United Nations.
Principle 1:

Businesses should support and respect the protection of internationally proclaimed human rights; and

Principle 2:

make sure that they are not complicit in human rights abuses.

3.

Businesses should uphold the freedom of association and the effective recognition of the right to collective bargaining;

4.

the elimination of all forms of forced and compulsory labour;

5.

the effective abolition of child labour; and

6.

the elimination of discrimination in respect of employment and occupation.

7.

Businesses should support a precautionary approach to environmental challenges;

8.

undertake initiatives to promote greater environmental responsibility; and

9.

encourage the development and diffusion of environmentally friendly technologies.

10.

Businesses should work against corruption in all its forms, including extortion and bribery.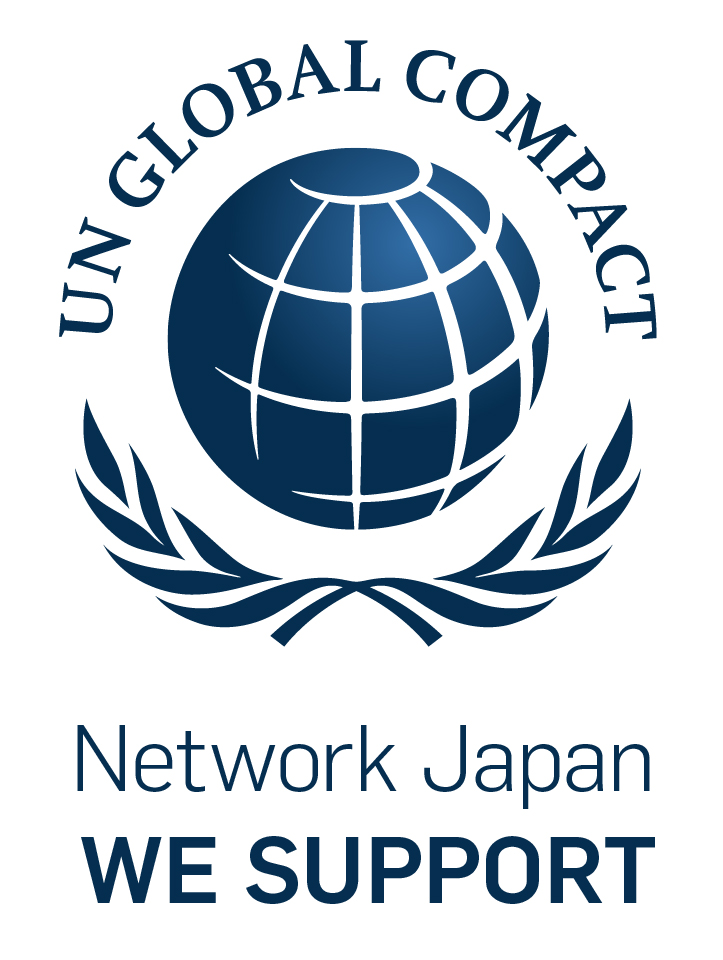 In 2017, we participated in the Human Rights Due Diligence Working Group of the Global Compact Network Japan and advanced our knowledge about the international trends of labor practices. We believe complying to international laws and fulfilling our social responsibility is the mission of the Suntory Group in the promotion of sustainable business globally now and into the future.
Endorsing The CEO Water Mandate
The Suntory Group endorsed The CEO Water Mandate global platform to address water resource issues, which is a United Nations Global Compact initiative to support the prevalence, practice and informational disclosure of water sustainable at companies.