No.she004 September 16, 2015
SUNTORY HALL LAUNCHES 30TH ANNIVERSARY PROGRAM
including
Chamber Music Garden in June: Küchl Quartet's Schubertiade
Summer Festival in August: Kaija Saariaho's New Work
Suntory Hall Festival in Fall: Wiener Philharmoniker, Zubin Mehta, Seiji Ozawa, Mark-Anthony Turnage's New Work, Kazushi Ono, Anne-Sophie Mutter, Mitsuko Uchida, Christian Thielemann, Staatskapelle Dresden and others
In 2016, Suntory Hall (Minato-ku, Tokyo / President: Tsuyoshi Tsutsumi) will mark its 30th anniversary.
Opened on October 12, 1986, Suntory Hall was the first dedicated concert hall in Tokyo, based on the concept: "pursuing the world's most beautiful sound". The hall has presented creative and high-quality programs of performances, educational projects with the view of developing and passing onour musical culture to the next generation, and has implemented various initiatives to engage the public. It is a highly regarded venue by artists as well as classical music fans, both in Japan and internationally. Since its opening, it has held 16,350 concerts and has been visited by 17. 21 million people.*
*as of end August 2015
For the 30th anniversary, Suntory Hall will present a year-long program of attractive and diverse performances by top international artists. In particular, its three annual festivals, already familiar to classical music fans, will be expanded: "Suntory Hall Chamber Music Garden" in June, contemporary music project "Summer Festival" in August and "Suntory Hall Festival " featuring world-class artists in the fall.
Furthermore, Suntory Hall is expanding its global activities, and has embarked on several projects with Esplanade in Singapore, the hub of Southeast Asia.
In addition, the hall will close for refurbishment from February to August 2017, mainly to improve its facilities.
[ Information ]
For further information and press photos, please contact:
suntoryhall-pr

suntory.co.jp
Public Relations Department, Suntory Hall
1. 30th Anniversary Message and Logo
Suntory Hall was the first concert hall in Japan to be built using the vineyard design, with the aim of pursuing the world's most beautiful sound. The logo of the hall, which has been used since the opening, is based on the Chinese character "Hibiki" meaning "beautiful sound" (designed by Takenobu Igarashi).
■ Message
■ Logo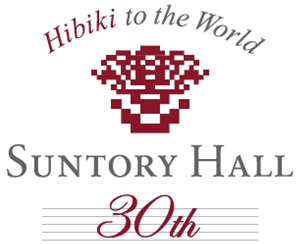 On the occasion of this anniversary, the hall has created a message "Hibiki to the World". It is the aim of the hall to extend its "Hibiki" which has so far been loved and nurtured by Japanese classical music fans to a more global audience.
2. 30th Anniversary Program Summary
In 2016, Suntory Hall will present a varied anniversary program with ever more attractive and high quality projects and the largest number of annual performances in its history.
1)"Chamber Music Garden" in the early summer – the festival of chamber music as the origin of classical music
2)"Summer Festival" – the festival of contemporary music which represents the future of classical music
3)"Suntory Hall Festival" in the fall, featuring world-class performers
4) 30th Anniversary Co-presented Concerts
Furthermore, video messages from various international artists for the hall's 30th anniversary will be uploaded to the website in due course.
Also, Suntory Hall 30th Anniversary Special Festival Passes covering Festival concerts will be available.
■ More information on the Anniversary Program
1) Chamber Music Garden (CMG)
June 4 – 26, 2016
Chamber Music Garden (CMG) will continue to develop the "circle of chamber music" it has been nurturing over the years. In 2016, it will be extended for a week and "Asia" will be an additional keyword. A three-concert series titled "Asian Sympathy" will become a meeting place for Asian musicians from all over the world, and CMG's annual Beethoven string quartet cycle will be performed for the first time by a Japanese group, Quartet Excelsior. There will also be collaborative projects between Yong Siew Toh Conservatory of Music, National University of Singapore and Suntory Hall's Chamber Music Academy, and it aims to become Asia's leading festival of chamber music. Moreover, many top class international musicians will gather for CMG to perform a variety of ensemble music, including the Küchl Quartet who makes a welcome return after its success in 2014 to present a three-concert "Schubertiade".
2) Summer Festival
August 22 – 30, 2016
Held since 1987, the annual Summer Festival is a festival of contemporary music, covering a wide range of works from chamber music to opera. Each year, "The Producer Series" features modern masterpieces, and in 2016 it will be produced by Yasuaki Itakura and Norio Sato, two musicians who have been performing cutting-edge music for many decades. The "Theme Composer" (Suntory Hall International Program for Music Composition) will be Finnish composer Kaija Saariaho, and the 26th Competition of Akutagawa Award for Music Composition will also be held.
The program consists of the world premiere of the commissioned work as well as Japanese premieres of new works, and one can experience the latest in the contemporary music scene. Furthermore, as a special concert, a revival of Toru Takemitsu's Gémeaux for oboe, trombone, 2 orchestras and 2 conductors will be given. This was the first commissioned work of the "Suntory Hall International Program for Music Composition" and will be conducted by Tan Dun, who was the commissioned composer in 1993. It will also mark the 20th anniversary of Takemitsu's death.
3) Suntory Hall Festival
September 19 – November 26, 2016
A special festival of classical music featuring a line-up of world-class performers such as Zubin Mehta, Seiji Ozawa, Christian Thielemann, Anne-Sophie Mutter and Mitsuko Uchida.
<Suntory Hall 30th Anniversary Gala Concert>

The fall gala concert will be held again after five years' absence. This festive concert brings together an array of world-class artists, and will be joined by the Wiener Philharmoniker for the first time, conducted by both Zubin Mehta and Seiji Ozawa with the masterful violinist Anne-Sophie Mutter as soloist. It is the ultimate gala concert by illustrious artists representing the world of classical music.
<Wiener Philharmoniker Week in Japan 2016 – Zubin Mehta conducts Wiener Philharmoniker>

Suntory Hall has presented Wiener Philharmoniker's Japan Tour since 1999 and has built strong ties with the orchestra. On these tours, in addition to the regular concerts, there are also programs for young people and master classes by the principal players. Also, after the Tohoku Earthquake in 2011, the hall set up the "Wiener Philharmoniker and Suntory Music Aid Fund" to help people recover from the disaster, and it continues to provide support with music. In the Japan Tour of 2016, Zubin Mehta, who celebrates his 80th birthday next year, will make a long-awaited appearance with this orchestra. On October 12, the actual anniversary of the opening, they will perform Beethoven's Ninth Symphony.
<Suntory Hall Special Stage 2016 – Anne-Sophie Mutter>

Each year, the festival features a big international artist who will perform a recital, a chamber music concert and a concerto over a number of days. The "Special Stage" series in 2016 will focus on the artistry of the celebrated violinist Anne-Sophie Mutter.
<Mitsuko Uchida & Mahler Chamber Orchestra Japan Tour>

Pianist Mitsuko Uchida, an Associate Artist with Suntory Hall, will perform Mozart's piano concertos that she performed in the opening series of the hall in 1986. She will direct the dynamic Mahler Chamber Orchestra from the keyboard.
<Suntory Hall 30th Anniversary Commission – Kazushi Ono and TMSO perform Turnage>

Suntory Hall has commissioned a new work to mark its anniversary from the admired British composer Mark-Anthony Turnage. It will be a major work for orchestra with voice, inspired by both classical and modern Japanese literature, and a fitting work to mark both the 30th anniversary of the hall as well as five years since the Tohoku Earthquake. The world premiere will be given by Kazushi Ono and the Tokyo Metropolitan Symphony Orchestra on November 12, 2016.
<Salzburg Easter Festival in Japan – Christian Thielemann conducts Staatskapelle Dresden>

Salzburg Easter Festival was established in 1967 by Herbert von Karajan, who used his private funds to create a place where he could realize his artistic vision. In 2016, Christian Thielemann, Karajan's successor at the Easter Festival, will bring his Staatskapelle Dresden and will present the essence of the festival over seven days. The main event will be a performance of Wagner's Das Rheingold, which will see a return of the popular "Hall Opera®". Furthermore, the program will include orchestral concerts (Main Hall), chamber music concerts (Blue Rose) and a monodrama by actress Isabella Karajan (Blue Rose).

*Hall Opera®
A new way of staging operas devised by Suntory Hall. The staging, sets and lighting make full use of the space and acoustics of the hall where the stage is surrounded by the audience, and the orchestra and the singers perform on the same stage.
4) 30th Anniversary Co-presented Concerts
In 2016, as part of the 30th anniversary, Suntory Hall will present several concerts by international orchestras and artists jointly with other promoters, including Daniel Barenboim and the Staatskapelle Berlin in February (Bruckner symphony cycle), and Simon Rattle and Berliner Philharmoniker in May (Beethoven symphony cycle).
■ Anniversary Video Messages from International Artists
Many international artists have sent messages for the hall's 30th anniversary. These video messages will be uploaded to the website from January 2016 (in both English and Japanese) to be shared amongst classical music fans all over the world.
■ 30th Anniversary Special Festival Pass "Premium 30"
Special Festival Passes covering Suntory Hall Festival concerts will be available. In celebration of the 30th anniversary, there will be limited number of 30 premium passes at ¥300,000 each. More details will be released in November 2015.
3. Towards a more Global Hall〜Hibiki to the World
1) Networks with Overseas Music Centers
Suntory Hall has been in a partnership with Vienna's Musikverein since 2006 to further the development of musical cultures in Japan and Austria. Also, it has built a joint education program with Carnegie Hall, nurturing international exchange.
More recently, Suntory Hall and Esplanade – Theatres on the Bay, Singapore have embarked on several projects together, to showcase young talents and encourage the sharing and exchange of artistic ideas in Asia. Esplanade is Singapore's national performing arts centre. The centre works in close partnership with local, regional and international artists to develop artistic capabilities and content, push artistic boundaries and engage audiences. Singapore is also recognised as the geographical, economic and cultural hub of the Southeast Asia. The first project between the two venues took place in April this year; an organ concert titled Pipes in Harmony, co-produced by Suntory Hall that featured Masato Suzuki – world-famous organist and regular player and soloist of Bach Collegium Japan – at A Tapestry of Sacred Music, a yearly unique sacred music festival at Esplanade. Moreover, the year 2016 will mark the 50th anniversary of the establishment of Japan-Singapore diplomatic relations, Esplanade will present a Suntory Hall production HIMIKO – Ancient Pageant(*) that premiered in November 2014 at Suntory Hall.
There will also be exchange programs for selected young musicians from Japan and Singapore, and they will give performances during the Chamber Music Garden period in both countries.
Suntory Hall is keen to deepen communications with the Asia region and support the development of its musical culture.
*Himiko, which received its world premiere at Suntory Hall in November 2014, is an original stage work fusing Western Classical Music, Japanese Traditional Music, Kabuki and Japanese Classical Dance.
2) Strengthening Global Services
<Strengthening Services to Overseas Customers>

Suntory Hall will strengthen its global services, in particular by improving its services to overseas customers.
It has recently opened an online ticket website in English, and is expanding the range of available performances. Also, it will start foreign language backstage tours (by application).
With the number of visitors to Japan expected to increase leading up to the Tokyo Olympics in 2020, the hall intends to strengthen support to overseas customers.
<Official English Twitter Account>

In April, Suntory Hall started an official English twitter account(@SuntoryHallE) and is regularly tweeting information. They post not only information about their own concerts but also about the concerts presented by other promoters, and aim to appeal globally that Suntory Hall is a venue where top-class artists gather.