SUNTORY HALL 2017
DAIWA HOUSE SPECIAL
RE-OPENING CONCERT

Date/Time

Friday, September 1 2017 | 18:00 (Doors open at 17:00)
Venue

Main Hall
Performers

Cond: Giuseppe Sabbatini
Org: Davide Mariano
S: Tamayo Yoshida
Contralto: Sonia Prina
T: John Ken Nuzzo
Bs: Ruben Amoretti
Cho: The Philharmonic Chorus of Tokyo, Suntory Hall Opera Academy
Orch: Tokyo Symphony Orchestra
Brass Ensemble: TKWO Festival Ensemble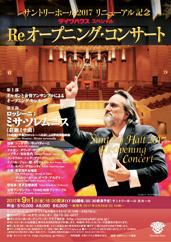 Program

Rossini: Messe solennelle, and more.

Tickets

S¥10,000 A¥8,000 B¥6,000 Booking opens on May 28, 2017

*Pre-sale Period for Suntory Hall Members Club: May 21- 27, 2016
 Please join the Suntory Hall Members Club via our website: http://suntoryhall.pia.jp
 (only in Japanese/membership eligible for residents in Japan)
*Box Office of Suntory Hall is closed from Feb.1 to Aug 31 due to the hall renovation.

Click here for tickets inquiries
Presented by

Suntory Hall
Supported by

DAIWA HOUSE INDUSTRY CO., LTD.
Under the auspices of

Società Rossiniana Giapponese
Contact

Suntory Hall 0570-55-0017 [Domestic Calls only] / 81-(0)3-3584-4402

*Concert details such as program, performer, or concert start time are subject to change.
*No admittance to pre-school children except for the special programs for children.
*Even if we had a Sold-Out at Suntory Ticket Center, some tickets might be still on sale at the organization indicated as "Contact" on each concert page.
*Sales period may differ depending on payment method.
*Depending on concerts, tickets may not be available at Suntory Hall Ticket Center.