<KEWPIE SPECIAL>
SUNTORY HALL NEW YEAR CONCERT 2018
SYMPHONIE-ORCHESTER DER VOLKSOPER WIEN
Date/Time

Tuesday, January 2 2018 | 14:00 (Doors open at 13:00)
Venue

Main Hall
Further series information
Performers

Cond: Guido Mancusi
S: Adriana Kucerova
T: Mehrzad Montazeri
Symphonie-Orchester der Volksoper Wien
Ballet Ensemble SVO Wien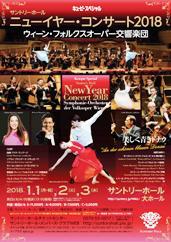 Program

Suppé: Boccaccio, Ouvertüre
Suppé: "Florenz hat schöne Frauen", Boccaccio
Ponchielli: "Danza dell'ore", La Gioconda
Suppé: "Hab' ich nur Deine Liebe", Boccaccio
J. Strauss I: Venetianer-Galopp, op. 74
J. Strauss II: "Gondellied", Eine Nacht in Venedig
Mancusi: "Ein Spaziergang durch Rom" ("Passeggiata per Roma"), Walzer
Rossini: Guillaume Tell, Ouvertüre
Lehár: "Freunde, das Leben ist lebenswert", Giuditta
J. Strauss II: Wo die Zitronen blühn, Walzer, op. 364
Lehár: "Vilja-Lied", Die lustige Witwe
Fučik: Florentiner-Marsch, op. 214
Lehár: "Niemand liebt dich so wie ich", Paganini
J. Strauss II: An der schönen blauen Donau, Walzer, op. 314, etc.
Tickets

S¥11,000 A¥9,000 B¥7,000 C¥5,000 Booking opens on September 30, 2017

*Pre-sale Period for Suntory Hall Members Club: September 10-29, 2017
 Pre-sale is not operated at Box Office.
 Please join the Suntory Hall Members Club via our website: http://suntoryhall.pia.jp
 (only in Japanese/membership eligible for residents in Japan)

Click here for tickets inquiries
Presented by

Suntory Hall
Contact

Suntory Hall 0570-55-0017 [Domestic Calls only] / 81-(0)3-3584-4402

*Concert details such as program, performer, or concert start time are subject to change.
*No admittance to pre-school children except for the special programs for children.
*Even if we had a Sold-Out at Suntory Ticket Center, some tickets might be still on sale at the organization indicated as "Contact" on each concert page.
*Sales period may differ depending on payment method.
*Depending on concerts, tickets may not be available at Suntory Hall Ticket Center.