〈Kewpie 100th Anniversary Special〉
SUNTORY HALL NEW YEAR CONCERT 2019
Symphonie-Orchester der Volksoper Wien
150 Years Friendship Austria-Japan
Date/Time

Wednesday, January 2 2019 | 14:00 (Doors open at 13:00)
Venue

Main Hall
Further series information
Performers

S: Ana Maria Labin
T: Thomas Blondelle
Cond: Alexander Joel
Symphonie-Orchester der Volksoper Wien
Ballett Ensemble SVO Wien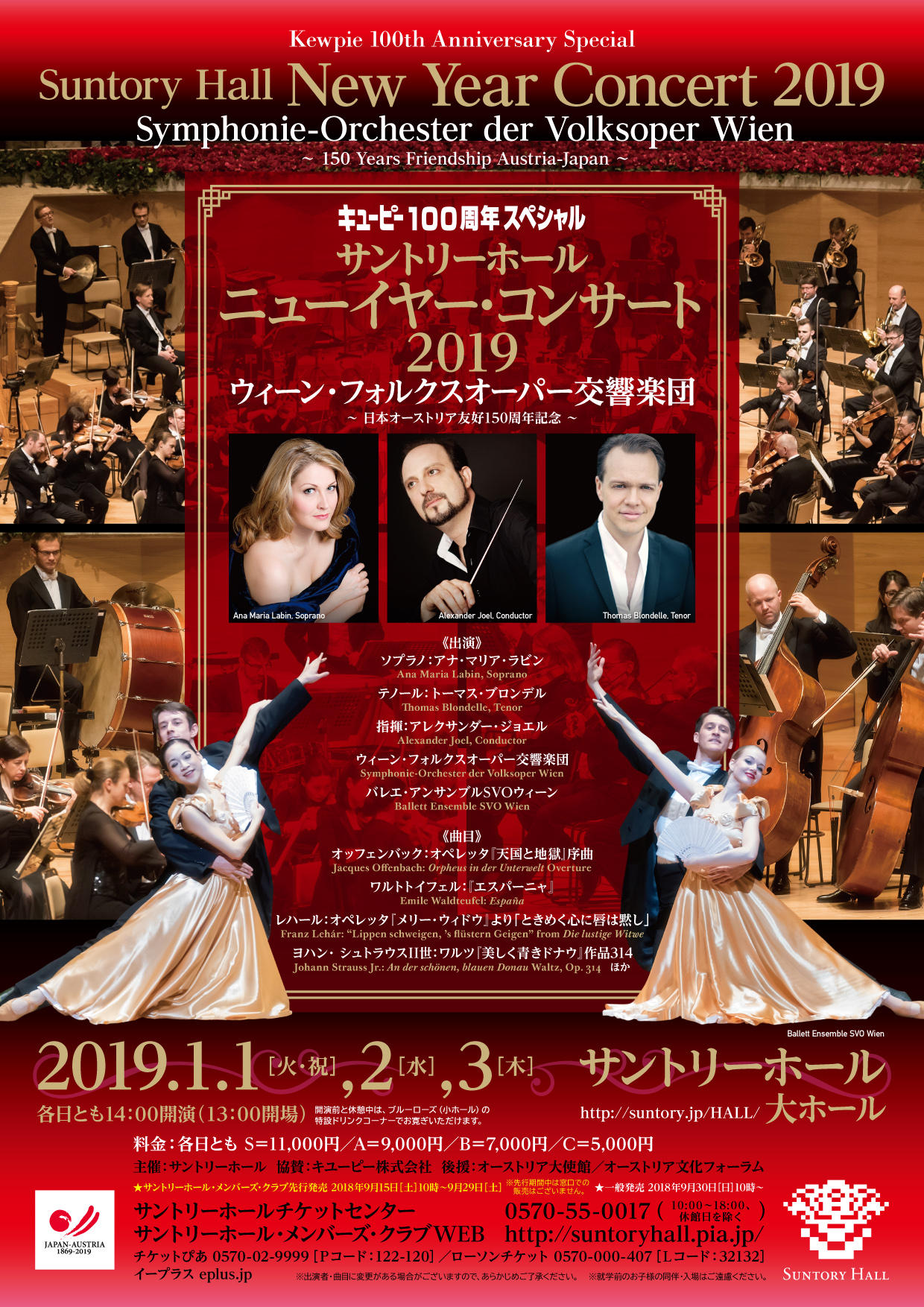 Program

Suppé: "Die schöne Galathée" Overture
Johann Strauss Jr.: "Das Eine kann ich nicht verzeihen" from "Wiener Blut"
Kálmán: "Grüß mir mein Wien" from "Gräfin Mariza"
Johann Strauss Jr.: "Rosen aus dem Süden," Op. 388 from "Das Spitzentuch der Königin"
Holik: "Toshi no Hajime à la Johann Strauss"
Offenbach: "Orpheus in der Unterwelt" Overture
Lehár: "Meine Lippen, sie küssen so heiß" from "Giuditta"
Lumbye: "Champagnegalop"
Waldteufel: "España"
Lehár: "Lippen schweigen, 's flüstern Geigen" from "Die lustige Witwe"
Johann Strauss Jr.: "An der schönen, blauen Donau" Waltz, Op. 314
etc.
Tickets

S¥11,000 A¥9,000 B¥7,000 C¥5,000
Booking opens on September 30, 2018

*Pre-sale Period for Suntory Hall Members Club: September 15-29, 2018
 Pre-sale is not operated at Box Office.
 Please join the Suntory Hall Members Club via our website: http://suntoryhall.pia.jp
 (only in Japanese/membership eligible for residents in Japan)

Click here for tickets inquiries
Presented by

Suntory Hall
Supported by

Kewpie Corporation
Under the auspices of

Austrian Embassy
Contact

Suntory Hall 0570-55-0017 [Domestic Calls only] / 81-(0)3-3584-4402

*Concert details such as program, performer, or concert start time are subject to change.
*No admittance to pre-school children except for the special programs for children.
*Even if we had a Sold-Out at Suntory Ticket Center, some tickets might be still on sale at the organization indicated as "Contact" on each concert page.
*Sales period may differ depending on payment method.
*Depending on concerts, tickets may not be available at Suntory Hall Ticket Center.