Sustainability New soilless system "Flower Wall" of Midorie New material "Pafcal"
Green spaces without soil?

Almost all plants grow in soil. Unfortunately, dirt crumbles easily and can be very difficult to work with. Hydroponic conditions work for some plants, but require large and often expensive equipment. Pafcal, an innovative new material designed by Suntory through its flower business and plant science, can overcome both of these problems. Pafcal is made from polyurethane and other material that distribute water evenly. It has a lightweight structure that can maintain the right air-water balance from the top and bottom for long periods of time. Other artificial soils used in hydroponic cultivation, including rock wool and melamine resin, do not regulate the water-air mix. The use of Pafcal accelerates growth in most plants, and has allowed us to design an easy green wall system using simple vertical greening techniques.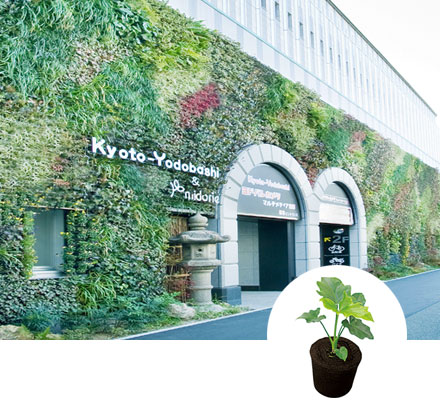 Suntory worked with the National University of Singapore to conduct temperature study of a wall made using Pafcal. On a day with an average temperature of 25.0℃ and a high of 32.5℃, the surface temperature of the bare test wall increased to more than 50℃, while the temperature of a wall with Midorie greenery was less than 30℃. Though temperatures varied slightly depending on the type of plants, measured surface temperatures consistently decreased by 25 to 27 degrees. Indoor areas behind Midorie greenery stayed about 7 degrees cooler than those without it. (Average maximum temperature differences were around 25℃ for outside wall surfaces and around 6.5℃ for indoor areas during the daytime.)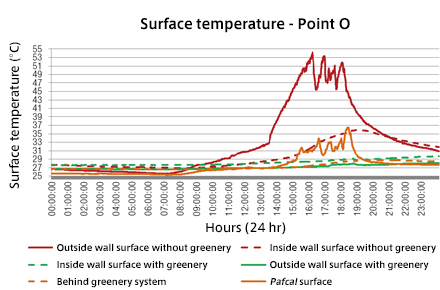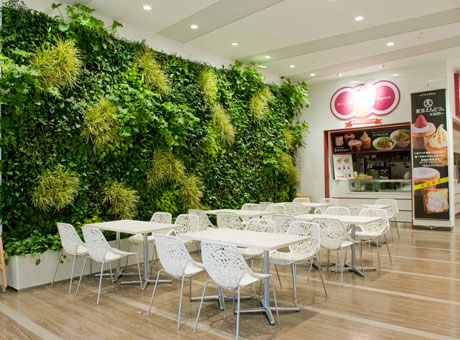 Our innovative Flower Wall product takes advantage of the advanced features of Pafcal, including even watering and optimal plant growth.
Flower Wall is a green surface made up of many plants grown in Pafcal. Plants are inserted individually, making it possible to create a variety of custom designs and even replace single plants if needed. Since there is no soil involved, Flower Wall is an optimal solution for hospitals, hair salons, restaurants, and other areas where sanitation and cleanliness are a top priority.
Pafcal is perfect not only for vertical greenery but for many other greening scenarios as well. Suntory is committed to providing ongoing innovative green space solutions that support advanced green communities and better living for years to come.