Suntory Beverage & Food Europe
Head Office

2 Longwalk Road, Stockley Park, Uxbridge UB111BA - UK

Business
activities

Soft drinks production and sales
 

Website
Suntory Beverage & Food France
Suntory Beverage & Food Great Britain and Ireland
Suntory Beverage & Food Spain
EECM-Benelux
Head Office SIL

SIL Schweppes International Limited H.J.E.Wenckebachweg 123, 1096AM Amsterdam - THE NETHERLANDS

Head Office

SBFP Suntory Beverage & Food Poland, Al. Wyscigowa 6, 02-681 Warszawa - POLAND

Head Office

SBFB Suntory Beverage & Food Benelux, Rue du Cerf 127, 1332 Genval (Rixensart) - BELGIUM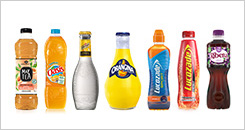 Company Overview and Philosophy
Sustainable Growth with Purpose
Our environmental, social and corporate governance agenda is hugely important to us. We work towards the group's global vision of 'Growing for Good'; Doing the right thing by people and the planet as we produce, market and sell our drinks.
The sustainable work that we do is anchored by four key pillars; our resources, our drinks, our people and society, that all reinforce the UN's Sustainable Development Goals; a blueprint to achieve a better and more sustainable future for all.
By managing the impacts and issues in these areas through ambitious targets that are clear and measurable, and by forging leadership we seek to deliver harmony with our consumers, customers and with our own employees while respecting always our natural world. Our framework of responsibility and leadership will drive us forward, guide and inspire us. It will help make our ambitious and exciting vision of Growing for Good a reality.
Our Initiatives
Water
Respect water
Water is the main ingredient of all of our products and in many ways the origins of our business. It is also our Corporate Message, "Mizu To Ikiru". That is why we believe we have a role to play in protecting this commodity, in encouraging sustainable water management for next generations.
We have an ambition to reduce water at our production plants by 20% by 2030 and we are on track to achieve this. We invest in a number of water reduction and water reuse initiatives across our factories, and share best practice in order to be as efficient in our water use as possible. Our factory in Toledo has made great progress and has already reduced water use by 5% as of 2017, with great ideas to reach 20% reduction within the next two years.
In January 2020, the UK invested £13million in a new high-speed filling line. This line uses 40% less energy and water and directly contributes to our goals of using less resources.
In Spain, our Guardians of Júcar project aims to improve the quality of surface waters, recover natural areas of the riverbank, contribute to the knowledge and improvement of aquatic ecosystems, eliminate invasive species on river banks and promote a public use of Natural spaces through two initiatives: the rehabilitation of the natural environment of the Barxeta Creek (which is already finished), and the improvement of the quality of the water thanks to the implementation of a green filter.
In the beginnings of 2022, the Spanish team has launched Guardianes del Tajo, its second Natural Water Sanctuary in Spain. On this occasion, the action will take place around the Guajaraz reservoir, one of the three reservoirs that provides water to the city of Toledo, where one of the main factories in Spain is located. The main objective of this project will be to improve the quality and quantity of the water the reservoir stores and raise awareness within the employees, key stakeholders and children by fostering volunteering campaigns and Mizuiku implementation (educational program for children boosted by Suntory).

In France, we have a 20-year partnership with Grand Parc Miribel Jonage located near our Meyzieu plant. It is the biggest metropolitan public protected park in France and we are committed to support water education programs, sponsor workshops for families enabling them to understand the role of water. Amongst other things, we are also helping them preserve and restore the alluvial forest around the Rhône river.
IIn the Netherlands Suntory has been sponsoring a project in the 'Marker Wadden' executed by the Dutch Society for Nature Conservation, that is restoring one of the largest freshwater lakes in western Europe by constructing islands, marshland and mud flats.
In the UK we will launch a water education programme for families called 'Water Wisdom' in 2022. Developed in association with environmental charity 'Severn Rivers Trust,' the aim of the programme is to conduct immersive experiences for consumers along the river, showing how to conserve and preserve our water systems for future generations to enjoy.
CO2
Reduce emissions
We are committed to tackling climate change and will do this by reducing our carbon emissions across our total value chain. We have set clear Science Based Targets to reduce our emissions by 50% from our production (scope 1&2) and 30% across our wider supply chain (scope 3). And we aim to achieve net-zero emissions by 2050.We are making good progress and we track our carbon footprint annually in order to ensure we are transparent in our reporting. In 2021 all of our factories and owned operations facilities that purchase electricity ensured that it came from renewable energy sources.
In France, fighting against global warming is one of our priorities. We have reduced our CO2 emissions by 41% per litre of drink produced since 2015. Transportation represents 11% of our carbon footprint. We are optimizing the number and location of our warehouses in order to reduce distances travelled by our products. We are also working on improving our logistic flow and trying to reduce the number of empty trips made by trucks.
In Spain we are committed on Zero Emission for 100% of our fleet by 2030. In 2022 70% of the fleet is already Eco and Zero Emission. In January 2020 we started to source 50% of our electricity across our factories and offices from renewable sources managed through green, clean and renewable energy contracts and by 2021 this was 100%.
All these improvements, has helped Spain to reach 34% CO2 emission reduction by 2020 (vs 2015)
In the UK 100% of our purchased energy at our factory comes from renewable sources. In January 2020, the UK invested £13million in a new high-speed filling line. This line uses 40% less energy and water and which results in a 4% reduction in energy use at our factory, directly contributing to our CO2 reduction goal.
And all of our employees can support our goal to tackle climate change, and that includes how they get to work! We encourage cycling to work through subsidized 'cycle to work' funding schemes and in 2022 the UK offices will be installing electric charging points in the car parks to encourage employees to transition to electric vehicles.
Raw Ingredients
Procure sustainably
In 2019 SBFE became members of Sedex. As members of this global organization we aim to obtain deeper insights into the environmental and ethical performance of our suppliers. 91% of our raw ingredients and pack suppliers are affiliated to Sedex programme and process in order to enable SBFE to have a clear evaluation of our supplier portfolio sustainable risk and moreover to engage them into improvement plans. 60% of them have completed the full Sedex process including SMETA compliance. 17% of them are evaluated as low risk suppliers and we have zero suppliers sites with open critical non-compliance without any mitigation plan settled.
As a business that is reliant on the procurement of fruit for our soft drink brands we are concerned with global impact on biodiversity from climate change and non-sustainable farming practices.
In the UK, 90% of blackcurrants grown in Britain are used to make Ribena and we see it as our duty to produce the most sustainable crops possible. We employ a full-time agronomist and partner with the Farming & Wildlife Advisory Group so that each of our growers has a resilient biodiversity plan tailored to the individual habitats found in and around each farm. The comprehensive plans, in place since 2004, have helped us restore 200 miles of rough field margins, build more than 2,000 nest boxes, sow an area bigger than the City of London with pollen and nectar-rich plants, and create wetlands, restore ponds, plant woodlands and build bee hotels.
In Spain we work with local suppliers near manufacturing centers to promote the production and development of local areas. In addition, the contracts with the ingredients suppliers include environmental clauses with the commitment to protect the environment, reduce the carbon footprint, improve the water and energy consumption, as well as improve waste management. 23% of the fruit used as an ingredient can be found in less than 100 km from the production plant.
France is committed to sustainable purchasing for all its fruits. That is why, France has issued a guideline of good practices on sustainable sourcing that has been approved and signed by 100% of its partners.
Containers and Packaging
Less and better packaging
In September 2019 we announced our goal to be the first global drinks company to use 100% sustainable plastic bottles, using fully recycled or plant-based materials across our entire portfolio by 2030. By buying increasing amounts of recycled plastic, investing heavily in new, innovative technologies, we will ultimately reduce our plastic consumption and carbon emissions.
As an interim goal, our drinks containers will use 50% recycled plastic by 2025. Some of our drinks containers already use only 100% recycled plastic (rPET), for example Ribena in the UK which has been using recycled plastic for more than 10 years.
We will also be ensuring that all the packaging we produce is 100% recyclable by 2025 or sooner. That means that there will be changes to be made in the containers we use, and the packaging we put products in. For example in the UK the Ribena brand replaced all the plastic straws on its cartons with new paper straws, removing 16 tonnes of plastic.
In Spain our packaging in the off-trade is already 100% recyclable and we are working towards making it fully sustainable too. Other changes have been implemented for some brands as Sunny Delight, which has changed sports cap to flat cap, reducing the amount of plastic and the weight of the product, and therefore the carbon footprint.
In addition, all Schweppes has become 100% rPET and recyclable in May 2022 and La Casera will also reach 100% rPET by 2023. Replacing virgin plastic with 100% rPET in both brands will result in an annual reduction of 10,750 tonnes of CO2 emissions from 2024 onwards.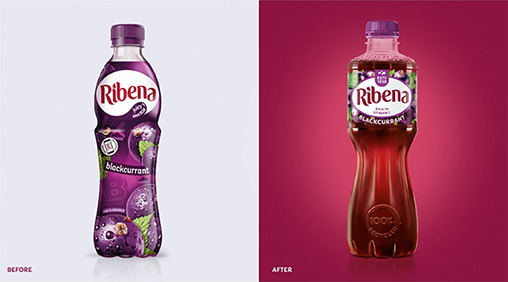 In 2020 the Ribena brand made significant investment to move to 100% recyclable packaging, removing 200 tonnes of plastic annually by replacing the full plastic wrap sleeve from its bottles with smaller labels. in 2022 the Lucozade Sport brand will go through the same transformation, with a new partial sleeve and a move to 100% recycled plastic bottle content, excluding cap and label.
Examples of how we aim to reach our goals ahead of schedule is the Scandinavian regional activity with partners such as Spendrups in Sweden and Carlsberg in Denmark and Finland, where our brands contain a minumum of 25% but up to 100% or rPET since many years. They function as great examples and reassure us of our vision to work together with our bottlers to reach our ambitious targets.
In order to reach our sustainable plastic goal, in 2019 SBFE invested in Carbios, a company pioneering a bio-industrial solution to recycling PET using an enzymatic process. SBFE is part of a consortium that is funding this ground-breaking technology in order to progress to a mass-market solution that could dramatically reduce the volume of plastic waste and ensure that there is a circular economy solution for PET. In June 2021 we launched the prototype of the first Orangina bottle to be made from enzymatic recycling, a world's first, and then in September 2021 Carbios launched its industrial demonstration plant for its unique enzymatic recycling technology, a chance to showcase this unique technology to the world.
Supporting the recycling process also means encouraging our consumers to recycle more. Our leading brands continue to invest in marketing campaigns to convey these important sustainability messages. We also supported industry-wide efforts for mass-market public campaigns.
In the UK in 2021 we ran out of home and digital advertising during Recycle Week across Lucozade Energy, Lucozade Sport and Ribena, as well as using our brand's well-known ambassadors to maximise reach and drive the recycling message home. And in France we showcased the sustainability messaging of MayTea through national advertising as well as promotional advertising and merchandising in store.
Health
Less Sugar
By 2025 it is our ambition to have reduced added sugar across our portfolio by 35%.
We have become a founding signatory of the new EU Code of Conduct on Responsible Food Business and Marketing Practices in 2021. Our commitments towards reformulation of our drinks, food waste reduction and the creation of sustainable packaging fully support the EU's objective to place healthier products on the market and to support the transition towards a circular economy.
We are making excellent progress and by the end of 2021 have already delivered a 23% reduction from our baseline set in 2015. As well as re-formulating our drinks to lower the sugar content we are also putting investment behind our lower-calorie brand such as Lucozade Zero in the UK.
In Spain we have managed to reduce the sugar in our drinks by 42% (vs 2015) and we have also introduced low calorie Schweppes Lemon, Orange, Pink, Ginger Ale, and recently/in 2022 also Agrum and Tonic Lemon. These drinks are widely distributed and are available in 98% of retail points.

In the UK and Ireland we've reduced sugar across our core drink range by 57%, removing 25,000 tonnes of sugar and 98BN calories through a far-reaching reformulation programme. We've been bold with our decisions on our most famous drinks, introducing a zero or low-calorie alternative for each one of them.
In 2021, the total reduction of sugar was - 24% compared to 2006 on Oasis in France, without using sweeteners. All the recipes of the brand are renovated with less sugar and no sweetener while still retaining a delicious taste that consumers know and love!
Across all European Export and Commercial Markets, the amount of sugar added to our beverages was reduced by 6%, (in 2021) driven by increased popularity of our low-calorie Schweppes Pink flavor and a continuous improvement of our current portfolio. Suntory Beverage & Food Poland is currently moving towards a low-calorie portfolio, reducing its sugar footprint by 35% (vs 2015).
Positive Choices
We pride ourselves on providing consumers with easy-to-access nutritional information about the drinks they choose. Information is clearly displayed on all labels and on websites. We also collaborate with industry partners to promote responsible marketing of our drinks. We are a signatory to UNESDA's responsible marketing in schools programme and have pledged that none of our drinks are sold at primary schools, and drinks containing sugar are restricted for sale at secondary schools across all EU member states.
The UK has created its own voluntary marketing code to ensure that responsible corporate citizenship is at the heart of everything we do. This includes our commitment not to directly market products categorised as high in fat, sugar and salt ("HFSS") to consumers who are under the age of 16, and under the age of 18 in Ireland.
In France, we volunteered in 2009 to not communicate on screens and in magazines aimed specifically at children under the age of 12-year-old. Since 2013, our commitments go further because we prohibit all advertising in generalist programmes where children constitute more than 35% of the audience.
In Spain our code of marketing practice specifically states that we do not advertise to children under 12 years of age or sponsor events aimed at children in schools. We also convey messages in all our advertising campaigns promoting healthy lifestyle habits.
More Natural
We continue to look at new ways to promote naturality through our drinks and have an ambition to reduce artificial colours and flavours across our product portfolio.
We respond to the consumer necessities with more natural products by replacing additives and free sugars with other components such as natural sweeteners (stevia), or through manufacturing processes so that the final product is less artificial as possible: Schweppes PINK available in Spain is a great example.
Human Rights
Inclusive and flexible
People matter. We are encouraging and fostering a healthy lifestyle for our employees. The Covid-19 pandemic has challenged our traditional views of home and office working, and we have adapted to the needs of our employees. Following extensive employee consultation we put in place a new SBFE wide flexible working policy, that has been adopted by our local markets in 2021. This new flexible style of working has been welcomed by our employees, enabled by investments in technology and new systems, and supported by our people and culture team to ensure that everyone can adapt to the new ways of working at their own pace.
Diversity, Equity and Inclusion
We know that diversity, equity and inclusion (DE&I) is a hugely important issue, and one that many people throughout our organisation care deeply about.
DE&I is about the composition of our workforce and supply chain – in relation to characteristics such as gender, ethnicity, age, disability, social background and much more. It is also crucially about the experience people have within our organisation – the pathways to progression, the working culture, the openness to new ideas and ways of doing things, and the flexibility we offer.
We were determined to make 2020 a year of action on DE&I – because we know that as an organisation there is much more we can and should do. And since then we've been making progress on developing strategies and actions to foster a more diverse and inclusive workforce and workplace. In 2020, led by the CEO, SBFE set up a new employee D&I taskforce. The taskforce is made up of 70 individuals across our entire region representing all functions and levels of the organization. The taskforce has been instrumental in helping us identify key issues, risks and opportunities, and they provide a forum where we can talk openly about the challenges facing our people and our business today. In 2021 we launched our global DE&I framework at Suntory Holdings and SBFE carries this right through to all levels of our organization. At the end of 2021 our Executive Leadership team underwent DE&I training and this training will be extended across the wider organization from 2022 onwards.
Accountable for our value chain
Building trust means challenging ours and others' perceptions of acceptable behaviour and always acting with respect for others. Our Modern Slavery Act statement sets out the steps we have taken and will continue to take to ensure that modern slavery and human trafficking are not taking place within our business or supply chains. Together with the Sedex assessment, we aim to have more scrutiny and transparency throughout the supply chain, holding ourselves and others to the highest standards. This includes mandatory training for employees who have responsibility for supplier interactions and purchasing.
Ethical employer
At the heart of our Suntory values is a commitment to working with integrity and we take great pride in our reputation for always conducting business in an honest, open and fair way. That is why we are training our employees on compliance and other topics in order to ensure that everyone understands relevant laws and responsibilities.
In 2021 all employees in the UK completed anti-bribery and corruption training, as well as more specialized training on modern slavery for a number of our employees across sales and supply chain.
Spain is carrying out a process of changing the culture of prevention by seeking to improve the Health and Safety of its employees, focusing on the visible commitment of all hierarchical levels and the participation of all employees. This process is reflected in projects such as Vision ZERO, Road Safety Plan, Training in First Aid which also have an impact on society.
France has rolled out a training called "Play Safe" around how to behave in the face of risks making sure everyone is the guarantor of its security.
Enriching Life
Empowering communities
In France, we are partnering with associations that have a positive impact on the environment, people and communities. Ishpingo fights against deforestation in the Amazonian forest, Planète urgence sets up solidarity leaves to protect the environment and support the development of local communities, Secours populaire français acts against poverty and exclusion and AFEV fights against school dropout. In 2021, we have raised nearly 260 000€ for Le Secours populaire français with our brand Oasis and our retail and out-of-home clients. We have also decided to finance one day of volunteering per year on working time. We are partnering with Vendredi association to facilitate the connection with associations employees want to engage with in less than 3 clics.
In the UK in 2018 we launched B Active, a three-year sport for development programme that uses the power of sport and exercise to forge career pathways and positively impact the lives of 16-24-year olds living in communities that need it most. Across a three year period B Active has:
Helped the development of 10,703 young adults in five UK cities
Helped 3,699 young people volunteer in their community
Awarded 2,312 young people with accreditation in vocationally recognised qualifications
Boosted motivation as 94% said B Active had been a positive turning point in their lives and 74% thought they had greater career opportunities because of their participation
The programme was independently evaluated by academics from Leeds Beckett University, and the findings and recommendations published in 2021. Following the recommendations, a new mentoring programme was launched called 'Coach the Coaches' a peer based coaching programme run by youth mentoring and life skills training platform Apprentice Nation.
In Spain, we encourage and give our people the opportunity to make financial donations to some Non-Governmental Organizations. We inspire some Suntorians to be part of The "CONNECTING LINKS" volunteering. This programme aims to promote generational learning and generate lasting relationships (3 months minimum) between the volunteer and the grandparent. The volunteer's involvement consists of making a half-hour phone call per week to the person with whom he or she is the best match (previously a matching is made between profiles to select the most similar ones and thus make the conversation easier).This forms a part of our core sustainability strategy to build closer connections with our communities and to give back to society.
Purposeful brands
Our Growing for Good vision drives our company and our brands to create purposeful collaborations in an authentic way. An example of this is our latest partnership between Apprentice Nation and our Lucozade brand. Lucozade is working with Apprentice Nation to create a new curriculum pillar on the platform called 'Unlock Your Potential', featuring online learning content to help disadvantaged young people across the UK build confidence and develop skills for life and work. As well as providing mentors to the platform, Lucozade will also be holding events and work experience opportunities exclusively for Apprentice Nation participants. We believe that while potential is universal, opportunity isn't and so through this partnership we hope to highlight career opportunities and provide meaningful training for young adults from underrepresented communities.
Giving Back to Society
Throughout the COVID-19 crisis our teams have shown generosity and humble determination to get our drinks to those who need them most. From hospitals to food banks, care home to crisis homeless centres, paramedics to police, we've ensured that they've all had the refreshment, hydration and energy boost to help them get through the day. Since the start of lock-down we have delivered nearly 2 million drinks to the frontline – thank you! As well as donating drinks, our team in France has supported healthcare frontline workers with donations of personal protective equipment (PPE) which we usually use in our factories. With global shortages of this vital protective clothing we are happy to support in this time of need. The generosity of our employees is incredible. Spanish employees were given the opportunity to contribute to 3 special projects which aimed to collect money to support the crisis and the most vulnerable people. The payment was managed by discounting the money donated from the employees' payroll. Save the Children, UNICEF and CRUZ ROJA RESPONDE received nearly 8000 euros from employees. In France, they have launched an internal CSR web platform to donate to partner NGOs such as Secours Populaire, a nationwide association that helps the most deprived individuals.
Other Sustainability Initiatives
Less waste
It is our ambition to be zero waste to landfill from our production facilities and we are making good progress to achieve this. We also want to see waste eliminated across the entire value chain. We believe that a circular economy is the best way to eliminate waste and we can play our part by increasing the amount of recycled content we put into our packaging – for example the UK produces Ribena bottles using 100% recycled plastic and in 2021 MayTea and small format Pulco also started using 100% rPET. We also have an ambition to reduce food waste from our production by 50% in support of Sustainable Development Goal 12.3. We do this by redirecting surplus product to food surplus organisations and charitable donations to support those vulnerable people in need who suffer from food poverty.
Educating our employees on reducing waste is a big part of what we do. In Benelux, we launched a Green Week (7 days, 7 workshops). We worked together on zero waste practices, less packaging tips, better local and veggie consumption, we did a plogging around the lake near our office and collected more than 45 full bags of trash in an hour. All 120 Benelux employees participated at least once to this event.
In the UK, we also launched our own anti-litter campaign called Love Your Forest in the Forest of Dean where our factory and many colleagues reside. Over the past six years, the campaign has engaged 15,000 residents on the issue of littering and recycling, including 120 community events and delivered on-the-go recycling infrastructure in the area. The campaign was one of the UK's first rural anti-littering campaigns, and has since become a blueprint for other local authorities across the country looking to encourage positive behavioural changes around littering and recycling in rural environments.