We consider the environment in the entire product life cycle from planning and product design to transport and post-consumption recycling.
Setting Environmental Standards for Containers and Packaging
Containers and packaging protect and preserve the quality of products until reaching the customers. However, most of them become waste after the content is consumed by the customer. Suntory Group recognizes the social and environmental impacts that containers and packaging cause and established voluntary "Guidelines for the Environmental Design of Containers and Packaging" in 1997. Designs are made following the Guideline such as selecting material for labels and color of glass bottles that consider recycling. In addition, we are engaging in initiatives from the stand point of Life Cycle Assessment (LCA) to reduce environmental impact of containers and packaging.
3Rs of Containers and Packaging
The Suntory Group works to develop containers and packaging that give consideration to the environment, based on the 3Rs of "Reduce, Reuse, and Recycle". We work on designs that take into account usability from the point of consumption by the customer to recycling, and focus on designs that are lighter as well as use materials that have a lower impact on the environment and are easier to recycle. We also work in collaboration with various recycling organizations and local governments to promote recycling.
Policy on 3Rs of Containers and Packaging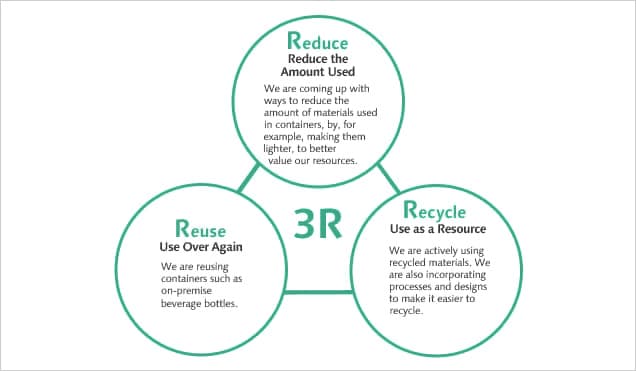 Initiatives in Plastic Bottles
We are dramatically decreasing the amount of resources that we use and are actively introducing renewable resources as a measure to limit the environmental impact as much as possible. At the same time, we are conducting design and development while also taking into account the usability by customers.
2R+B strategy
In regards to plastic bottle containers, we are striving forward according to our 2R+B strategy that is unique to Suntory. The concept is to make thoroughly efficient use of resources by reducing the amount of resins used, and by using recycled materials, while replacing petroleum-based raw materials with bio-based raw materials as much as possible in the development.
Reduce : Lightweighting
Environmentally-friendly Green Eco Bottle*1
The 550mL Suntory Tennensui natural mineral water is packaged in the most lightweight PET bottle in Japan*2 (11.9g).
The bottle design was developed using Suntory's own technology, and it allows us to reduce the use of petroleum-derived ingredients by approximately 40% per bottle. By bringing the weight to 29.8g, we were the first in Japan to achieve the weight of less than 30g for 2L bottles.
*1

An original name we give to PET bottles that have reduced environmental impact by using methods such as ground breaking weight saving such as realizing lightest weight bottle in Japan or using plant based materials.

*2

Plastic bottles for mineral water (500mL to 600mL) in Japan. As of November 2020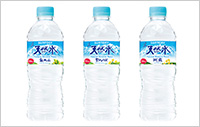 Introducing Record Breaking Thinnest Roll Label*1 for Plastic Bottle Beverages in Japan
We are reducing the weight of product labels on plastic bottles to reduce environmental impact. We were able to realize the thinnest plastic bottle roll label in Japan at 16㎛ (micrometer*2) in 2012. An even thinner label at 12㎛ has been introduced to the 2L plastic bottles and 550mL plastic bottles of our Suntory Tennensui mineral water in April 2014. Thereafter, we have been advancing the expansion to all of our products that use roll labels. This has allowed us to reduce CO2 emissions 25%*3 compared to conventional labels.
*1

These labels are not removed through the use of perforations; instead, the glued portion is peeled off.

*2

1/1,000mm

*3

Reduction rate in the film (label) manufacturing process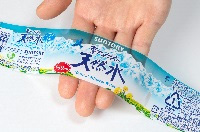 Adoption of bottle cap that uses 100% bio-based PET materials*1.
We are also reducing our environmental impact in the bottle caps on plastic bottles. Since September 2016, we have adopted 1.85g bottle caps, which are the lightest in Japan*2 that use 30% bio-based PET materials for Suntory Minami-Alps Tennensui mineral. This innovation reduces the use of petroleum-derived raw materials by 35%*3 and decreases CO2 emissions by 27% compared to conventional PET bottle caps.
In addition, we have further evolved our environmental efforts by using biomaterials and from March 2019 started using a polyethylene cap made ethylene which is 100% plant-derived for our 550ml Suntory Aso Natural Water bottles at our Kyushu Kumamoto Plant (Kamimashiki District, Kumamoto Prefecture). This innovation reduces the use of petroleum-derived raw materials by 90%*2 and decreases CO2 emissions by 56% compared to current PET bottle caps.
*1

Polyethylene caps made from 100 percent plant-derived raw materials in place ethylene, the main raw material. However, except for traces of oil-derived components and coloring components when the manufacturing line is switched

*2

As of April 2020

*3

One bottle of Suntory Tennensui Mineral Water (550mL)

*4

One bottle cap of Suntory Tennensui Mineral Water (550mL)
Evaluation from Society
Suntory Beverage & Food was awarded the 2016 Minister of the Environment Award for Promoters of the Development of a Recycling-Oriented Society for the high praise that it received for activities to reduce the environmental impact, which includes the adoption of the world's first soft drink plastic bottle cap that uses 30% bio-based PET materials.
Primary lightweight plastic bottle products
Initiatives in In-house Blow Molding PET Bottles
In Minami Alps Hakushu Water Plant of Suntory Products, PET bottles are manufactured by blowing PET preform from PET resin. A comprehensive design and management from shaping bottles to filling them is made possible, making it easier to reduce the amount of resin used and weight of the bottle.
In addition, use of fuel and CO2 emission from transporting and purchasing already made PET bottles. Furthermore, we reuse high pressure air used during shaping of PET bottles to use energy effectively and reduce CO2 emission.
Development of World's Lightest* Heat-resistant Plastic Bottles Through the Use of Japanese Technological Skill
The Japanese manufacturing technology and design skills for reducing weight of plastic bottles have been used in Group companies in Europe.
In 2017, we have successfully developed a heat-resistant PET bottle for Suntory PepsiCo Vietnam Beverage in Vietnam that is the lightest in the world (18g). Creating the lightest heat-resistant bottle project was a technological challenge in this region, but we have succeeded in the project through mutual cooperation with Suntory Group and Suntory PepsiCo Vietnam Beverage.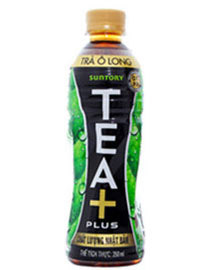 As an initiative to further reduce the weight of PET bottles, we utilized a technology to prevent bottles from deforming by injecting nitrogen and pressurizing the bottle. In 2020, we successfully developed world's lightest 15g PET bottle in the heat‐resistant filling container category that also pursued functionality, versatility and design and introduced it to Suntory PepsiCo Vietnam Beverage and Suntory Garuda Beverage in Indonesia. We plan to introduce it to Suntory PepsiCo Vietnam Beverage in Vietnam in the future.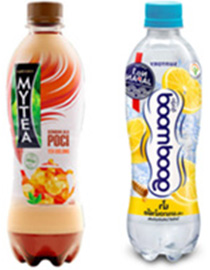 Recycle: Recycling Plastic Bottles
Recycle PET Bottles for Horizontal Recycling of PET Resin in Japan
In 2011, Suntory Beverage & Food partnered with Kyoei Sangyo Co., Ltd. to develop the Japanese beverage industry's first B-to-B*1 mechanical recycling system*2 for PET bottles.
Reused PET resin was 50% at the time of introduction but after confirming that stable supply was possible after about a year of operation, we increased the percentage of reused PET resin to 100%. This realized manufacturing of reused PET bottle that reduce CO2 emission (including CO2 emission from manufacturing PET resin) by 83%*3 compared to bottles made by 100% oil based materials. This PET bottle using 100% reused PET resin is used for many products including 2L Suntory Oolong Tea and Iyemon.
This system received Commendation for Contributors to the Development of a Recycling-oriented Society in 2011 and 2012, and Commendation for Global Warming Prevention (Technological Development and Commercialization Category) in 2011 both from the Minister of the Environment, and Nikkei Global Environmental Technology Excellence Award in 2011 for the first time in the food industry. We also received the 21st Global Environment Award in 2012 and Environmental Excellence Award hosted by the Hitachi Environment Foundation and Nikkan Kogyo Shimbun, Ltd. in 2013.

*1

B-to-B : "Bottle to bottle," signifying the creation of a new PET bottle from a recycled one.

*2

Mechanical recycling : The pulverization, cleansing, and return of used products to a material status. Recovered resin is processed for a regulated period under high temperatures and low pressure to remove impurities from the regenerated materials, yielding reclaimed PET resin suitable for use in bottle production.

*3

Compared with virgin resin
Adoption of F-to-P direct recycling technology
In 2017, as part of our recycling efforts, we worked with Kyoei Sangyo Co., Ltd. and overseas machine manufacturers (EREMA in Austria and SIPA in Italy) to succeed in developing F-to-P direct recycling technology expected to be effective in further reducing the environmental burden, and started manufacturing in the fall of 2018. F-to-P direct recycling technology can directly manufacture preforms after processing crushed and cleaned flake from recycled PET bottles through a high-temperature dissolving process. The F-to-P direct recycling technology can reduce CO2emissions by 70%* compared to virgin PET bottles. ( Current mechanical recycle can reduce CO2 emissions by 60%.* )
Active Implementation of Recycled PET Bottles Overseas
We are partially implementing recycled PET bottles using recycled PET resins in products handled by Suntory Beverage & Food Europe in France such as MayTea, Oasis and Pulco. All Ribena products in UK have already been using recycled PET bottle using 100% recycled PET resin for over ten years. We plan to achieve a mid-term goal of shifting 50% of the materials used for beverage containers to recycled plastic by 2025 in Europe.
Ribena also implemented roll label technology used in Japan to significantly reduce the area covered by a label to 50% or less of the product so their packaging are more recyclable in January 2021.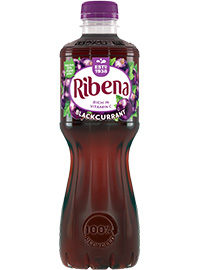 Introducing and Promoting Product Labels Made with Recycled PET Bottles
Suntory Beverage & Food introduced product label made with recycled PET bottles in part of 2L bottles for major non-alcoholic beverages such as (Mineral Water) Suntory Tennensui, Iyemon and Suntory Oolong Tea in November 2010 and currently uses role label* method for all its products.
This label is the first role label in the industry to use recycled PET bottles and the percentage of recycle PET bottles used has been increased from 60% to 80% in March 2012.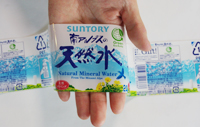 Bio : Actively Use of Plant-derived Resin
Aiming for 100% plant-derived plastic
The Suntory Group aims to replace petroleum-derived raw materials with renewable raw materials as much as possible in the development of plastic bottles. We implemented plastic bottles that use 30% bio-based PET materials for the 550mL (Mineral Water) Suntory Tennensui in 2013.
Suntory Holdings and Anellotech, Inc., a green innovation and technology company in the United States, have worked in a collaborative development of a plastic bottle that uses 100% plant-derived raw materials, and construction has begun in 2016 on a development and testing plant to produce plastic bottle materials in the state of Texas. We are planning to initiate the introduction of plastic bottles made from 100% bio-based PET materials around the (Mineral Water) brand of Suntory Beverage & Food in the future. In development, we are aiming to generate only plant-derived raw materials of non-foodstuff (wood chips) so that we do not impact the supply chain of foodstuff ingredients with paraxylene, which is a precursor of terephthalic acid that makes up 70% of the raw materials for plastic bottles.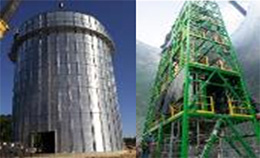 Achieved 100% Use of FSC®-certified Cardboard
The Suntory Group is gradually adopting paper packaging materials that have acquired the FSC certification*1 that ensures proper management of international forests for products made in Japan. Suntory Beverage & Food introduced FSC-certified cardboard packaging to (Mineral Water) Suntory Tennensui for products manufacture from August 2017. Since the end of February 2018, we have achieved 100% use of FSC-certified cardboard used for packaging all our Suntory Tennensui brand products. We are promoting the use of FSC-certified paper packaging materials throughout the Group with the sequential adoption of these materials for Suntory Beverage & Food products and as packaging for six packs.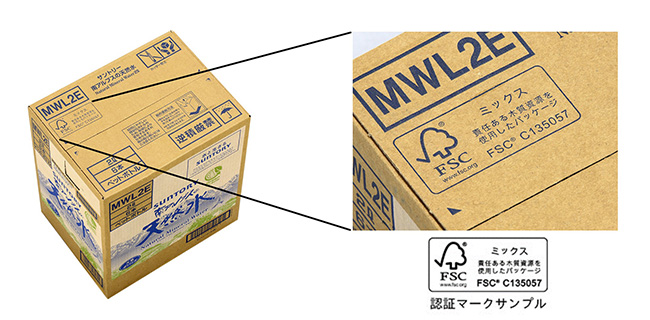 *1

Forest Stewardship Council (FSC) is an international organization that certifies timber produced from forests globally as well as the distribution and manufacturing processes of the cut timber. This certification considers the environmental conservation of these forests and recognizes timber produced in an economical and sustainable manner which generates revenue for the local community. This certification considers the environmental conservation of these forests and recognizes timber produced in an economical and sustainable manner which generates revenue for the local community.
Collaboration for Container Recycling with the Industry and Local Governments
Establishment of A New Company R Plus Japan to Work on the Recycling of Used Plastics
Suntory Group consists of 12 companies that make up the value chain. To realize a sustainable society and contribute in solving plastic issues, it has jointly established R Plus Japan, a company engaging in resource recycling of used plastics, which started operation from June 2020.
It is said that may of the plastics that are not PET bottles are being currently incinerated in Japan. This technology enables plastics including PET bottles to be chemically recycled by directly returning such plastics to benzene, toluene, xylene, ethylene, propylene and other materials. It requires less treatment process compared to other chemical recycling that require liquefaction and is hoped to reduce CO2 emissions and energy use. If this technology is established, we believe more used plastic can be recycled efficiently.
The newly established R Plus Japan will cooperate with Anellotech to develop technology for recycling used plastics that is efficient and has lower environmental impact. We will strive to achieve practical use this technology to contribute to solving the global issue of plastics through cross-industry cooperation with companies engaging in separation of collected plastics, monomer manufacturing, polymer manufacturing, package and container manufacturing as well as treading companies and beverage manufacturers.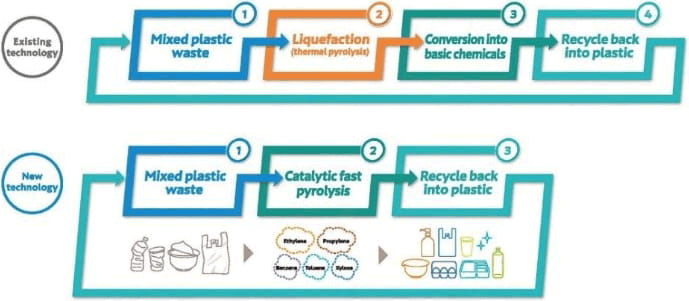 Promoting Direct Recycling with Local Governments
Suntory Beverage & Food has signed an agreement on bottle-to-bottle recycling business to recycle used PET bottles to new PET bottles jointly with the residents, local government and businesses with two cities and two towns (Takasago City, Kakogawa City and Inami and Harima in Kako District in Hyogo Prefecture) of Higashiharima in 2021, with the aim of creating a recycling-oriented society.
With this agreement, the two cities and two towns of Higashiharima and Suntory will collect and recycle used PET bottles separated by the residents as new PET bottles at a plant in the region to deliver and return them to the Higashiharima area.
Cooperation of multiple local governments and a company in bottle-to-bottle recycling as well as manufacturing, delivering and returning the recycled PET bottles all with in the region under the scheme are both first attempts in Japan. This agreement will promote bottle-to-bottle direct recycling and further strengthen environmental protection activities aimed to realize a recycling-oriented society.
Promoting Litter Control for Empty Containers
We are carrying out litter control activities for empty containers in order to beautify the environment and promote effective use of resources. We place one empty container collection box at every vending machine. We are also making efforts to raise awareness about recycling by affixing a Beautification Mark on vending machines as a way to prevent littering.

Issue of oceanic pollution from plastic bottles
The issue of oceanic pollution due to plastic bottles and other plastic containers, which is being debated as an environmental issue around the world, is one of the most important environmental challenges we as a society are facing. The Suntory Group strives to resolve this issue by actively cooperating with countries, regions, and industries in various initiatives as a beverage company who handles many of these containers. We have always been promoting 2R+B while expanding activities to raise consumer awareness about recycling.
In the future, we aim to improve the recycling rate even further in each country and region around the world and will encourage activities to promote improvements together with our various stakeholders.
In addition, as a part of the employee volunteer activities, each member of the company sees this issue as something that needs to be handled at the individual level and takes action through efforts including participating in the Beach Cleanup Activity sponsored by a non-profit organization in Japan, and participating in cleanup activities in the Chicago River basin overseas (Beam Suntory employees). We are conducting enlightenment activities to encourage employees to volunteer in similar cleanup efforts.
The Suntory Group formulated the Plastic Policy in June 2019 and aims for 100% sustainability by using only recycled or plant-derived materials for all PET bottles used globally by 2030 and achieving zero use of virgin petroleum-based materials.