The Suntory Group is promoting sustainable procurement with our business partners to contribute to the realization of a sustainable society as a company that has signed the United Nations Global Compact.
Basic Policy on Sustainable Procurement
In order to offer our customers high-quality products and services, at the Suntory Group we believe it is crucial to promote sustainability throughout our entire supply chain. This means to give due consideration to environment and society, as well as to safety and reliability.
In 2011, in order to promote sustainability, we established the Suntory Group's Basic Policy on the Sustainable Supply Chain that consists of six main pillars - legal compliance, human rights and labor standards, quality, environment, information security, and the coexistence with society - that address global issues such as child labor, forced labor, freedom of association and collective bargaining, working hours, the guarantee of minimum wages, etc. In order to promote sustainability, we are raising awareness and deepening understanding with our business partners.
In order to avoid that our purchasing practices affect negatively the human rights of our suppliers' workers, we agree on estimated lead times in advance with our suppliers, and share our payment terms in advance. We also implement the necessary mechanisms and procedures so that payments are executed on the timeframe agreed with the supplier.
Furthermore, if we assume that there is a high human rights risk in one particular ingredient, we review our purchasing practices and strive to reduce the risk. For example, in some of our business units we switch to sustainable-certified palm oil in order to minimize human rights and environmental risks.
The Suntory Group's Basic Policy on Supply Chain Sustainability
(Established 2011)
In order to provide high-quality products and services safely and reliably based on our corporate philosophy of "To Create Harmony with People and Nature" and our Code of Business Ethics, the Suntory Group engages in fair business practices and, in collaboration with supply chain business partners, promotes procurement activities that take social responsibility into consideration, mindful of such issues as human rights, labor standards, and the environment.
We build good partnerships with our business partners and contribute toward realizing a truly affluent and sustainable society.
1. Legal Compliance and Respect for International Standards of Conduct
We will promote fair and equitable procurement activities that comply with each country's laws and respect international standards of conduct.
2. Consideration for Human Rights, Labor, and Safety and Health
We will promote supply chain CSR initiatives that respect basic human rights and are mindful of labor conditions and safety and health.
3. Guaranteeing Quality and Safety
Aligned with the Suntory Group Quality Policy, we will promote supply chain CSR initiatives that seek to guarantee a high level of quality and safety based on the optimal standards for quality, cost, and supply.
4. Consideration for the Global Environment
Aligned with the Basic Principles of Suntory Group's Environmental Policy, we will promote procurement activities mindful of the global environment.
5. Preservation of Information Security
Confidential information regarding procurement dealings and personal information will be strictly controlled.
6. Coexistence with Society
We will promote social contribution initiatives directed toward coexisting within society.
Furthermore, as stated in our Human Rights Policy, we require our suppliers to understand and comply with the ILO Tripartite declaration of principles concerning multinational enterprises and social policy and ILO Declaration on Fundamental Principles and Rights at Work. We expect compliance through the voluntary efforts of our suppliers, even if the ILO principles are not adequately protected by local law.
Establishing Supplier Guidelines
We established the Suntory Group Supplier Guidelines based on the Basic Policy on the Sustainable Supply Chain in June 2017 to contribute to the realization of a sustainable society while also accelerating sustainable procurement within the Suntory Group. These guidelines put in place specific compliance items required in each field from human rights and legal compliance to the environment for suppliers of Suntory in Japan and overseas to confirm the same ethical values are shared between the Suntory Group and its suppliers.
Compliance with our human rights commitments is a prerequisite for engaging in a business relationship with suppliers, and we require signing our Code of Conduct/Supplier Guidelines to both new and current suppliers. If a serious law-breaking human rights violation is discovered and it is recognized that the supplier has no intention of improving even after communication, it may lead to the termination of the contract. In order to comply with our Supplier Guidelines, we are promoting joint efforts with suppliers, such as sharing those guidelines at supplier meetings or sharing related information through Sedex.
In addition, in terms of human rights commitments, we request suppliers to cascade down those commitments to their own suppliers.
Suntory Group Supplier Guidelines PDF
Conducting risk assessment using Sedex
Suntory Group conducts a screening based on The Suntory Group's Basic Policy on Supply Chain Sustainability for all new suppliers. In addition, in June 2019 we joined Sedex, the largest supplier ethical information sharing platform for corporate ESG data in the world.
Through this platform we are engaging our suppliers and gathering key information (SAQ*) regarding social and environmental compliance.
As of April 2022, over 1000 manufacturing facilities of suppliers around the global are linked with the Suntory Group through Sedex, and we have started to conduct risk assessments. By leveraging the tools provided by Sedex, we have strengthened supplier management, enabling us to visualize and monitor the environmental and social risks faced by our suppliers.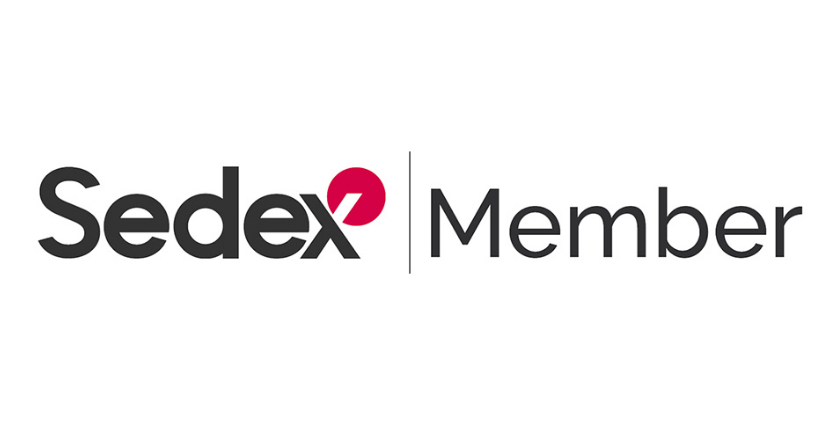 * Self Assessment Questionnaire
Rigorously Engaging in Fair and Equitable Business Practices with Suppliers
In our dealings with suppliers, we provide each company with an opportunity for equitable competition in keeping with our Purchasing Control Regulations and our Business Partner Selection Standards, based on the Suntory Group's Basic Policy on Supply Chain Sustainability. At the same time, we fairly evaluate efforts regarding the quality and supply capabilities of the products and services, financial status, assured safety, environmental conservation, and social contribution of each company, when we select new suppliers or determine whether to continue business with our existing business partners.
We consider our business partners as trusted partners who combine their strengths with ours in order to provide products and services that bring joy to our customers.
Suntory Group Standards for Business Conduct
Bookkeeping System that Corresponds to the Subcontract Act
Suntory Group operates a bookkeeping system that corresponds to the Act against Delay in Payment of Subcontract Proceeds, etc. to Subcontractors (Subcontract Act), enforced by the government of Japan. The system prevents troubles such as payments delay through displaying warning on the administrator screen when payment process is not carried out according to the information such as payment conditions entered at the ordering of raw materials or packaging. There was no transaction of raw material or packaging that violated the Subcontract Act in 2020.*
Procurement Ratio by Supplier Region
Suntory Group are purchasing raw materials from the suppliers in the regions below. We promote the sustainability of raw materials in cooperation with our suppliers.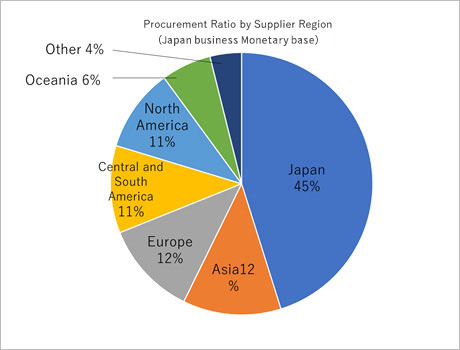 In addition, in order to increase transparency in the supply chain, from a basic purchasing practice perspective, we have formal contracts with all 1st tier suppliers and obtain basic information about those suppliers. Additionally, we try to obtain information on 2nd tier and beyond suppliers via the 1st tier supplier when possible, and carry out on-site visits of those 2nd tier and beyond suppliers.
Improving Cooperation with Business Partners
The Suntory Group strives to promote sustainable procurement together with all of its business partners in the supply chain. We are promoting better awareness and support so that the necessity of sustainability initiatives is understood through education for our company representatives and policy briefings and questionnaires for our ingredient suppliers, manufacturing outsources, logistic affiliates, and other primary business partners. In addition, Suntory Group participates in the Consumer Goods Forum Japan*, which promotes distribution networks of consumer goods across the industry, to reduce the environmental impact of the Suntory supply chain.
*

The Consumer Goods Forum Japan is an organization primarily made up of companies in the consumer goods distribution industry that engages in cooperative manufacturing, distribution and sales efforts to address common challenges in non-competitive industries in Japan.