In order to sustain business and continue to create value, the Suntory Group thinks it is necessary to identify risks due to climate change as well as their potential impact on business and respond appropriately.
The Suntory Group has declared its approval of Task Force on Climate-Related Financial Disclosures (TCFD) recommendations in May 2019. The TCFD was established by the Financial Stability Board (FSB).
In addition, we established the Suntory Group's 7 Sustainability Themes in July 2019 as future initiatives with the reduction of Green House Gas(GHG) emissions serving as an important theme among them.
Making the promise of "Mizu To Ikiru", literally "living with water", to society, along with grasping water supply risks due to climate change and conducting appropriate water conservation and discharge management, we will evaluate all the watersheds that surround our sites and, together with our stakeholders, promote initiatives for water sustainability. From here on, we will further advance scenario analysis and expand disclosure of information related to the risks and opportunities that climate change poses to business.
1. Governance
At Suntory Beverage & Food, risk management committee and Sustainability Committee are in constant collaboration, and important decisions are further discussed and resolved by the board. Progress on strategies relating to environmental and social issues, as well as business risks and growth opportunities, are reported to the board accordingly. The board members are also provided opportunities to deepen their knowledge of sustainability through training sessions with external experts, convening board meetings at production and R&D facilities, and exchanging views.
Suntory Beverage & Food's sustainability management promotion organization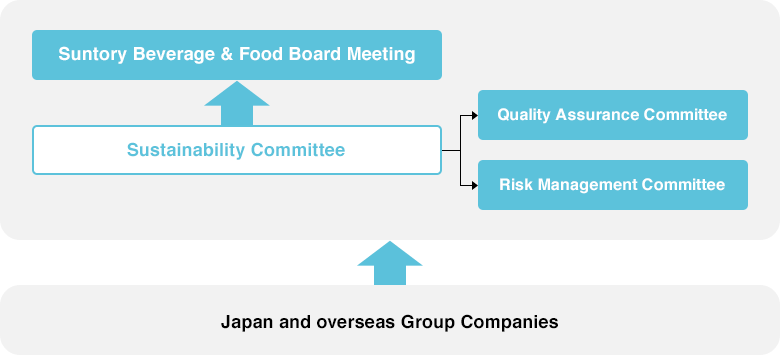 2. Strategy
Water Supply Risks
Water is the most important ingredient of our products, as well as a precious shared resource, it is imperative for the Suntory Group to understand the impact that water risk has on our business, local communities, and the ecosystem based on water risk assessment for sustained business growth. Based on this, the Suntory Group conducted a risk assessment of water sustainability at its own plants*.
Water Supply Risk Assessment Process
Primary Assessment — Screening of plants to prioritize based on Science Based Targets for Water
We revised the primary assessment conducted in FY2019 using a methodology developed in the SBT for Water pilot study* in which we participated in 2021.
As a first step, we identified materiality related to water in our direct operations based on industry characteristics. Through this, we found that the most critical materiality is the water availability in watersheds where our plants are located. In addition, we identified that groundwater and surface water as the ecosystem services on which our plant operations the most highly depend.
Next, we assessed water availability at all our plants to narrow down plants that need risk management as a priority. We used Aqueduct developed by the World Resources Institute, an international non-profit research organization for global environment and development issues, and Water Risk Filter developed by World Wide Fund for Nature (WWF), one of the world's largest environmental protection organizations. Specifically, we used four Aqueduct and Water Risk Filter indicators to assess water availability that is our materiality. We used these indicators to assess the water demand against the water supply in nature. To determine the current water stress situation, we used three indicators, such as "Water depletion" of Water Risk Filter, that show the current water resource status. Furthermore, we used the "2040 Water Stress" of Aqueduct, which estimate the state in 2040, to assess the risks related to water availability based on future scenarios such as climate change. Each indicator assesses the scale of risks in five levels, and we have calculated the average score of the three indicators to evaluate the current state of each plant. We categorized sites located in areas with an average score of "5: Extremely High" or "4: High" as sites with "Extremely high water-stressed." Also, the sites with a score of "2040 Water Stress" over four were categorized as sites with "Highly water-stressed."
As a result, of the total water withdrawal by all our plants in 2020, 3% were by sites with "Extremely high water-stressed," and 18% were by sites with "Highly water-stressed."
Water Depletion of Water Risk Filter (Five Levels)
2040 Water Stress BAU Scenario of Aqueduct (Five Levels)
Secondary Assessment — Individual site assessment
Sites that passed the screening in the Primary Assessment were assessed individually on the progress of their measures to reduce risks from perspectives of water management (water withdrawal and water saving) and co-existence with the local area. Since each plant faces different water-related conditions in its respective area, we conduct measures to reduce risks that correspond with local conditions.
Water Management
The water resource is a precious shared resource that needs to be used appropriately and it is important to conduct water management at plant for responsible use.
First, we categorized water used in our plants as natural water (surface water or groundwater) or municipal water. Municipal water is supplied through the local waterworks bureau by paying a water utility fee. Generally, the water source is from a wider area and shared by many users. As the waterworks bureau primarily manages it, cooperating with the local bureau must coexist with the local community. When using natural water (surface water or groundwater) as a source, it is sourced from smaller areas than municipal water, and the impact from climate change and other environmental changes is more significant. In addition, it is primarily managed by Suntory, and we proceed with measures at our plants that use natural water (surface water or groundwater) as a priority.
We evaluate the following two points.
1

Water management for water withdrawal

Promotion of activities to use water properly (to not take in too much water)
Note: The local waterworks bureau manages all water withdrawal management for plants that use municipal water. Therefore, those plants are not evaluated.
2

Water management for water-saving

The ability to prove that water is being used properly (that water is not being wasted)

Water management for water withdrawal

- Avoid taking in too much water -
| | | |
| --- | --- | --- |
| Water withdrawal data is not being managed | >>> | |
| Management of water withdrawal data is insufficient | >>> | |
| Water withdrawal data is being managed, and water withdrawal is being handled properly | >>> | |
Water management for water-saving
- Avoid using excessive water -
| | | |
| --- | --- | --- |
| No medium-term target for water use per unit of production was established | >>> | |
| No short-term target for water use per unit of production was established/achieved | >>> | |
| The target for water use per unit of production achieved | >>> | |
Results of the Secondary Assessment
We implemented an action plan designed to reduce risks through visualizing risks and suggesting solutions. As of December 2021, 29% of the plants at Suntory Beverage & Food were evaluated as "Green" and 71% were evaluated as "Yellow" for water withdrawal management. For water saving management, 65% of the plants evaluated were rated "Green," 21% were rated "Yellow," and 14% are currently under investigation.
Using the same process, we will continue improvement efforts prioritizing to high-risk areas.
Co-existence with the Community
Recognizing that we are users of water resources and are one member of many stakeholders in the watershed, we aim to work hand-in-hand with other stakeholders to conserve the water resources in the watershed and to contribute to society's development.
Co-existence with the Community
Assessment criteria for the progress of measures to reduce risks are as the following:
Water-related issues are identified.
Working with the community to solve issues.
| | | |
| --- | --- | --- |
| No efforts | >>> | |
| Conducts "identification of water issues" or "initiatives with the community" | >>> | |
| Conducts "identification of water issues" and "initiatives with the community" | >>> | |
Results of the Secondary Assessment
We identify water related issues and conduct water resource conservation initiatives with universities and experts in each area. As of December 2021, 28% of the plants at Suntory Beverage & Food were evaluated as "Green," 36% were evaluated as "Yellow," and 36% were rated "Red,"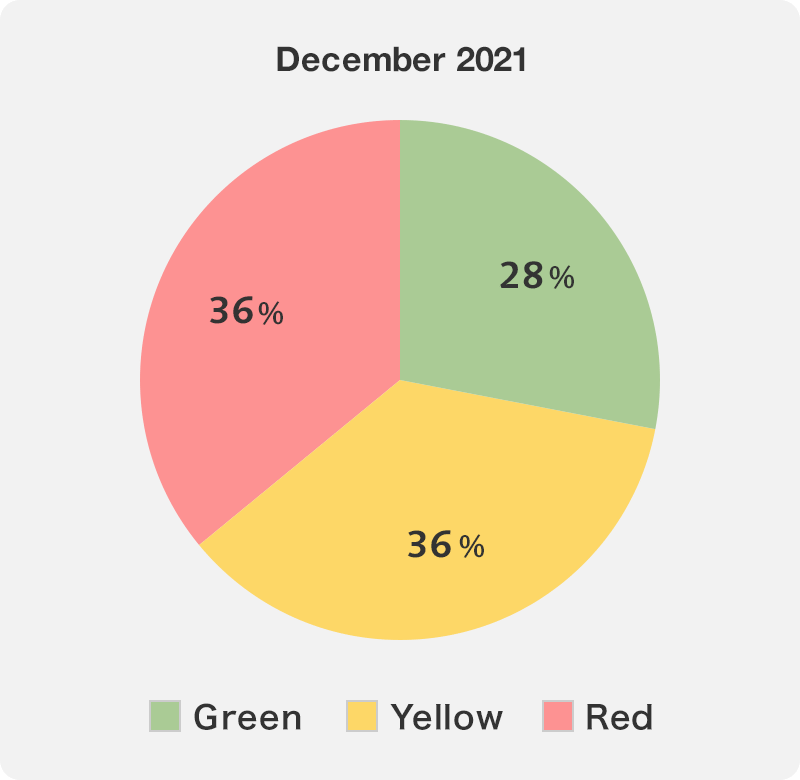 Based on the results of this assessment, we are promoting local initiatives on a priority basis, starting with plants with high water risk. At the Toledo plant in Spain, we collaborate with a local NGO to improve the water quality of the Tajo River basin through a project called "Guardians of Tajo." We are currently conducting a more detailed field survey of the city water reservoir used by the plant to identify the recharge area to make a plan for conservation activities. Furthermore, at the Bogor plant in Indonesia, we have been working with experts from a local university to conduct a hydrological survey of the watershed to formulate a plan for groundwater conservation. We have surveyed river flow rates and water quality, considering the rainy and dry seasons.
In this way, we have been conducting on-site surveys, and working with stakeholders in the watershed to implement initiatives at prioritized plants in highly water-stressed areas. In addition, we have been conducting water-related surveys of our significant suppliers on an ongoing basis since 2021.
As we advance, we will coordinate with "Mizuiku" - Education Program for Nature and Water as part of the activities to raise awareness about the importance of water in areas where we promote water resource conservation activities.
Stable Procurement of raw materials
Activity promotion scheme for ensuring raw and packaging materials in long-term
With regard to agricultural products and other raw ingredients that are essential to our products, we cooperate with business partners across the supply chain, identify social and environmental issues, and promote sustainability initiatives that enable us to grow together, thereby enriching our communities.
It is predicted that extreme weather, such as drought and flooding, occurring due to climate change will have a major impact on production activities, including causing fluctuations in production volumes and creating the need to move to other locations which offer suitable cultivation. Furthermore, behind production and procurement activities lie social issues that negatively affect the human rights of people working across the supply chain. To offer our customers high-quality products and services, as Suntory Group we believe it is crucial to promote sustainability throughout our entire supply chain. This means we need to give due consideration to environment and society, as well as to safety and reliability.
Based on this belief, the Procurement Center of Excellence is created to promote long-term raw material strategy, optimum procurement globally and sustainable procurement throughout the Group.
Overview of long-term strategy
The TCFD framework is used to formulate the strategy, and it also utilizes open scenario such as RCP2.6 (scenarios below 2℃), RCP 8.5 (4℃ scenario) from the Intergovernmental Panel on Climate Change (IPCC) and the International Energy Agency (IEA) scenarios, to draw up the future world and understand risks and opportunities.
Furthermore, by focusing on our own policies such as Environmental Vision toward 2050 or The Suntory Group's Basic Policy on Supply Chain Sustainability and long-term trends specific to raw materials, we aim to create a vision of what we would like raw material procurement to be in the future world, and to find countermeasures based on the gaps between the current situation, so that we can respond to a wider range of social and environmental sustainability issues.
Activity Overview
The strategy development is based on the following steps:

1

Selection of important materials
Identify materials that are particularly important for our business activities.
Conduct risk assessment of materials handled in our business.
Based on the results of the assessments, the materials for which long-term strategies are to be formulated are selected through consultations with related parties.
2

Creation of focused teams
A team consisting of experts within the group from various departments such as research, development, procurement, and quality assurance is formed to work on the selected materials.
3

Building strategy
Analyze market, company, and trends by team of experts
Analyze future world scenarios and description of the ideal state within those scenarios
Design of activities by Back-casting from the future world back to the present to set issues
4

Strategy monitoring
Monitor signs of scenario change and strategy revision based on prior assumption of change
Revise road map of strategy building by re-evaluating materials risk
Strategy Execution
The long-term strategy formulated by the team of experts is discussed regularly by the Sustainability Committee, an advisory body to the Board of Directors, and its activities are promoted.
2021 Progress of Activity
Based on the aforementioned approach to strategy formulation, Suntory Beverage & Food has implemented the following activities in steps 1 to 3 in 2021, which are described in detail below.
Step.1 Selection of important raw materials
In 2021, we conducted a risk assessment of the sustainability of raw materials to determine raw material items for which to develop long-term strategies.
<Risk assessment process>
1

Extraction of important raw materials

The impact is defined as the loss of product sales that the business would suffer if there were a problem with the supply of raw materials, and raw materials with a high impact were extracted as priority raw material, including agricultural materials such as coffee beans and corn, the material that undergo processing such as sugar, and vitamin C.
2

Risk Assessment

To evaluate the possibility of problems in the supply of the extracted key raw materials – the effects of climate change on yield and suitable areas for cultivation, which are considered to have the greatest impact on future supply, were studied and evaluated from the research and statistical perspectives. One of the results is shown in Figure 2. For raw materials that undergo a certain amount of processing, the risk assessment considers the impact of climate change on the production area of the base material and the ratio of raw materials used in the process. (Example: for sugar, see the results of climate change impact assessment for sugar cane, and sugar beet)
Based on the above approach, we found that the yields of agricultural materials such as corn, sugarcane, and coffee beans will be Significantly impacted in several production areas. On the other hand, for green tea leaves procured in Japan, it was found that the suitable growing area will increase.
Figure 2: Survey Results (Suntory Beverage & Food)
Scenario of a 4℃ temperature increase: Study of the effects of yield and suitable land on major raw materials and production areas
Business
Sector
Material
North
America
Latin
America
Asia
Europe/
Africa
Oceania
Beverage*
Corn

USA

Yield :

dw02

Brazil

Yield :

dw02

China

Yield :

dw02

Beverage*
Sugarcarne

Brazil

Yield :

up02

Thailand

Yield :

dw02

Australia

Yield :

up01

Beverage
Coffee beans

Brazil

Suitable land :

dw02




Colombia

Suitable land :

dw02




Guatemala

Suitable land :

dw02

Beverage*
Raw milk

Japan

Yield :

dw01

-

dw03

Australia

Yield :

dw01

-

dw03




New Zealand

Yield :

dw01

-

dw03

Beverage
Green tea leaves

Japan

Suitable land :

up01
3

Formulate a road map of strategy building

By referring the results of the survey and considering the results of the Suntory group evaluation, the following raw material items were selected to implement the long-term strategy as a comprehensive decision.

2021: Coffee, Oolong Tea, and Corn
2022: Barley, Sugar, High Fructose Corn Syrup (HFCS), Vitamin C and Citric Acid
2023: Lemon, Orange, Grapefruit, and Black Tea
2024: Dairy

Prior to the above activities, we are working to mitigate the impact of climate change on our business with regard to blackcurrant as follows.
Blackcurrant
Suntory Beverage & Food Great Britain and Ireland manufactures and sells Ribena conducts research on new species of cassis that is resilient to climate change. In July 2020, new species of cassis that is resilient to climate change named "Ben Lawers" were harvested. This was a result of a long-term joint research with the James Hutton Institute, a research institute for agriculture.
Step.2 Creation of focused teams
Following the activity plan of Step 1, team of experts are being formed for Coffee, Oolong tea, and Corn in 2021.
Step.3 Building strategy
For the raw material items for which the task force was formed, we set the time axis to 2050, and we envision changes include financial impact on our business in the future world of 2050 by referring to open scenarios it covers environmental element like climate change, and also covers social perspectives such as human rights. Then, based on the trend analysis and the company's own goals, the ideal state of raw material procurement in the future world is drawn, and the way to reach this goal is examined.
Next Step
The long-term strategy will be formulated over a period of three years, and activities will be carried out on an annual basis while incorporating new information on the market environment and the impact of climate change. In Step 4, Strategy Monitoring, which is scheduled to be conducted after the strategy is formulated, we will periodically check for the occurrence of events such as the junctures of multiple possible scenarios and the success of technological innovations necessary to achieve the desired goals. This will enable us to capture important changes as much as possible in advance and revise the strategy to incorporate them.
We will also consistently re-evaluate risk of materials and revise our road map of strategy building as necessary.
3. Risk
Suntory defines "risk" as a potential event that affects the achievement of the Group's strategies and goals. Through the Risk Management Committee (RMC) and the risk management committees and risk management teams established at each group company, we identify and evaluate important risks for the entire group and identify risks that should be prioritized for our company, consider countermeasures, and reviewing them on an annual basis.
Risk Management System at Suntory Beverage & Food
Approach to Identifying and Evaluating Risks
For the risks identified, we create a heat map based on the two axes of "Risk Exposure" and "Degree of Response", evaluate the importance especially for group-wide material risks on a three-point scale, and identify the risks to be prioritized. "Risk Exposure" is calculated by probability of occurrence (probability) x magnitude of impact (impact), and "Degree of Response" is calculated by the degree of preparation for countermeasures. As a result of the evaluation, climate-related risks are positioned as one of the most important risk types.
Approach to Managing Identified Risks
For the identified risks that should be prioritized, a person in charge and a monitoring organization will be appointed to implement the risk countermeasures. The response status is reported and discussed by the Risk Management Committee (RMC), and the PDCA cycle of extraction, evaluation, countermeasures, and monitoring is carried out.
4. Indicators and Targets
Regarding climate change and water, which are expected to have a large impact on business, the Suntory Group has established "Environmental Targets toward 2030" as the medium-term targets with 2030 as the target year and "Environmental Vision toward 2050" as the long-term vision with 2050 as the target year, and are moving ahead with initiatives for dealing with climate change.
*1

Water intensity is the amount of water withdrawn per unit of production, which is 1 kiloliter of production

*2

Owned plants that manufacture final products and excludes plants for packaging and ingredients

*3

Reduction of water intensity of production based on 2015 baseline year

*4

Coffee, barley, grapes

*5

Based on emissions in 2019.
2030 targets have been certified by the Science Based Targets initiative (SBTi) as consistent with the 1.5 degrees Celsius trajectory.
Initiatives
To achieve the 2030 target, the Suntory Group is globally promoting various water-related initiatives such as activities to conserve and restore the natural environment. We started the Natural Water Sanctuary Initiative to cultivate water resources in forests in 2003. Now we have 21 Suntory Natural Water Sanctuaries in 15 prefectures which cover a total area of approximately 12,000 ha and supply more than twice the amount of water used by our plants in Japan. In 2021, we signed a partnership agreement with the Alliance for Water Stewardship (AWS), an internationally prestigious organization that promotes water conservation and stewardship (responsible management of water resources) globally, and now we are recognized as a leading organization in promoting water sustainability.
As part of our GHG reduction efforts, we will aim to achieve 100% renewable electricity in the group's 63 directly-owned manufacturing sites and R&D facilities in Japan, the Americas and Europe by 2022*1. In addition, the company will start introducing internal carbon pricing to its group companies this year and plans to invest a total of approximately 100 billion JPY (equivalent to approximately 900 million USD*2) by 2030 to shift to low-carbon alternatives. The company estimates that these actions together will amount to a reduction of approximately 1 million tons of greenhouse gas (GHG) emissions in its direct operations compared to a business-as-usual projection for 2030.
Suntory Beverage & Food Progress 2020
For more information on Environmental Targets toward 2030 and Environmental Vision toward 2050, please visit here.
For more information on results of GHG emissions, please visit here.