Suntory Beverage & Food Limited (SBF) is pleased to announce that sales of our core brand, Suntory Tennensui, have been strong and achieved full year sales of 100 million cases during 2016.
Since its release in 1991, the Suntory Tennensui brand has continued to expand sales and has been the No. 1*1 selling brand on the mineral water market for 21 consecutive years.
This is the first brand for the Suntory soft drink business to achieve sales of 100 million cases in a single year.
*1. Intage SRI research: Mineral water sales volume, January 1996 through December 2016 (monetary amount)
[Retail outlets]
1996 – 2001 total for SM/CVS/general liquor shops/beverage & food shops/bakeries
2002 – 2006 total for SM/CVS/drug stores/general liquor shops/beverage & food shops/bakeries
2007 - 2016 total for SM/CVS/drug stores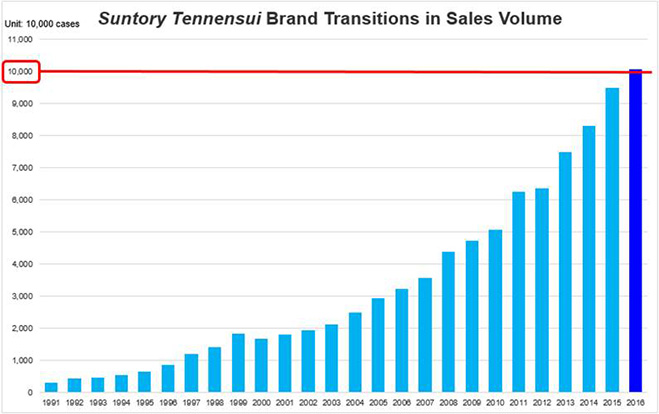 Amid constantly changing lifestyles, for many years now the Suntory Tennensui brand has continued to deliver safe and delicious natural water to our customers.
In an age of increasing health-consciousness, our focus on the values of "clear and delicious", "natural and healthy" unique to the Suntory Tennensui brand fostered endearing support from a wide range of consumers. Also, Yogurina & Minami-Alps Tennensui exceeded 10 million cases sold faster than any other product on the flavored water market*2 and we have continued to delivery new value to our customers through products centered on the Suntory Tennensui brand, including Asa-zumi Orange & Minami-Alps Tennensui and Minami-Alps Tennensui Sparkling. We believe the culmination of these factors and achievements helped the Suntory Tennensui brand exceed 100 million cases sold in a single year.
*2. SBF research
Under the corporate message Follow Your Nature, the Suntory Group conducts various unique research and activities related to water.
SBF conducts numerous forward-looking corporate activities. From water in the natural environment to the water than runs through our bodies, the Suntory Institute for Water Science conducts comprehensive water research and promotes the dissemination of knowledge and information. We also are collaborating with universities and other expert organizations on the Suntory Natural Water Sanctuary project, forest development activities in 19 locations throughout the country covering a total of 9000 hectares, and the Suntory "Mizuiku" Natural Water Education Program, next-generation environmental education that aims to teach the importance of nature to future generations.
Our environmental load reduction activities even include beverage containers. The Suntory Tennensui (550ml) product features the nation's lightest*3 bottle cap, which uses 30% plant-based materials. The bottle and label also feature environmentally-friendly designs.
*3. As of December 2016, SBF research
Suntory Tennensui will continue to deliver fresh, clean, and delicious water drawn from only the finest water sources and we at SBF will continue to propose new value for our customers.
▼Suntory Tennensui website: http://suntory.jp/tennensui/ (Japanese only)
▽Customer inquiries regarding this release
Suntory Customer Center
 Toll Free: 0120-139-320
 2-3-3 Daiba, Minato-ku, Tokyo 135-8631
Suntory Beverage & Food Limited website:
 https://www.suntory.com/softdrink/index.html