KEWPIE SPECIAL
SUNTORY HALL NEW YEAR CONCERT 2010
SYMPHONIE-ORCHESTER DER WIENER VOLKSOPER -VIENNA DANCE-
A joyous concert to celebrate the arrival of the New Year with the Wiener Volksoper, a name synonymous with operetta, performing some of the most popular waltz and polka tunes. Enjoy authentic Viennese music to your heart's content.
Fri, Jan 1 (National Holiday) 14:00/ Sat, Jan 2 14:00 / Sun, Jan 3 14:00
Ola Rudner, conductor & violin
Natalia Ushakova, soprano
Mehrzad Montazeri, tenor
Program:Johann Strauss II: Geschichten aus dem Wienerwald,
Walzer, An der schonen, blauen Donau, Walzer, etc.
S=¥9,000 A=¥7,500 B=¥6,000 C=¥5,000
| | | |
| --- | --- | --- |
| O. Rudner | N. Ushakova | M. Montazeri |
FRANCESCO DEMURO(T) RECITAL WITH NICOLA LUISOTTI(Pf)
Fri, Feb 19 19:00
Francesco Demuro, tenor
Nicola Luisotti, piano
S=¥7,000 A=¥6,000

F. Demuro

N. Luisotti
©Dario Acosta
MITSUBISHI UFJ SECURITIES SPRING OPERA
SUNTORY HALL MOZART & DA PONTE 2008-2010 HALL OPERA®
WOLFGANG AMADEUS MOZART: COSÌ FAN TUTTE(In two acts with Japanese subtitles)
The final year of a three-year series of the three most popular Mozart-Da Ponte operatic masterpieces staged by the celebrated team of Nicola Luisotti and Gabriele Lavia. Rising stars Francesco Demuro, and Nino Surguladze will newly join Markus Werba and Serena Farnocchia who performed to great acclaim in "the Marriage of Figaro" in 2008 and "Don Giovanni" in 2009 earlier in this series to make it a thrilling stage. Have a delightful time of the Hall Opera by the most fascinating cast where the audience will merge to the stage.
Fiordiligi: Serena Farnocchia
Dorabella: Nino Surguladze
Guglielmo: Markus Werba
Ferrando: Francesco Demuro
Despina: Davinia Rodriguez
Don Alfonso: Enzo Capuano
Nicola Luisotti, conductor & fortepiano
Gabriele Lavia, stage director
Tokyo Symphony Orchestra
Suntory Hall Opera Academy, chorus
S=¥27,000 A=¥23,000 B=¥19,000 C=¥15,000 D=¥8,000 Platinum=¥37,000 (Seats are limited to 100 only on Mar 14 with an après-concert cocktail.)
| | | | |
| --- | --- | --- | --- |
| M. Werba | S. Farnocchia | N. Surguladze | F. Demuro |
SUNTORY HALL "OPEN HOUSE"
To coincide with the Ark Hills cherry blossom festival, everyone is free to visit Suntory Hall throughout the day to enjoy orchestral and organ performances as well as a music quiz and guided tour of Suntory Hall.
Sun, Mar 28 10:00
Admission free
OBIC SPECIAL CONCERT 2010
The 70th birthday of Ken-ichiro Kobayashi, a conductor of passion, popularly known as Kobaken, will be feted in this concert of dynamic sounds. A total of 400 musicians will gather on this day of celebration to perform in a specially-formed orchestra or chorus, as well as to solo-perform.
Fri, Apr 9 19:00/ Sat, Apr 10 14:00
Ken-ichiro Kobayashi, conductor
The 70th Anniversary Festival Chorus
Japan Philharmonic Symphony Orchestra (Fri 9)
Kobaken & his Friend's Orchestra (Sat 10)
Program:Mahler:Symphony No.2 in C minor "Resurrection", etc. (Fri 9)
Tchaikovsky: Festival Overture "1812", etc. (Sat 10)
S=¥12,000 A=¥9,000 B=¥6,000 (Fri 9)
S=¥8,000 A=¥7,000 B=¥6,000 (Sat 10)
| | |
| --- | --- |
| 2009 Concert | |
TOKYO SYMPHONY ORCHESTRA & SUNTORY HALL
SUBSCRIPTION CONCERT FOR CHILDREN 2010
A popular subscription concert designed for children with diverse ideas in the upper grades of primary school. At the planning stage, children are invited to submit illustrations for the concert brochure and title music for this event. They are also invited to perform with the orchestra.
Sat, Apr 24 11:00 / Sat, Jul 3 11:00 / Sat, Sep 11 11:00 / Sat, Dec 11 11:00
Naoto Otomo, conductor & talk
Tokyo Symphony Orchestra, etc.
Subscription tickets (for 4 concerts)=¥10,000
Single ticket=¥3,000
From Past Concerts
RAINBOW 21 SUNTORY HALL DEBUT CONCERT 2010

Blue Rose (Small Hall)
A unique concert by students representing their colleges. Based on publicly proposed ideas, musically gifted students will both produce and perform a concert at Rainbow 21. Enjoy this elaborately planned concert.
Fri, Jun 6 19:00 : The world of Eric Satie - Rediscovery of Satie by His Music and Letters - produced by Toho Gakuen School of Music
Tue, Jun 8 19:00 : Mozart × Opera = A Variety of Love - Highlights from "Così Fan Tutte" and "Die Zauberflöte" with woodwind Ensemble - produced by Kunitachi College of Music
Fri, Jun 11 19:00 : Samuel Barber - His Creed and Beloved Songs - produced by Tokyo College of Music
Ticket prices: Non-reserved seats=¥2,000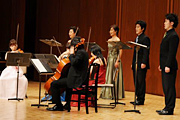 2009 Rainbow 21
SUNTORY HALL BLUE ROSE SALON CONCERT
Françoise Sagan's Esprit

Blue Rose (Small Hall)
A salon concert of music and talk on a variety of cultural topics beyond classical music, including art, literature and costumes.
Sat, Jun 5 14:00 ・18:00
Reserved seats=¥6,000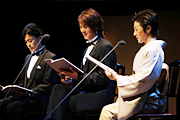 2009 Concert
RAINBOW 21 INTERNATIONAL SUNTORY HALL DEBUT CONCERT 2010
CONSERVATOIRE NATIONAL SUPERIEUR DE MUSIQUE DE PARIS

Blue Rose (Small Hall)
Rainbow 21 International is a project which invites students from prestigious music colleges overseas. In 2010, the Paris Conservatoire will be featured. Three ensembles which were selected for the Rainbow 21 International will make their debut at Suntory Hall with elaborately designed creative programs.
Sat, Jul 10 15:00
Program: Schubert: Notturno
Brahms: Trio C minor, etc.
Non-reserved seats=¥3,000
Student=¥2,000
"ORGAN ADVENTURE" SUNTORY HALL ORGAN PROGRAM FOR CHILDREN
A program designed for primary school children to learn all about the organ through a hands-on learning experience. Children with a specially-made 'exploration log' in hand pursue their 'mission' to learn about the mechanism of the organ. While listening to the concert, they will learn about the organ and its history through the music.
Sat, Jul 17 Time: 13:00 ・15:30
¥1,000
| | |
| --- | --- |
| 2009 Organ Adventure | |
CARNEGIEKIDS AT SUNTORY HALL

Blue Rose (Small Hall)
A 60-minute program for children from 3 to 6 years old. Carnegiekids at Suntory Hall will give children the opportunity to experience the splendor of music by listening to, feeling and expressing music themselves.
Thu, Jul 29 11:00・14:00 / Fri, Jul 30 11:00・14:00 / Sat, Jul 31 11:00・14:00
Airi Yoshioka, host
Michael Mizrahi, piano
Gregory DeTurck, piano
Joanna Kaczorowska, violin
Claire Bryant, cello
Carol McGonnell, clarinet
Lidia Kaminska, bandoneón
Child (Aged 3-6)¥1,000 Adult (Accompanying Children) ¥2,000
| | |
| --- | --- |
| 2008 Carnegiekids | |
SUNTORY HALL INTERNATIONAL PROGRAM FOR MUSIC COMPOSITION NO. 34 (Supervised by Joji Yuasa) - JONATHAN HARVEY -
A series in which a world renowned composer, who will also be featured in the Summer Festival of the Suntory Foundation for Arts, is commissioned to write an orchestral work.
■Main Hall
Orchestral Works
Mon, Aug 30 Time: 19:00
Ticket prices: S=¥4,000 A=¥3,000 B=¥2,000
■Blue Rose (Small Hall)
Composer Talks about his works and himself
Tue, Aug 24
Admission free (Numbered entry tickets will be issued on a first come first served basis)
SUNTORY HALL FESTIVAL SOLOISTS 21
Violinist Kyoko Takezawa, violist Yasushi Toyoshima and cellist Tsuyoshi Tsutsumi form a unique ensemble annually together with some guest artists to give the audience a rare opportunity to hear this first-rate chamber music ensemble.
Mon, Sep 13 19:00
Kyoko Takezawa, violin
Yasushi Toyoshima, viola
Tsuyoshi Tsutsumi, cello, etc.
S=¥6,000 A=¥4,000 B=¥3,000 Student=¥1,000
| | |
| --- | --- |
| Festival Soloists | 2009 Concert |
DISCOVER CLASSICAL CONCERT AT SUNTORY HALL

Blue Rose (Small Hall)
A one-hour concert called "Lunch Time Classic." Enjoy the music and start your afternoon off in an elegant fashion.
Fri, Sep 17 12:00
Mutsumi Tsuzaki, xylophone
Chika Nishiwaki, piano
Reserved seats=¥4,000 Lunch set (w / Lunch coupon) ¥8,000
SUNTORY HALL 24TH ANNIVERSARY GALA CONCERT
(a dress-up concert)
The annual festive concert to celebrate the anniversary of the opening of Suntory Hall. A wide variety of artists will perform in front of a dressed-up and matured audience in a gorgeous atmosphere.
Sat, Oct 2 18:00
S=¥22,000 A=¥20,000 B=¥17,000 C=¥10,000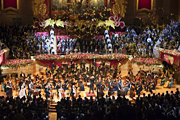 2009 Gala Concert
WIENER PHILHARMONIKER WEEK IN JAPAN 2010
Daiwa House 55th Anniversary Special
WIENER PHILHARMONIKER CONDUCTED BY
ANDRIS NELSONS, FRANZ WELSER-MÖST, GEORGE PRÊTRE
Mon, Nov 1 / Tue, Nov 9 / Wed, Nov 10
Time: 19:00
Esa-Pekka Salonen who is scheduled to conduct the concerts on Nov. 9(Tue) and Nov. 10(Wed) is forced to cancel the concerts. As a replacement, Franz Welser-Möst will conduct the concert on Nov. 9 and Georges Prêtre will conduct the concert on Nov. 10. In addition, a part of the programs will be changed.
Georges Prêtre, his conducting the Wiener Philharmoniker's 2010 New Year's Concert scene is fresh in our memory, and Franz Welser-Möst also will be invited for the 2011 New Year's Concert, and Andris Nelsons is one of the most sought-after young conductors. Please be looking forward to the pick of three conductors for Wiener Philharmoniker Week in Japan 2010.
Please contact Suntory Hall Ticket Center (03-3584-9999) for further information.
Cond: Andris Nelsons (Mon 1)
Franz Welser-Möst (Tue 9)
Georges Prêtre (Wed 10)
Wiener Philharmoniker
S=¥35,000 A=¥30,000 B=¥25,000 C=¥19,000 D=¥12,000
LECTURE & CHAMBER MUSIC
The chairman of the Wiener Philharmoniker gives a lecture on a different theme every year based on his erudite knowledge and combines it with music pieces associated with the theme which are performed by members of the orchestra.
SUNTORY HALL & WIENER PHILHARMONIKER SCHOOL PROGRAM
A concert with a specially designed program for junior and senior high school students as part of Suntory Hall's music education initiative for young people. Schools only may apply (individual applications will not be accepted).
SUNTORY HALL MASTER CLASS BY PRINCIPAL OF WIENER PHILHARMONIKER
A master class by members of the Wiener Philharmoniker teaching young people "traditions" which were handed down to members of the Wiener Philharmoniker.

Andris Nelsons
©Marco Borggreve

Franz Welser-Möst
©Don Snyder

Georges Prêtre
©Decca / Terry Linke

Wiener Philharmoniker
©Terry Linke
TDK ORCHESTRA CONCERT 2010
THE CLEVELAND ORCHESTRA JAPAN TOUR
Franz Welser-Möst, who is to assume the position of Music Director of the Vienna State Opera in 2010, will take the baton to conduct the Cleveland Orchestra, known to have the most European style sounds among American orchestras. Mitsuko Uchida will join them as a soloist. She is also expected to conduct the orchestra from the keyboard.
MITSUKO UCHIDA PIANO & CONDUCTOR SUNTORY HALL SPECIAL STAGE
Sun, Nov 14 19:00 / Tue, Nov 16 19:00
Mitsuko Uchida, piano & conductor
The Cleveland Orchestra
Program: Mozart: Piano Concerti
S=¥19,000 A=¥16,000 B=¥13,000 C=¥9,000 D=¥7,000
FRANZ WELSER-MÖST CONDUCTS
Wed, Nov 17 19:00 / Thu, Nov 18 19:00
Franz Welser-Möst, conductor
Mitsuko Uchida, piano (Thu 18)
The Cleveland Orchestra
(Wed 17) S=¥26,000 A=¥22,000 B=¥19,000 C=¥16,000 D=¥12,000
(Thu 18) S=¥29,000 A=¥25,000 B=¥22,000 C=¥19,000 D=¥15,000
Co-sponsored by: Fuji Television

THE CLEVELAND ORCHESTRA
©Roger Mastroianni

M. Uchida
©Richard Avedon

Franz Welser-Möst
©Don Snyder
SUNTORY HALL ORGAN LECTURE CONCERT SERIES 2010
ANNA MAGDALENA BACH AND HER HUSBAND 'JOHANN SEBASTIAN BACH'
Starting at 11:00 on a public holiday, this program will reveal the life of Johann Sebastian Bach based on the accounts of his wife, Anna Magdalena, and with the help of organ music composed by the master himself. This year will be the final episode of a 3-year series.
Tue, Nov 23 (National Holiday) 11:00
Tatsuo Minagawa, lecture, etc.
Reserved seats=¥3,000
| | |
| --- | --- |
| 2009 Concert | |
SUNTORY HALL OPERA ACADEMY PERFORMANCE

Blue Rose (Small Hall)
Suntory Hall Opera Academy, an educational institution that fosters operatic singers inspired by Suntory Hall's Hall Opera, will show the audience their study accomplishments in their annual operatic performance in the Blue Rose.
Scheduled for December
Reserved seats=¥4,500
| | |
| --- | --- |
| 2009 performance | |
PRODUCTION BY TSUYOSHI TSUTSUMI 2010

Blue Rose (Small Hall)
For the past several years, "Production by Tsuyoshi Tsutsumi" has been devoted to discovering unknown masterpieces for the cello as well as to performing a series of major works. This year, he will present a duo performance with the up-and-coming Russian pianist Nikolai Lugansky.
Sat, Dec 18 Time: TBA
Tsuyoshi Tsutsumi, cello
Nikolai Lugansky, piano
Reserved seats=¥4,000


T.Tsutsumi
SUNTORY HALL CHRISTMAS ORGAN CONCERT 2010
A family concert with organ music on Christmas Eve interspersed with music pieces to celebrate the holy night. Ensconce yourself with the solemn sounds of the organ.
Thu, Dec 23 (National Holiday) 16:00
S=¥5,000 A=¥4,500 B=¥3,500 Platinum seat=¥10,000
SUNTORY HALL CHRISTMAS CONCERT 2010
BACH COLLEGIUM JAPAN "MESSIAH"
An annual Messiah concert during the Christmas season, now in its 10th year. Spend a peaceful evening at Suntory Hall listening to the serene performance by the Bach Collegium Japan, a high quality choral and instrumental group.
Fri, Dec 24 18:30
Masaaki Suzuki, conductor
Bach Collegium Japan, chorus & orchestra
Program:Hendel:"Messiah"
S=¥9,000 A=¥7,500 B=¥6,000 P=¥3,500 Student=¥1,000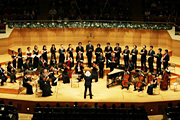 2008 Messiah
SUNTORY HALL SILVESTER CONCERT 2010
SYMPHONIE-ORCHESTER DER WIENER VOLKSOPER
A concert to countdown the New Year while enjoying waltzes and polkas by Johann Strauss II and famous tunes of Franz Lehár.
Fri, Dec 31 22:00
Symphonie-Orchester der Wiener Volksoper, etc.
S=¥12,000 A=¥10,000 B=¥8,000 C=¥6,000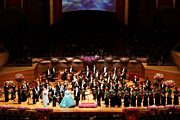 2008 concert
SUNTORY HALL ORGAN PROMENADE CONCERT
A 30-minute lunchtime concert held monthly (except in August). Please enjoy the majestic sounds of the Suntory Hall organ, one of the world's largest organs, with 5,898 pipes.
Thu, Jan 14 / Thu, Feb 18 / Thu, Mar 25 / Thu, Apr 15 / Thu, May 20 / Thu, Jun 24 / Thu, Jul 22 / Thu, Sep 9 / Thu, Oct 21 / Thu, Nov 11 / Thu, Dec 16
Time: 12:15
Admission free