SUNTORY HALL SPECIAL STAGE 2020
ANNE-SOPHIE MUTTER
— Beethoven 250th Anniversary —
"The Evening of Chamber Music"
'Suntory Hall Special Stage 2020 ANNE-SOPHIE MUTTER' will be held as scheduled. For those who may have any symptoms including coughing or sneezing, we suggest to cover your nose and mouth with a cloth when you cough or sneeze in respect for those around you.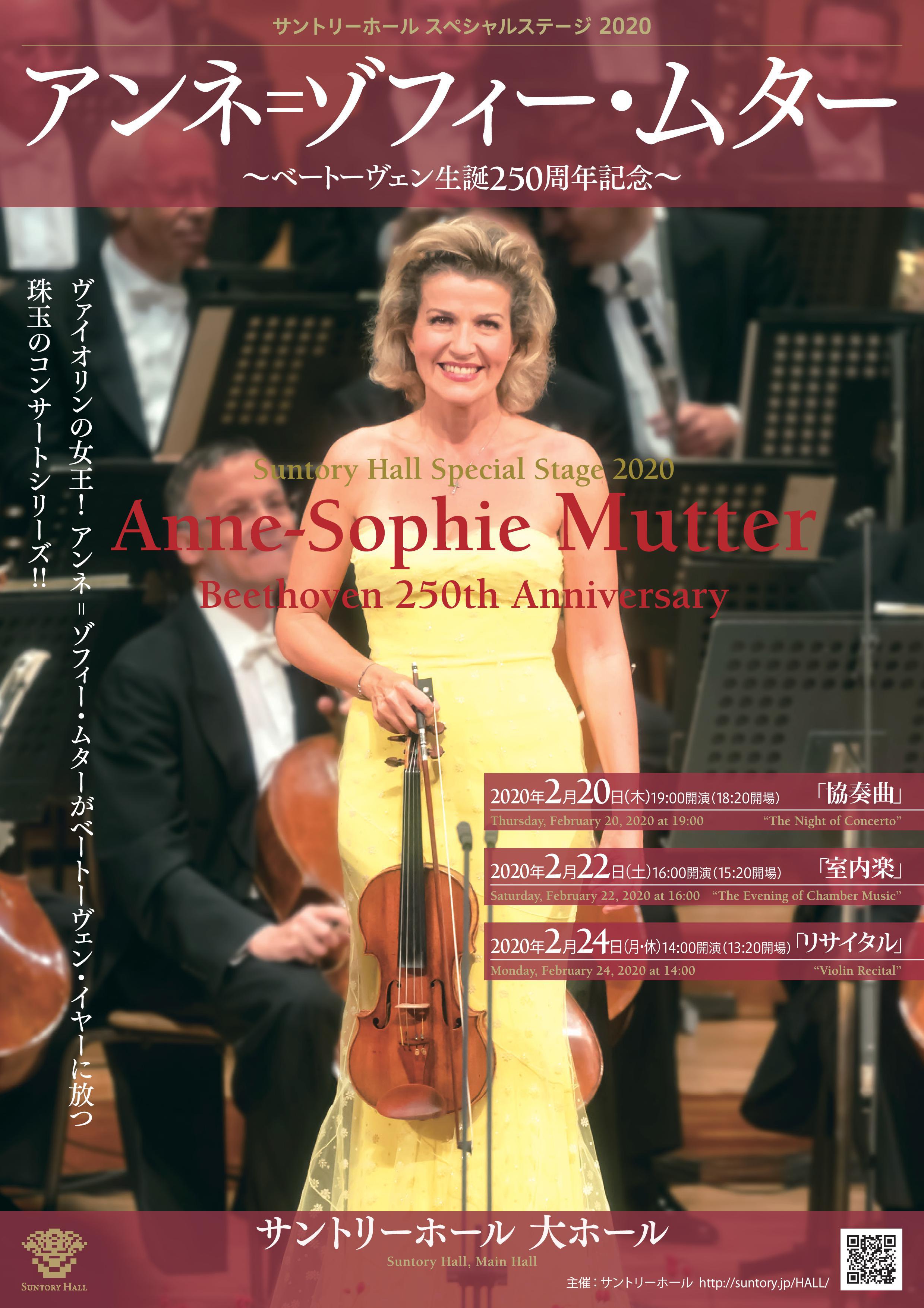 Date/Time

Saturday, February 22 2020 | 16:00 (Doors open: 15:20)
Venue

Main Hall
Performers

Vn: Anne-Sophie Mutter, Ye-Eun Choi
Va: Vladimir Babeshko
Vc: Daniel Müller-Schott
Programme

Beethoven: String Trio in E-flat Major, Op. 3
Jörg Widmann: "Studie über Beethoven (Study on Beethoven)" 6. Streichquartett [World Premiere]
Beethoven: String Quartet No. 10 in E-flat Major, Op. 74, "Harp"

[Message from Anne-Sophie Mutter]
Jörg Widmann's "Study on Beethoven" is a highlight of the 2020 Beethoven celebrations for my colleagues and me. Having the world premiere take place at Suntory Hall is meaningful for many reasons, especially since Japan has one of the most dedicated audiences with whom I have shared musical experiences for decades. My colleagues and I are looking forward to performing the world premiere at Suntory Hall on February 22, 2020 as part of our program honoring the 250th anniversary of Beethoven's birth.
Tickets

S¥14,000 A¥11,000 B¥8,000 C¥4,000 Student¥1,000
Booking open at November 10, 2019

*Pre-sale Period for Suntory Hall Members Club: October 20-November 9, 2019
 Pre-sale is not operated at Box Office.
 Please join the Suntory Hall Members Club via our website: http://suntoryhall.pia.jp
 (only in Japanese/membership eligible for residents in Japan)

*Student Ticket (age 25 or younger): To be purchased only at Suntory Hall Ticket Center (Phone, WEB, Box Office). Student ID required for admission. 1 ticket per person.
Presented by

Suntory Hall