26 Nov. 2014
SPIRITS OF SUNGOLIATH #403 Tusi Pisi
I'm trying as hard as I can to play the best Suntory Rugby
We have only seen a quiet side of Tusi Pisi, last season. It isn't anything quiet like as last year, he is in a great shape this season. Today we speak to Tusi about rest of the season this year.
◆Every time I play, I get better at.
—— You played well against NTT Docomo in the first stage and scored 3 tries in that game.
I think overall team performance is getting better and we are heading to the right direction as we know what to achieve. Unfortunately we couldn't be the 1st in pool B but our focus is to have a good performance in the second stage.
—— How do you rate your performance?
I'm trying to have a consistent performance. I'm trying different things personally but I think we are getting good results so far. It is really important for me to have a good preparation and contribute to the team.
—— What are the things that you are doing personally?
I'm doing more speed and agility training with Nitta (S&C coach) now.
—— You seemed to be playing well in every first stage games.
Last year we had world class players like George Smith and Fourie Du Preez so I didn't have much game time but this season I get more opportunities. I think I get better every time I play the game.
—— Even if you come out from the bench, you played well.
I think every player is like that, if you are reserve player and if you want to contribute to the team that's the best way to show. Reserve players have to play well once you stand on the field. If you play from the start, you need to build and control the game more.
—— Which is better for you?
I would like to play from the start.
◆Team is starting to become one
—— How many years have you been playing for Suntory?
This is my 6th year.
—— I think you know when Suntory were good and bad. As a team, what do you rate the team performance so far?
Now we've got a lot of young players in the squad. It has been very difficult for the young players to play in the top league straight away. I think it took a lot of time to be on the same page.
When I said the team is heading to the right direction, it means that it does not matter who is standing on the pitch but everyone needs to be on the same picture. I believe the team is becoming one after going through the first stage.
—— Is there any advice to young players?
When I give advice to young players I don't talk to them what to do straight away. Most importantly the young players should see me how I prepare and how I build it towards the pitch. Then I start talking to them.
—— To have a good performance, preparation is crucial.
1 week routine is important. There are things that you must do in the training to be the best at the game day. You must do your routine weekly training right. That involves your family as well.
—— What do you think the younger players need to improve on?
I want them to understand 「Everything you put in the training, it will come back to you」. For example, if you are star player in the university but play for Suntory in the top league it's a totally different game. In Suntory most of the players you won't able to play in the first year so every training session you got a train hard and give everything you got.
◆Enjoy the time in Suntory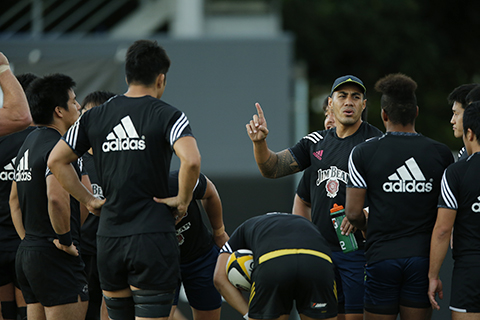 —— What are you focusing on when you playing rugby?
Enjoy the moment. Firstly you enjoy your environment that you in. If you can't enjoy then you are wasting your time. This is my 6th year but previously I had Eddie Jones, Okubo kantoku and this year we have Andy (Head Coach) so I really enjoying my time here.
—— What are you enjoying in the game?
I think all your preparation you've done is coming back to you as a result. I think everything that involved in the preparations reflects rugby. The game result is all your week of preparation and if you don't prepare in the training, you won't able to do it in the game.
—— I think fans not seeing your preparation side of you, is this the way of how you enjoy Japanese and Suntory rugby?
I'm really enjoying it.
—— What kind of plays do you like?
I like Suntory's attacking rugby. This is the only different to the other team. I'm thinking a lot of things when I play but generally I just see what's happening in front of me and I act instantly, like do a little chip kicks in behind or kicking the drop goals, line breaks. It's not how I plan to do it.
—— When you are playing well and running around the park, seems to be like your team mate can't catch up on you, what you arethinking that moment?
There are many options in different situations; you just need to take the best option for that moment. Not necessarily success all the time but trying to have more than 80% of success rate. For me when I play rugby, I'm intense. I think I'm enjoying the pressure I have on the pitch. But you also need to calm in the head. This is really important.
—— Is that your original personality?
Yes, I think so.
◆Strong team will win
—— What do you like about Japan?
I love Japanese people. They are really honest and have respect. Everyone coming to see the game is enjoying watching rugby. There are fans supporting Suntory or Toshiba but everyone is enjoying the rugby.
—— You are diligent person so you will fit into Japanese people right?
I think just not rugby but me and my family are also enjoying the Japanese culture too.
—— What do you see yourself in the future?
I'm interested in coaching, when I finish playing myself. I'm not sure exactly when as there are lot of people wants to be a coach. I'm also not so patient (laugh). If I have a chance, I want to coach in Professional field. Japan could be an option.
—— Samoan team is placed in the same group as Japan in the 2015 RWC?
I'm really looking forward to play against Japan. Strong team will win at last and there are no easy games in the WC. Japanese side is really improving so it's going to be a difficult game for us. Eddie knows my weakness so I need to start doing a lot of new things that Eddie is not aware of (laugh)
—— Could you give any advice to Japanese Rugby?
The level of Japanese rugby is improving. It was positive that they didn't make the team with full of foreign players. I really want Japanese people to think themselves continuously and create the best future Japanese rugby.
—— What is your rugby goal?
I want to be a best player wherever I play. I've got a lot of things that I need to improve on but I believe I'm at best condition now.
—— Second stage, play offs and leading in to Japan Cup, what do you want your fans to see?
Not just me but as a team it will become most exciting period of competition. I hope showing our style of rugby will lead in to the fans enjoying the match. We are trying to perform the best Suntory style rugby so I would like the fans to see that. .
—— Do you think you can get the titles this year?
We must win.
(Interview & constructed by Kazuyoshi Hariya / Edited by Yutaro Igarashi)
[Picture :Aki Nagao]