8 Oct. 2015
SPIRITS OF SUNGOLIATH #449 Mark Bakewell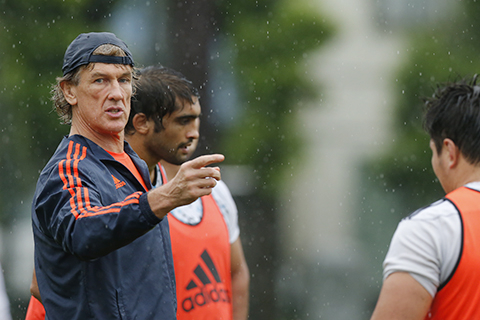 How to integrate my coaching experience to the team
Mark Bakewell has a more than 20 years of coaching career and coached in various countries and worked in different roles. So what is he trying to achieve with Sungoliath this season? Take a closer look about the coach and a person, Mark Bakewell. (Interviewed on 18/08/2015)
◆Joined Suntory as a spot coach in 2005.
—— This is your first interview with "SPIRITS of SUNGOLIATH". Could you tell me your background?
I was born in New Zealand and start playing rugby at 4 years old. My parents are both New Zealander and I moved to Australia when I was 7 years old and I got my Australian citizenship in 1996.
In 1995 I started to coach and I was a Fwds and strength & conditioning coach. In 1996 the Wallabies coach, Greg Smith who was my first grade coach has asked me to work for the wallabies as strength & conditioning coach.
From 1995~1999, I did Fwds and strength & conditioning coach and in 2000, I became head coach at Eastern Suburb club. That year I won 「Coach of the year」 in New South Wales.
In 2001, I got offered 2 jobs in France so I went to Brive for a head coach role. They wanted the Australian coach because in 1999, the wallabies won the world cup so they were looking for Australian coach so I decided to work for Brive to get them back to first division which I did in that year.
After that I went to Veziers as Fwds and defence coach for 2 years. I ended up doing head coach for the last 6 months whilst I was there. I then got a job in Bath as Fwds coachfor 3 years in 2006. After that I went to Rebels in 2010 and then I did year and a half there. I then went back in Sydney so my daughter could finish the school. The season in 2012-2013, I was coaching Tongan national team as Fwds coach and that time we played against Japan in 2013.
I joined Suntory in 2014 but I have visited Suntory in 2005 for a spot coaching role. So I knew the club is built around a good culture and it's a great club to work for.
◆Australia, Tonga, England, France. Japan.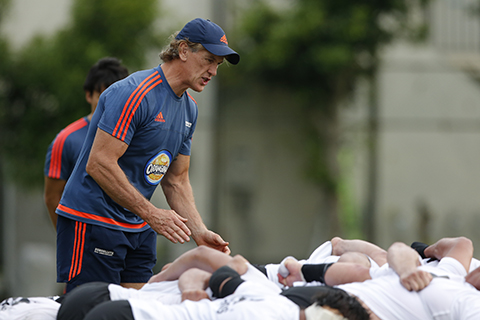 —— What's the most interesting thing about being a coach?
One big thing for me is influence of the culture on the team or country plays. I have coached in Australia, Tonga, England, France and now in Japan. You look at Suntory, you see the influence and the culture has on a way the team and country plays.
So learning how to integrate self into the culture is really interesting. And when I listen to coaches who have only coaches in one country, they are generally very naïve about looking at another point of view.
—— The culture you are talking about is country culture? or team culture?
I think it's both, if you look at the English they are generally conservative based on their history. So the English have to make decision collectively and have to dominate collectively before they take their risk. Once they have dominated the front they will use width and backs to attack.
And if you compare to the French team, individuals are important and 15 players come on to the field and those 15 players either click or not. That's why French are so good and also bad. Whereas the English and look at their history, the English will not go from bottom to top straight away and they are more one level.
I then found example of New Zealand and Australia, the two countries of being born and bred in 250 years so Australians and Kiwis are similar in the sense that "We'll try something" and if doesn't work, doesn't matter we'll try something else instead.
I think obviously the thing I've learnt about Japanese culture is the work ethic is second to none. The Japanese culture is very hierarchal. The leader is very strong, they have the captain, vice-captain and game leaders and that allows people to follow.
—— How about Tongan culture?
I think it's a very religious culture, the Tongan boys were a lot deeper emotionally and they are very special people, they are obliviously very big powerful people. They have an ability to switch on and off more than anyone else. They can joke around in training and the training is a very low quality but on a game, they can transfer into the some of the best rugby in the world. So it was a special experience for me to coach Tonga.
◆We should all need to see the same picture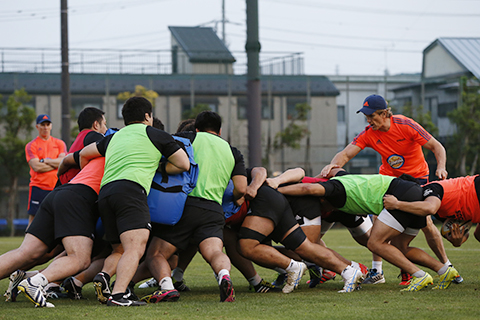 —— So do you have a challenging culture like Kiwis and Australians have?
Yes, I do, but at the same time it's taking my time to adjust to Japanese culture because as I said biggest thing about Japanese I respect is the work ethic. The rugby in Japan is not as natural like NZ and Australia. it's a natural game for those countries. So in that sort of environment it is easy to make a change because people had a lot of changes throughout their rugby career and different ideas.
But if you have picked up rugby at 18 years old, and at the age you don't want to hear change or doing things differently. So I'm happy to make changes and happy to do things differently but on the flip side of that is because having so many different experiences you can pick the best out of each culture and you can apply it so I'm happy to change things but probably more aware of what doesn't work. So this year we are keeping it really simple and the boys understand the simple message and working really hard. Too many messages will detract from the boys to work hard so that balance is so important here.
—— Could you tell us the "simple" things that you have put in this season please
Just providing the main focus rather than putting all the extra bits on to it. Suntory is No.1attacking rugby team and fighting spirits, that's standards for the whole year. And for the scrum, I believe everyone to get on the same page is really important
◆I would like to bring my family here in the final game.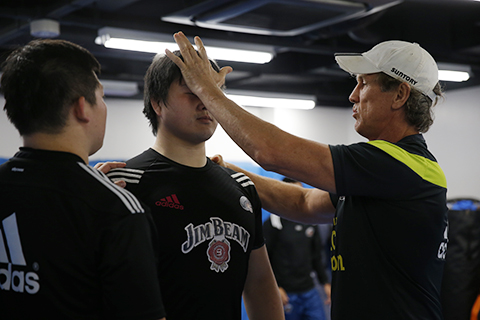 —— What was your position when you were player?
I played first half of my career as loose head prop. Then I went to rugby league and came back to rugby because I hurt my pelvis so I couldn't play front row and lost 15 kg so became blind side flanker.
I retired in 1993, I had birth of my first child in 1994 and beginning of 1995 I started coaching after year off.
—— What's your favorite Japanese food?
I love all the fruits and vegetables. (laugh) I have cut back a lot of meat but the food here is fantastic. The nutrition is doing really good job and all the food is so nice here.
So I really like Japan but hardest thing for me is not having my family here. I have my wife and 3 kids. I have a girl who is 20, 18 years old boy and 16 years old girl. My son is playing rugby and both daughters are playing netball.
—— Did your family comes to Japan before?
It's hard this year because my wife works full time and my son is his last year at school. But what I hope is that we make it to the final and they can all come to the final game.
—— What is the target for this season?
As a coach I want to have a best set-piece in Japan. Because if we do that, it provides the best platform to play Suntory rugby and as a Fwds coach that's my role. To achieve that, I need to give simple messages and progress the individuals. And collectively we all Suntory needs to be on the same page. That's the biggest thing for me and the team to achieve this year.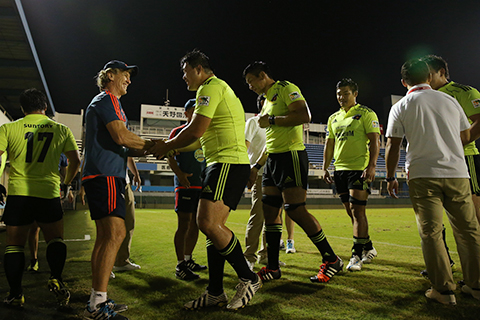 (Translation:Nao Yoshimizu/ Interviewer & Context:Kazuyoshi Hariya/ Editor:Yutaro Igarashi)
[Photo:Aki Nagao]