28 Dec. 2016
SPIRITS OF SUNGOLIATH #513 Tui Hendrik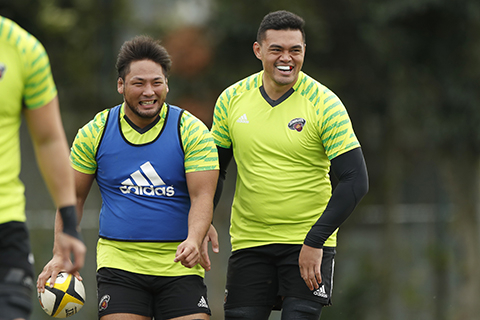 I really want to get 2 titles
Tui Hendrik, one of the players who have leaded the team undefeated in the first round of the competition. It was end of the Panasonic game that he was full of spirit and confidence. This is his exclusive interview. (Interviewed on 25/11/2016)
◆Team is rising fast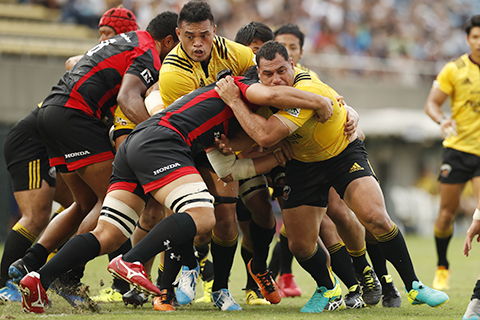 —— Looking back the first round of the Top League and I believe it's your first time beating Panasonic since you've joined Suntory.
I was really happy about it because we haven't win in the top league for a while. I was also happy with the whole team's performance too.
It was kind of an up and down seasons for the team since I joined Suntory, because we had new head coaches and we had to learn the new systems etc. But this year has been really positive and I think we are just getting better every day.
I have learnt a lot from senior members like Fourie, Schalk and George. I believe I am able to share my experiences to the other members now.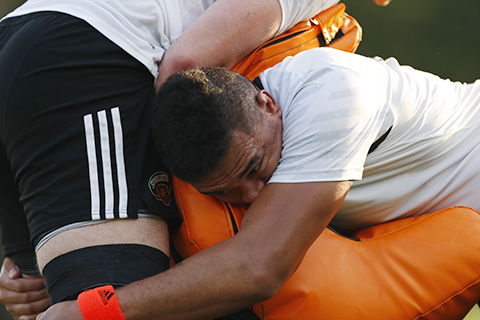 —— What have you learnt from the senior members?
Just a little things in the game situations and moments in game where things could be done better. Also when we need to make a difference in the game, for example, George loves to do big play to change the game when opposition has the momentum. He brings back the momentum to us.
And it is really important to always give and receive feedback from each other, like the pass could have been little earlier. You are always learning off your team mates each game.
◆A happy atmosphere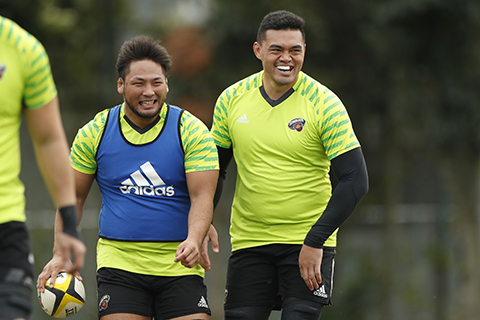 —— I think you are much more confident now, how are you feeling yourself?
I think the players give me confidence. When everyone does their job, it's easier to perform well. We've recruited the foreigners really well this year, each one of them adds the different value to the team. So it is important to have happiness in those groups and just to make a whole team better.
I think personally, I have had a lot experiences through Super Rugby and I can anticipate the game better now. Most importantly I'm enjoying playing rugby for Suntory at the moment.
—— In what situation do you feel the enjoyment?
At the locker room, everyone is laughing and having jokes. The atmosphere in locker room is really happy at the moment. I think that's really important to have in the team.
—— Who's a mood maker?
I think Yasu, (Yasunori Nagatomo) Joe, (Joe wheeler), Yukio (Yukio Morikawa).
—— How about you?
Sometimes (Laugh)
◆Just have to do my job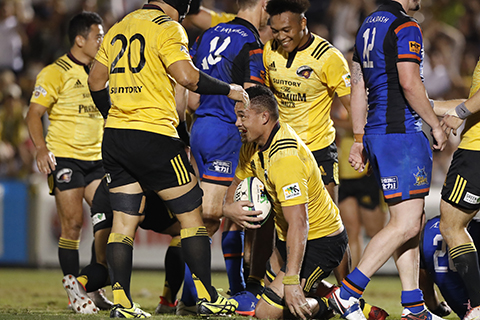 —— What's your thoughts on Japanese national team and the Super Rugby?
I think they are playing well despite they have some inexperience players in the team. I think it's been a good experience for the young non cap players.
I always have passion to get involved in Japanese side but there are lot of things happened off the field that's been going on since the world cup finished. Conversely, I am really enjoying Super rugby because it's new experiences and the competition level is really exciting for me.
—— Obviously the big games are coming up in the end of the top league competition.
One week at the time for us. It's important that we concentrate to win every game from now on.
—— What is your key preparation things you do before the game?
Just try to make sure that you do your job first. Do everything you can to prepare for each game. For me, everything starts at the training warm up. Making sure my body is right before the trainings.
—— Is your family in Japan now?
They are coming here next week, my wife and two kids. I have 2 boys and my eldest son's birthday is actually tomorrow! (26/11).
I was staying in Australia for about a half year when I was playing Super Rugby. My kids had to go to school so they decided to stay in New Zealand. They will be here in Japan until the end of the season.
—— What is the most enjoyable moment about living with your family?
I am happy just to spend time with my family.
—— What is your target in this season?
To get the 2 championship titles. I haven't won a championship in Japan so I am really hungry about it.
(Translation:Nao Yoshimizu/ Interviewer & Context:Kazuyoshi Hariya/ Editor:Yutaro Igarashi)
[Photo:Aki Nagao]