23 Oct. 2017
SPIRITS OF SUNGOLIATH #547 Matt Giteau
◆Life is always learning
Follow in the footsteps of George Gregan and George Smith, One of the great Wallabies legends who gained more than 100 caps has joined Sungoliath this season. Utility backs Matt Giteau. This is his exclusive interview on his thoughts about Rugby before start of the Top league season. (Interviewed on 28/7/17)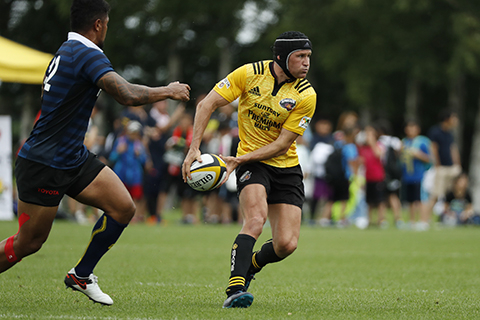 ◆First game in Japan
――Previously we had George Gregan and currently we have George Smith in the team, is this the reason why you decided to join Sungoliath?
I think that's one of the reasons. Obviously looking to come over to Japan you want to speak with the guys who had a good experience. I have never heard a bad word about Suntory and I have known for a while even living in France that Suntory is a successful club and I wanted to be a part of it.
――What is your impression of Suntory Sungoliath now?
Good, it was a first time for me to play 3 games in 8 days (laughing) but the boys made me feel welcome. The club is unbelievably professional, everything so far is great.
――What do you mean by professional?
I think everything. Training is intense and in that intensity, we get through a lot of work and not overly long, it's very game specific. Even the game plans are specific too and easy to follow. The staff, gym, equipment, physiotherapist, translator and even I have Japanese lessons. Everything is on time and well organized as club.
――What do you think of the Japanese team after playing your first game in Japan?
I was quite nervous because obviously it was my first game playing for my new club. The game is very fast and people talk about the Japanese rugby being less physical but I found it's not true from my first 3 games because often the game is so quick you get isolated 1 on 1 and you got a make your tackles and it's more physically demanding.
I'm the only foreigner here at the moment so it's a great opportunity for me to mix with all the Japanese players to get to know the culture and the team.
◆Everything is new
――What is the most interesting thing after playing few games in Japan?
I think everything. It's a totally new experience for me and my family. In rugby point of view, the style of rugby, language and everything is new to me so all exciting.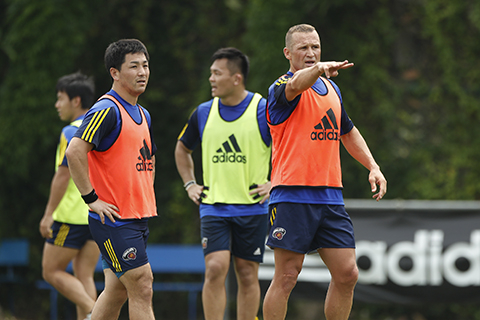 ――You were the only foreigner in the team when you join the team in beginning of July.
I think initially it was a bit daunting wondering how I am able to communicate with the players but having Kosei and Translator is a big help. Backs had a test to learn everyone's name saying in front of them. I just feel like if the foreigners are there, I probably wouldn't got the same experience as I had just being with Japanese players because I think if you can't speak the language tend to hang out with the people speaks the same language. So I was playing cards with Japanese players and try to speak Japanese. I was fortunate that there weren't any other foreigners at the camp.
――Maybe you like to challenge things?
Yes I think the best way to interact with the group is to get out of your comfort zone and show you are willing to try and embrace their style of the rugby and culture.
――Sounds like you are enjoying yourself aren't you?
Yes, it was tough eating raw egg on the rice (laughing) but actually it taste good!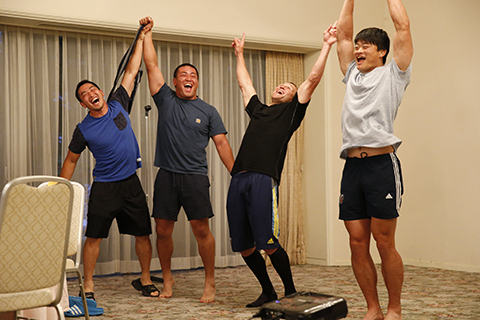 ◆Watch & learn
――When did you start playing rugby? Was it a big challenge for you?
I started to play rugby league when I was 5 years old. I didn't play rugby until I was 11 years old. My father played professional rugby league so I was exposed to that. I always carried a football when I was young. So I didn't really do either for a challenge, it was more fun for me. The school was more challenging for me (laughing)
――What was the most fun thing in playing rugby league when you were young?
My dad was a coach for the local first grade team and you see the ball players do the tricks in the training. I often then ask them after the training "Can you show me that?" you know and just leaning things, I think I was like 6 or 8 years old.
――Were you able to do the tricks straight away?
I learn a lot visually, not so much in writing so if I can watch someone do something that's more how I learn rather than going through text book or videos, I'm more of a feel type of person you know.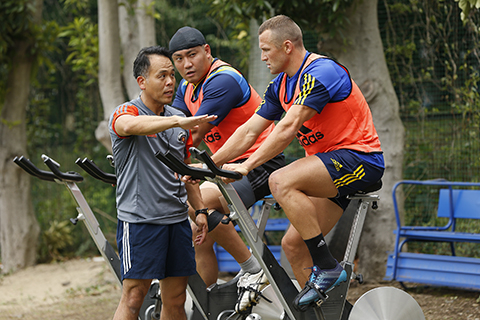 ◆Eddie decided at the first 7's training
――When did you decided to be a professional rugby player?
Mine is a very strange story, I was playing Australian 7's which at the time was still quite amateur. Most of the players were academy base players and no one with a super rugby contract played 7's. Eddie Jones came to one 7's training session and he was a Wallabies coach at the time. I don't remember what training we did but afterwards he said that "I really liked that player, I might pick him in the end of the season tour". At the time, I didn't have a super rugby contract so I thought it was a joke, but end of the year I got picked for Wallabies so I didn't have a chance to think about doing professionally, I went from not doing professionally to being in the Wallabies tour.
――How did you feel then?
I was really happy but I didn't play super rugby so I didn't know any of the players, not even guys from my region, Canberra. I was very nervous at every training session and after the training I didn't know who to hang out with you know. But the culture was led very well by George Gregan who made me very welcome. Obviously George Smith was there too.
――Did you think that you could secure your position straight away when you first joined Wallabies squad?
My very first tour I didn't think that, because I didn't think that I get any of the game time. I thought it was just an opportunity to get good experience and train in that environment but I ended up getting 2 tests in the tour which was really fortunate. I remember one time I was standing close the other player and I passed too hard because I had that nervous energy, so it took me a while to get that under control. By the end of the tour I felt very comfortable with the group. Certainly I still didn't feel like I belong at test rugby and wasn't till the next year when I played the full season with Super rugby and I played the couple of good games in test rugby. After this tour I felt the level was above me and I thought I had lot of things to do.
――What do you think your strong point was at that time?
I really didn't have any (Laughing) I got picked before I was ready to play at that level but Eddie saw something in me. Even now, I don't think I really have strength and always have areas that I need to work on. I have been focused on how I can get better rather than seeing my strength.
――Probably Eddie saw that thinking attitude and picked you?
Yes possibly but he saw me from one training session in 7's. I remember in one meeting we had and he said "Gits, you are one of the most skillful players we've got and show that" That message gave me confidence but I really don't know what he saw in me you know.
◆Detail is important
――So you went through lot of experiences since and become top player and played more than 100 caps for Wallabies, let's think back and ask yourself why do you think you've managed to come this far?
It's a very good question, I've always really think the matter the most to me is the opinion of my team mate and the guys within the circle, obviously my coaches as well. For me it's really important that when I leave the club or when I finish that players say that was a player I really liked to play with and someone I really respect as player and as a person. Also hopefully the coaches say I really enjoyed coaching him and that's what drives me trying to be better.
I think anything to be successful, details got to be right. It's something adds up to 10 and that's the move then every part of that piece need to work. And within that piece, I have my role that I need to fulfill and that's my focus, to do the best for the team.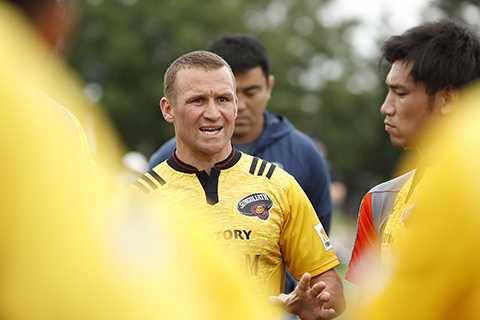 The big detail is irrelevant. The game of 80 minutes is broken up into those minor details and I think Suntory has been successful in their individual skills and mental toughness in big games and they are very good at those situations. The coaches always talk about 1 percenters, it's necessarily things that aren't seen but the team mates appreciate and that's something I try my best to be outstanding at those things rather than the highlight for the video camera or for the news.
――Could you tell me more about the 1 percenters ?
I think it's the things you learn off the senior players and then you start noticing in the videos and reviews when you watching the game. Now it's my vision when I look at the game. It may be a great take by a fullback off a kick that everyone in the cloud is cheering but before that possibly something really creative that halfback did to make the space for the fullback you know. So if we've score the try I've known it because there is some other reason so you get over and congratulate that person. I feel it if player know you notice those 1 percent details and you get more players doing that.
If we have everyone focusing on the small details consistently I think we are better as a bigger picture.
――Have you ever been praised by the senior players?
I'm a competitive person and hate to lose, I remember one time I chased to do a cover tackle but someone else did it and I wasn't in a picture frame, wasn't seen but then I came back out and did one bit of working hard, then George Gregan came up to me and said "Nice work!" and I thought he noticed that hard work, so in my mind you want to impress those senior guys and consistently working hard so it becomes a habit.
――Is that how you improve as a professional player?
To get better I think you need to learn and that's everything in life if you stop learning you stop losing interests and doesn't become fun anymore. So for me always trying to learn and trying to get better. I also think it doesn't have to be senior player, just someone that can do something better than me and I'm often searching for that information to try get better.
◆Hopefully continue to keep Suntory win
――Ok, you said that you are competitive person, could you describe it little bit more ?
Yes, when I play cards with my sister and mom and if they are cheating, I just leave (Laughing) So my wife doesn't like playing cards with me 1 on 1 because may ended up in argument. So I think I'm a very competitive person and I like play for something you know.
――How do you maintain your on / off balance?
My balance now is my kids. They are the only two people I let them beat me (Laughing)
――How about before they were born?
I like to surround myself with jokers or someone who doesn't take them too seriously, myself included.
――How do you control yourself in the preparation week?
I think I get nervous if I feel I haven't prepared properly and I learnt that very early. So I try to prepare myself as best as I can so closer it get to the game more relax I am.
――How do you describe your personality?
I like to have fun and telling jokes. This is really important for me. Once I'm away from rugby I like to have much fun as possible you know.
――What is your target this season?
It's a really tough challenge for me because last year Suntory didn't lose a game. My goal is to in any way if I'm getting picked to start or on the bench or outside the group, my goal doesn't change. Hopefully continue to keep Suntory win.
――What's your preferable position?
12 is my prefer position. This is just my opinion but I think I'm better 12 than I'm at 10.
――How do you evaluate your plays after the game?
It's a really hard one for me because after the game personally I like to mark myself reasonably hard and sometime everyone saying you played well but inside I feel like I didn't played well. So it's not necessary things that are seen. For me I don't play to be seen as like a super star for the team, I just want to do my role and my goal is to win titles.
――What is the most fascinating thing in rugby?
I have been able to play rugby in Australia, South Africa, New Zealand and lived in France for 5 years and getting the opportunity to live in Tokyo. So I think the life experience you get from rugby is unbelievable. My parents have never traveled overseas until I made the Wallabies and then they got opportunity to go around the world. It's the world wide experience while playing the sport you love and I think that's incredibly fantastic.