7 Nov. 2017
SPIRITS OF SUNGOLIATH #549 Derek Carpenter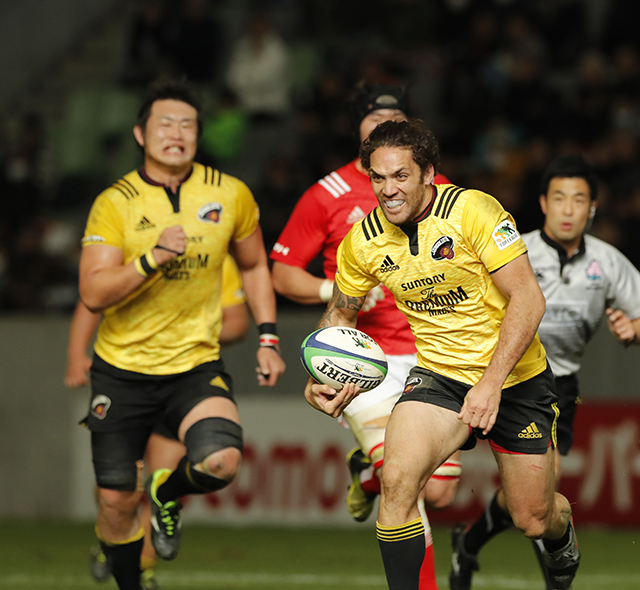 ◆Derek Carpenter 『#12 Jersey for Suntory and Japan』
It's the 2nd season after making his transfer decision to Suntory. Since then he has played for Sunwolves and Japan national team. Today we are here to ask his thoughts on Suntory and Japan. (Interviewed on 9/8/17)
◆Pushing standard
――This is your 2nd season for Sungoliath, what do you think your role is within the team ?
My role for Sunwolves and Japan are totally different for my role in Suntory. At Suntory I need to be physical player, making strong tackles, good defence and getting gain line, also bringing energy to the team. It's simple but standard is just as high as other team I played for.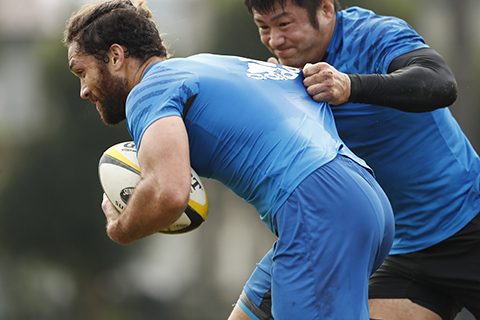 ――Do you think your rugby level has improved since playing for Sungoliath ?
Obviously the team's level is high here in Japan and Suntory was a No1 team in Japan with no losses last year. Also I think it's just the expectations on the players you play together. All of the players we have an expectation on how players to perform. So you held accountable for your actions.
I'm confident in my ability because I played for Sunwolves before coming to Suntory. Obviously coming to Suntory and my skill level got better, when you get better you have more confidence.
◆Fitness, Skill and Communication
――What have you been working on since you joined Suntory?
I think my fitness was a huge one and also attention to detail in skills. And then outside of that is a communication and being able to communicate with the Japanese players. Those 3 things are the big things I changed coming here. Last year we started off in a good momentum and I think the boys have set a great standard for Suntory.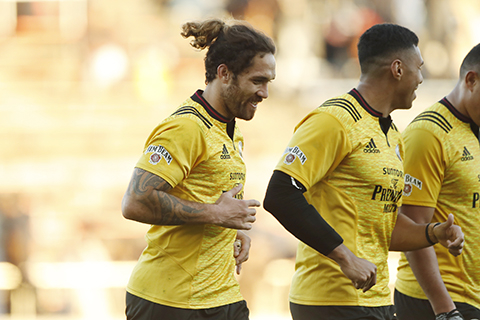 ――So was it a big challenge for you to make the move to Suntory?
Suntory have a big history on how they play, so for me to come play here is a big honor. I really wanted to play for a great team and improve myself.
――How do you see yourself in future?
I'm 29 years old now and my ultimate goal is to be the starting #12 for the Japan at the 2019 RWC. But I'm competing with Haru (Harumichi Tatekawa), Yu Tamura, there are so many very good players out there. So my long term goal is to get that spot in the next 2 years. My personal goal is to be a consistent player for Suntory.
――What are the main improve point ?
For Suntory and obviously for Japan, I think I need to improve my vision as #12. I need to see the space and able to move the ball there. That's something I'm working on constantly. And I've had a feedback from Coaches like Jamie (Jamie Joseph/Current Japan Head Coach) saying that "Your vision and your ability is really important in Japan Rugby".
◆Take the last challenge
――Do you normally play #12 ?
I've played #13 for Sunwolves, but I play #12 normally.
――When did you start playing rugby?
When I was 8 years old. I started to play because everyone was playing rugby in NZ.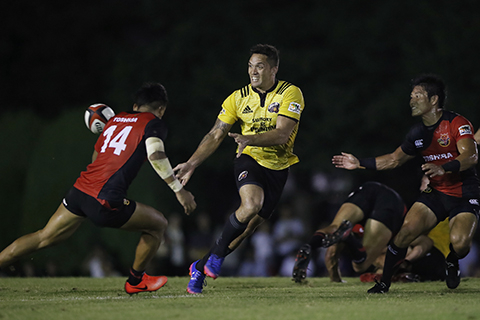 ――When did you decide to become a professional rugby player ?
When I was 12 years old, because I wanted to be an All black. In 2013, I injured my ACL and I got to the stage where I didn't feel my body was not up to the standard. I played 5 years in NZ as semi-professional and studied Marine engineering. Then I decided to move somewhere because in NZ, so many young talents come through. I had an opportunity to come to Japan and I thought it's going to be my last chance.
――Why Japan?
I had an opportunity to go France or Japan but Japan came up first so took the opportunity.
◆Ball Carry, Big tackles
――What do you have in your mind after 2019?
I want to achieve 100 caps for Suntory first.
――What does your family think about coming to Japan and play for Suntory ?
Where I from is the place called Whangarei in NZ and when I make international appearance like Sunwolves everyone in my hometown is really supportive. It's great I get the local support because then I get the pressure on myself to play better rugby.
――How do you describe your personality?
Off the field, I'm very calm and polite I think.
――Do you have a role model or someone you respect?
My wife, Huriana Manuel, she was a 7's Captain for New Zealand and always has a strong mental toughness. I got married in February and our first baby is due in November. She loves Japan and we are grateful that the opportunity it's giving us as family.
――What do you like the most about rugby?
The best thing about rugby for me is the camaraderie you get to meet your new team mates. I think that is the best feeling. Rugby is a team sport so it's important to communicate and gets to know each other.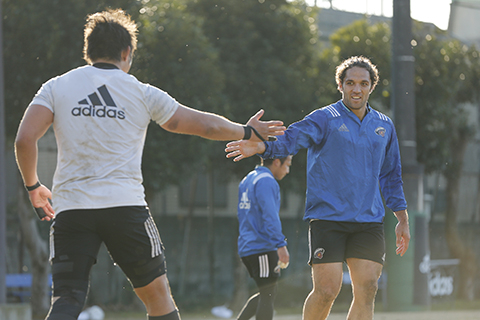 ――What sort of performance would you like to show this season ?
Strong carries, defensively 100% success and make the big tackles.
――What is your target of this season?
Just to win !