4 Jul. 2018
SPIRITS OF SUNGOLIATH #589 Matt Giteau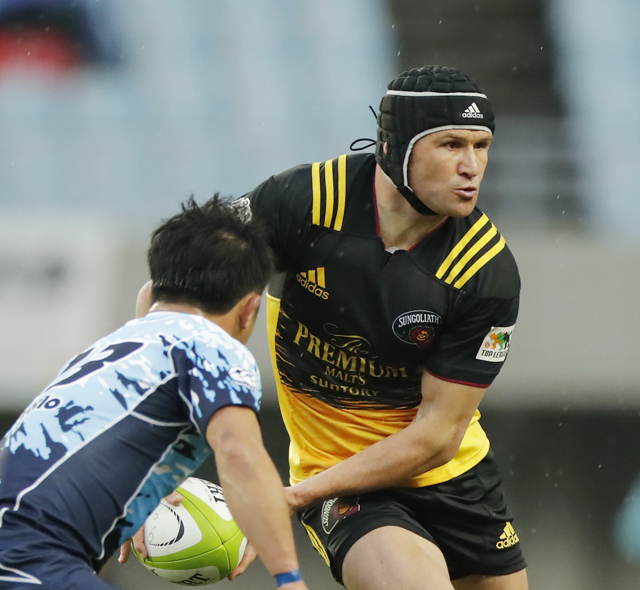 ◆Matt Giteau 『 If I don't play well, I'd take the rugby ball home with me 』
Matt Giteau performed brilliantly in the 1st season as we all expected. We caught up with him after his morning training session to talk about his aspiration towards 2nd top league season (Interviewed on 04/06/2018)
◆ Always 100%
ーーWhat do you think of your last season's performance ?
I kind of based myself on how a team performs and not driven by any individual success. I was really happy that the team, club and supporters to share the winning moment.
ーーDo you think you'd played how you wanted to perform in the last season?
Yes, towards the back of the season much like the team improving, I felt I have more confident in adjusting in the league more as the season went on. Obviously there were lot of things I didn't do well but as a whole we won so I was happy in that point of view. I think individually how I go is
what Keisuke (Sawaki head coach) really wants from me. The reviews for me individually are up to the journalist, not me. I just care how team performs.

ーーWhat was the hardest challenge in playing rugby in Japan?
Initially definitely a speed of the game, language and communication was hard. I think there were so much pressure the year before they didn't lose any games. I didn't want to be the guy that brought in and the team doesn't perform so for me it was a huge relief to win the competition again and not to be the reason that the team didn't perform.

ーーWhat was the most happiest moment in the last season?
Without the doubt to win the competition, still remember now when they dropped the lineout ball in the final. I think that was a happiest moment.

ーーYou've said in the last interview that "1% is important", you always look like putting100% effort to me.
My biggest drive is not so much the fear of failure but the fear of not performing for my team, not doing my role within the team and possibly for the team mates. I don't want the other players to start thinking maybe we should pick someone else. So always that is my driving force to be a player that the team wants to play with.
We won last year but as keisuke san said if we want to be better we can't do what we did last year.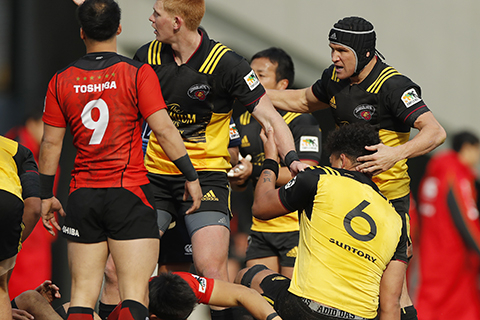 ◆ We are reaching that level
ーーYou've told me before that George Gregan used to give you advice when you needed back in the days, which player most impressed you?
You look at someone like Kos (Ono) didn't get opportunity to play in grand final. He is a great player. That just shows the depth and how everyone is competing for positions so no one is comfortable, training is always hard and everyone is always pushing each other. I think that's where we find the difference. It's actually quicker for me to say whose training bad rather than saying who impress me.

ーーWhy do you think Suntory has that strong culture?
I don't know when it started or why came in could've been Eddie (Eddie Jones) or maybe even before. Since I've been involved in this environment last year as soon as I came in, that competition and standard of training has always been there. The training here is really tough and Keisuke wants to push us because if we become comfortable being uncomfortable in training then in a game that uncomfortable would be able to push through that.

ーーWe have the slogan "International standard", do you think Suntory is reaching the international level?
Yes, there is no question, we are there. The way we do stretching, recovery and even the training on the field everything is at that international standard. There is no excuse for us not to perform well.

ーーLooking forward to the Brumbies game?
I played them before when I was at the Western force and it really is my home team. So will be exciting game.
◆ My father was a tough player

ーーCould you tell me about your family?
I have a mom and dad, 2 brothers and 1 sister. They are all living in Canberra. This is my first season without my family. My son needed to improve his English so they stayed back so it's another challenge this year.

ーーDo you think you have a similar personality to your dad?
My father played rugby league and he was like a tough player. So even though I'm small, I don't want to look weak whenever he watches me. I think fitness point of view, it's come from my mother side. She runs every morning.

ーーSo you were raised in an athlete's family environment?
Yes, when we have our holidays we always do some type of activities.

ーーWas your father a good player too?
Yes I think he played about 100 first grade games, back then there was no video referee so the play was very rough and dirty.

ーーDid you enjoyed when you played rugby for the first time?
I played rugby league first and I hated the rugby union because I didn't understand the whole rucks and the rules, I think I played 3~4 years of rugby league. My parents moved me to a school where we were forced to play rugby union on Saturday, but I played rugby league on Sunday. So I enjoyed my Sundays but I hated my Saturdays.

ーーDid your father ever coached you ?
Yes, he was coaching a rugby league so when I was a baby or even as soon as I could walk always hold a football and be at his training sessions. As I grew up I would always watched how their ball players pass or run you know. I think that's why now if I don't train well, I take a football home and I feel more comfortable and generally I play better.

ーーYou take the ball home even now.
I did that twice last week. I was very bad last week.

ーーDo you call the ball with a name or something (laugh) ?
No, no, no! I'm not like a Tom hanks (laugh) in that movie, Cast away. I think that was Wilson? Hahaha Nah I'm a normal person. Just if I'm watching a movie or something I hold the ball or feel them you know.
◆ One goal

ーーYou didn't have any interests in playing other sports?
Yes, at school I played Soccer and Australian rules. But I didn't feel comfortable. There was ever any pressure from my family they just wanted me to play sport and to be active. I found enjoy rugby league and at the end of school rugby union. I was picked in wallabies after a year or 2 so it became my career since then you know it just happened.

ーーWhat's most attractive thing in rugby?
I think the best thing about sport is achieving something or winning a goal together. So with your mates you know, there is nothing else that replicates that feeling of achieving something with other people. I think the friendships and the life experience. I still remember when I got my first title kicking the field goal、I think I was about 12 years old and I remember the feeling we had it as a group. Not because I did it, but we've won and we all had a bag of lollies and milk shake together.

ーーSo you just basically kept on playing rugby?
Yes, I was playing at school and then after school I made a brumbies academy. I played seven's and when Eddie Jones came to a training session and end of the year I was picked in Wallabies.
I wasn't even in a Super Rugby team. It was never a period where I said this is what I want to do as a job. I still love my rugby but it was never something I chased. So my situation and my history is not normal.

ーーWhat did you enjoy the most about rugby during that time?
I think it's an international game. I've met the queen of Nelson Mandela before the match, these are huge life events. I'm living in Japan now and my kids go to Japanese schools and also French schools. It's a life experience. And at the same time you get to play sport. It's a very fortunate thing.
◆ Don't know much about soccer..

ーーHow many children do you have?
I have two boys, Levi and kai, they are 6 and 4 years old.
ーーAre they playing rugby already?
Unfortunately they are playing soccer at the moment. That's what they offered at school though. I went to watch them play and they asked me for some tips but I couldn't help. (Laughs)

ーーYou don't want them to play rugby?
No if they do then I wanted to be their choice because I imagine there might be little bit of pressure for them to be good. Not from me but from other people. I just want them to play sport because it teaches you so many life values about working with others, communication and friendships. So doesn't matter to me what sport it is but for me it's important that they play sport.

ーーWhat would you say to your kids if you are telling good things about rugby?
My brother in law plays in AFL professionally and last weekend they went and watched. They then said I love Aussie rules dad! So I said No! No! No! you love rugby!. My wife grew up watching AFL because of her brother so I think while I'm here she is brain washing them to get in to play AFL.

ーーDid your kids spent time in Japan last year?
Yes, the boys went to Japanese school.

ーーDo they speak Japanese?
Yes, they are still remembering certain words like good morning and thank you etc.

ーーYou are studying Japanese too?
Yes, but I have been in Australia for 4 months, many of the Japanese boys say my Japanese is the worst. Last week I've had a lot of time off with no family so had coffee and been trying to study by myself.
◆ The cycle is important

ーーI think you have a tough heart, where is that toughness come from?
I just think if you look at any good teams whenever that times been tough, it's the leaders that are stayed strong even if inside they didn't feel that way they still acted and performed. I just believed a lot in our team so I never really felt we couldn't beat anyone.

ーーWhat is your thought on leader's role?
I think people at the top working hard whether its fitness or games, any example you are not doing it then the other people will follow. A good example is my kids, my eldest boy will do something and my young son thinks what he's doing is right. So I'm often hard on my older son, make sure that he sets the example. That's how it works in the team environment. I learnt off George Gregan like if he never does his stretching or recovery then I think that's ok I don't need to do it. So I think it's all about setting a standard and keeps evolving. The young guys could possibly learn off me when I leave, then they now set the standard for the next person. The cycle is keeps going.
ーーSo that's all come from your experiences?
Yes, it's almost part of your role. Also if I skip that stuff maybe I get injured. I do the things that I think is important for me and hopefully it's the right thing and you are setting the standard.

ーーOrdinary people would just worry about yourself but I think you have a great vision to see the others well.
I think you see so much, it will be the same as Keisuke, as soon as he finishes the training he go home and maybe Yama (FWD's coach) and Go (Backs coach) were going like oh geez.,,, you know. Everyone notices what happens. I notice if young player is not doing and leave early, I don't say anything but everyone notices. It's important to work hard to get better but also to set standard.

ーーThat's not easy to do.
I think you just need to do the work so that become the habit once something is the habit, it's not the effort. That's what you do.
◆ More Japanese players to National team.

ーーWhat is your goal this season?
My individual goal is my team goal. Obviously we want to win again. From a development point of view, help the younger players as much as I can so everyone again taking that level up and more competition. And also possibly push more Japanese players into the Japanese team.

ーーIn what part do you think you've improved individually last season?
Possibly my game control and that's something I focused a lot more. Also knowing the opposition and knowing how we want to play. I think working hard early in the week and back in the week you get more relax. I'm clear with my game. I don't really like to talk about myself what I do well, I prefer talk about what I like to improve.

ーーWhat do you think about your age?
I try not to think about, everyone tells me so I won't forget.

ーーNo problem with your body?
No problem, unless law comes in saying I'm too old to play. My body feels great.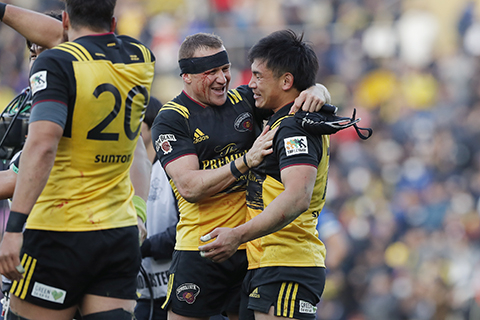 (Translator: Nao Yoshimizu/Interviewer&construction Kazumasa Hariya/Editing Yutaro Igarashi, Yasuko Tanaka)
[Photo: Aki Nagao]