11 Jul. 2018
SPIRITS OF SUNGOLIATH #592 Joe Wheeler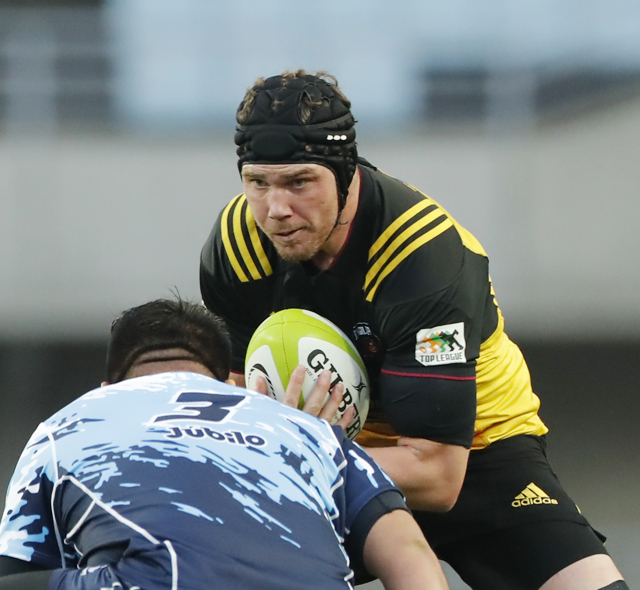 ◆Joe Wheeler 『 High Tempo rugby suit my style 』
This year is Joe Wheeler's 3rd season with Sungoliath. He has been exceptional in leading the lineout as one of the FWD leaders and showed a consistent performance. Today we are here to talk about his skill and mind towards the next Top league season. (Interviewed on 25/06/2018)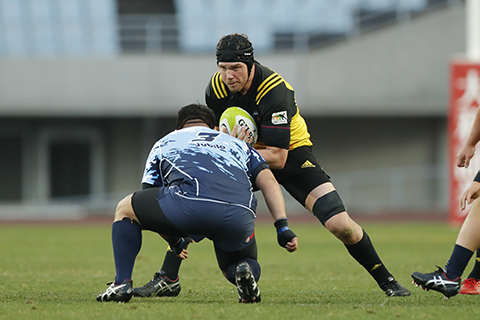 ◆ Improved in leadership role
ーーWhat do you think about Sungoliath rugby after playing for the past 2 seasons?
I've really enjoyed it, it's not only awesome experience for me and my wife but also really good rugby experience. I think certainly made me better rugby player.

ーーI think you look more confident playing Suntory rugby now?
I suppose new team you involved in takes time to earn your respect from your team mates by playing really well. I think other important things are to understand the culture, team values and the language.
ーーHow is your Japanese going ?
Chotto Yokunatta!! (Little bit getting better in Japanese) It's a really tough language especially for English speaker because of the structure. I think I got better every year but the challenge is because I go back to New Zealand and been playing for the Highlanders, I go back for almost 6 months so I need to keep using the language.
ーーWhat do you think you've improved as a person and also in a rugby point of view?
I think living in a foreign country taught me as a person a lot about myself. I suppose been out of your comfortable zone you learn a lot about yourself and significant of the other ones. So my relationship with Courtney is definitely got a lot better just because we have to rely so heavily on each other.
I think in terms of my rugby, every year I tried to get better. There is always part of my game that I want to get better and over here I think my leadership is grown around the lineout and forward play so I've really enjoyed that side of it even though I've had that responsibility in the Highlanders. I think the way you have to treat it here is slightly different to over there because you are in a foreign country.
ーーWhat is your specific role in lineout leadership group?
I mainly look at the structure of the lineout with Yama (Yamaoka) and look at the moves week to week. Obviously if I'm playing call the lineout and make sure that I help upskilling the Japanese boys as well.
ーーWhat's most important in calling the lineout?
I think hardest thing in caller is reading how they defend and make the correct call. So that's the hardest thing. You can have your best plans placed week to week but they can change in the game, so I think adapting on the run is best skill you can have.
◆ Catch and pass are most crucial
ーーYou have a great catching skill.
I think my catching and skill ability probably came from my Cricket back ground.
ーーDo you keep your eyes on the ball till you catch it?
I always tell Koba (Kobayashi) to watch the ball right from the start and at the highest most point that's you should be in a correct position. You just watch the whole motion I guess.
ーーCan you see the spin of the ball too?
Yes, if you watch the all way, but I just think the process to catch the ball is important.
ーーIs there any tip on how to catch the ball?
I've always try to catch the ball slightly side on so if I do drop it the ball is going backwards.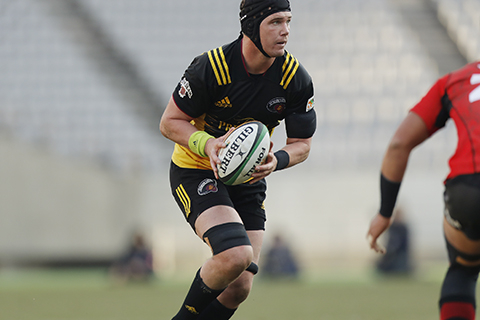 ーーSo most importantly you have to have great eyes?
Yes I think so, watching the ball from where they start throwing to you at lineout or passing it to you, you have to watch it whole way.
ーーYou also have a great catching form
I don't know how to answer hahaha.
ーーI think everyone should go watch Joe's catching skill, it's worth it.
No that's too much, I'm not use to getting praised like that hahaha.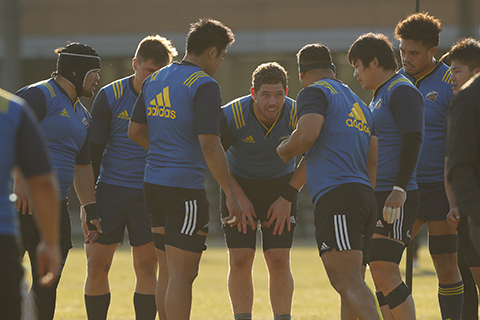 ーーI think playing other sports like soccer, goalkeeper or hand ball would go all right as you have great catching skill.
I think passing and catching the ball is a massive part in rugby. If you have that skill as a forward it's a real point of difference. And that's always been my point of difference as a rugby player, my skill set. But you have to keep working it and try keep that skill level up.
ーーSo you are not interested in playing Soccer or Handball?
You can't tackle anyone hahaha.
◆ Developing the players
ーーSo looking back the past 2 seasons, what are the good things about Sungoliath?
Firstly the team mates are bunch of awesome guys, I've really enjoyed both on and off the field. Also I love the style of the play that Suntory has. We got a really good balance between kicking and keeping the ball in play. I like the high tempo rugby team and I think suit my game.
The other thing I love is that seeing guys three years ago that I started sort of starting out in Top league where they are now. I get real satisfaction seeing like Nagare, Matsushima, Genki(Sudo), Ishihara, those boys playing on international stage, I think it's really awesome. It shows that the team is developing the guys to become the best in Japan.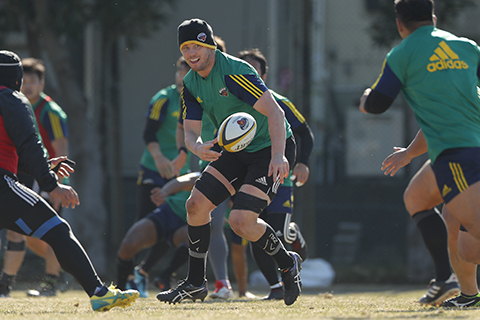 ーーWhat is your target this season?
I just want the team to be successful as possible and hoping to win another championship. But for us, we need to keep growing our game and keep getting better as a club. Keep developing the younger guys that's my job so I need to lead that, especially tight forwards and locks. So I'm really excited for another year.
ーーAny other news ?
Courtney and I got married in November last year and we are expecting our first child in December so that's really exciting for us. So it's pretty awesome news for us and that will change our life style hahaha.
(Translator: Nao Yoshimizu/Interviewer&construction Kazumasa Hariya/Editing Yutaro Igarashi, Yasuko Tanaka)
[Photo: Aki Nagao]