25 Dec. 2020
SPIRITS OF SUNGOLIATH #727 Milton haig
『Aggressive Attacking Rugby, plus great defense and strong physicality』
Milton Haig HC seems always calm and shows a glimpse of stern. His passion for rugby must be the source of him all. We caught up with Milton Haig HC, who is in his second season leading the team, before the start of the season. (Interviewed on End November/2020)
◆Focus on Aggressive Attacking Rugby
――What is the current status of the team?
I think there were more negative influences of Corona, but one good thing that came out of it was that the players who are on the Japanese national team or in the selection for the Japanese national team participated in team training from the preseason, and the whole team was able to prepare altogether. This is something that has not happened in previous seasons, so in that sense, we have been able to prepare well from the preseason.
――What is the most important thing that needs to be done before the start of the season?
In the preseason, we need to lay a solid foundation, and from there we will build the frame, walls, and roof, just like building a house. At the end of the preseason, we will have a training match against Panasonic, and I want to make sure that the roof is in place by then. There will be other training matches along the way, and I am sure we'll learn about challenges that we can't see just from our own practices, so we'd like to tweak our preparations as we go.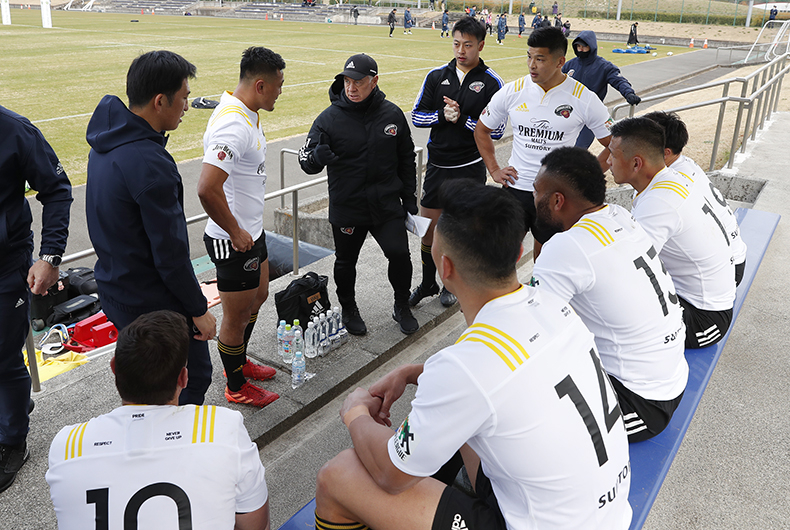 ――What is the greatest strength of Sungoliath?
We want to play aggressive attacking rugby, the style that is also our brand. Even in Matsushima's absence, I want to make sure that we establish that, and the players are enjoying it, so I want to focus on that.
We have good preparations for set pieces such as lineouts, mauls, and scrums, so I want to make them our strength. Also, in the physical part of our defense, we would like to show our strength in physicality by challenging at the breakdown and cleaning out and show our strength in defense as well as in attack.
In terms of last season, we played particularly good defense in the last three games (our 4th, 5th and 6th TL games), and when I talked with other teams, they gave me feedback that our aggressiveness in and around the breakdown was noticeable, so I'd like to continue to improve on that.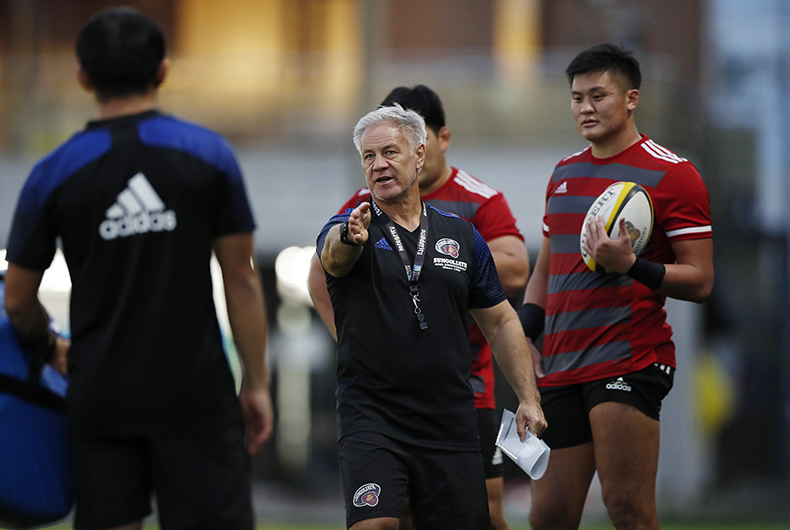 ◆Confidence and a unique aura
――We are looking forward to seeing all the great players.
I think it is going to be a very exciting season and I'm looking forward to it. Seiya Ozaki, Tevita Lee, Samu Kerevi, and Ryoto Nakamura are all great players and have been training well, and I hope they can keep up their good forms into the season. Also, Beauden Barrett will be joining us soon. I think all the players will be able to show what they have been working on in the preseason in the training matches first.
――How do you choose the members for the games?
Last season, we started the season with only three training matches in the preseason, but this season, we are planning to start the season with five matches (Editor's note: the match against Coca-Cola on December 6 was cancelled), so I think we will be able to prepare well. Looking at the format of the Top League this season, I believe that it is a format where many players will get the opportunity to play, so I believe that it will be a season where we can have a good challenge.
In the selection process, we are trying to make sure that the strength of the team does not drop when the national team level players are replaced, and that we can maintain a good balance.
――Why did you choose Ryoto Nakamura as the captain?
He has been fulfilling that role day by day since he became captain, but he was also the captain in his university team and was in the leadership group last season and was very outspoken. He has confidence, a unique aura, good communication skills, and respect for his teammates and staff. His character matched the image we were looking for in a captain, so we asked him to be our captain.
◆Spirit, technique, and physical strength are connected
――Is starting a season as a player completely different from starting a season as a coach?
I think it is even harder to come at it as a HC (laughs). I always think that I must keep working on it and learning so that I can improve. With the help of a sports psychologist in New Zealand, all the staff are learning and working on things such as coaching and how to deal with injuries. I think we will see improvements in near future, but I was also able to work as the Georgia national team coach when I was working for the New Zealand Rugby Union, and I think my experience there has been useful in my current work.
We must make sure that the content and details that we put into the game are put into the players' hands, so we have to make sure that the foundations that I mentioned at the beginning are built up, that the objectives are clear, that the logic is sound, and that the flow is easy for the players to understand.
――In Japan, there is a saying "Spirit, technique, and physical strength" which we think is very important for athletes, what do you think about that?
I think it is important to have the trinity in one, and I really empathize with that idea. In terms of doing good work, I believe that the spirit, technique, and physical strength are all connected, and especially in terms of the soul (spirit), I could say that I am able to do good work because of my wife and two daughters, so I think that the bonds and relationships with my family are important, and that is what drives me. My two daughters are very good children, and I have been blessed with a good family and have spent 22 years with my wife, so that is what motivates me.
――You played halfback in your active career, and I think you are very competitive.
I hate to lose (laughs). After all, there are many small players in the number 9 position, and many of them hate to lose. When we lose a game because we have not caught up with our feelings or we do not do well, I feel really unforgivable. I feel like I have no choice but to admit that we lost because of the difference in strength when we gave our best performance and I also gave a good performance, but we lost.
――When you were a player or a coach, which of your competitive tendencies came out more?
The feeling of not wanting to lose is the same in both positions. The frustration builds up when I lose because I can't fully control what I can control, so when I lose because I can't control the mental aspect in particular, I feel disappointed, whether I was a player or a coach.
◆Improve defense
――How do you resolve that frustration?
If it is frustration with myself, I try to be honest about my feelings and work them out. I cannot change what happened in the game, and I can only change what I will do in the future. So we talked about "focusing on what we will do in the future" in the team a lot last season.
We also talked about how to solve the frustrations of the players on the field and how to solve problems when they are under fatigue. They try to find ways to solve problems when they are mentally and physically under pressure.
――What do you want to achieve this season?
Of course, we want to win the championship, but another thing we want to achieve is that if you look at our defensive stats, we are in the middle of the pack among the Top League teams. We are second or third in attack, but I think we need to improve our defense, and to win the championship, we need to be in the top three in terms of defensive stats, so we need to improve the physicality of our defensive breakdown and try to dominate on defense as well as attack.
Jason O'Halloran, who is new to the team, is the main coach for our attack. I think our aggressive attacking rugby is becoming more and more recognized, but we also want to be recognized by other teams as a great defensive team and a strong physical team.
(Interview & Structure: Kazuyoshi Hariya /Translator: Yuji Yamaguchi /Editing: Yutaro Igarashi)
[Photo: Aki Nagao]