24 Dec. 2021
SPIRITS OF SUNGOLIATH #777 Semise Talakai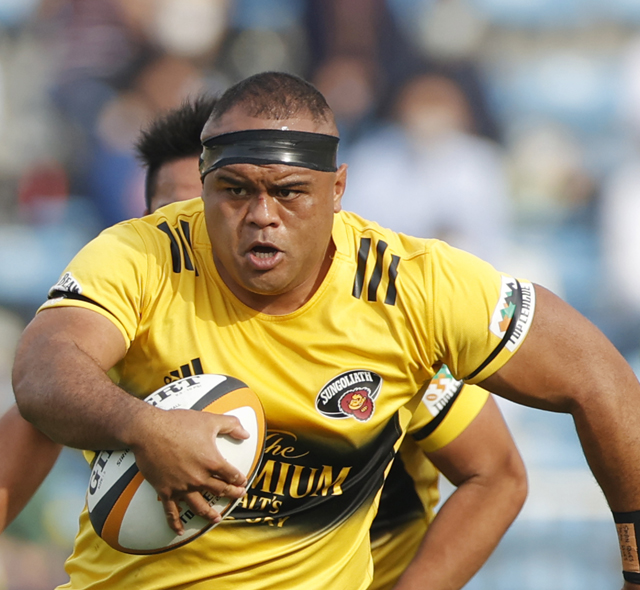 『 Living in my dreams 』
Semise Talakai, who can be said to be a typical prop in terms of appearance and atmosphere. His first interview further highlighted his professionalism, expressiveness and intellect. (Date of coverage: Late November 2021)
◆Scrum IQ
――What kind of impression do you have of Japanese rugby after spending three seasons in Japan?
I think that the players are able to express themselves through rugby the way they want to. I think the Japanese players are getting more confident in their skills and they are not shy from showcasing them in the main game. Many of our Japanese boys have gained experience in the national team and the rest are able to play alongside some top level foreign players which has improved the overall team level.
――I think you are one of those foreign players, but what area do you think you are contributing to?
I think it's my Scrum IQ. I feel that I am helping people with the set up of the scrum. I think I am also able to help the Japanese players with skills. With skills, the situation in front of you determines how to respond, and I am able to help the Japanese people with the decision making of different situations. .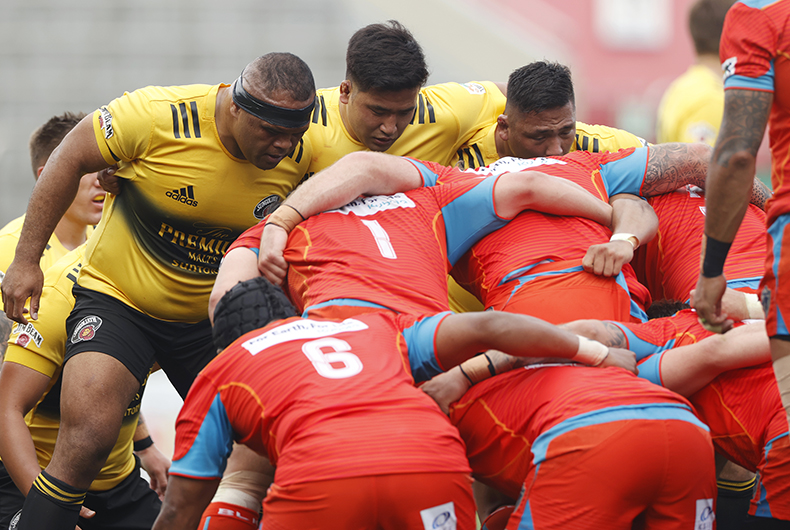 ――Which part of the game do you think you have improved since you came to Japan?
I'm not sure to be honest. I try to improve all aspects every season especially my core roles in the team. I have had to learn to adapt to speed of the game. The speed is fast and the level is about the same as Super Rugby Australia, I think the league is growing every season.
――Did you come to Japan anticipating that?
The first year I came I didn't know what to expect but I had talked to Hendrik Tui and some other players who had been playing in Queensland (Super Rugby), some friends from the Sunwolves, and they let me know before coming. When I first played in the top league, I immediately felt that the level wasn't far off Super Rugby. I now feel especially the top teams, they would challenge.
――What made you decide to play in Japan?
Suntory is a strong team with a rich history and so I came to Japan looking forward to adding to that. After experiencing the first year and losing in the Grand Final I really wanted to return to challenge for the championship.
――Before coming to Japan what do you think were your strengths and what did you gain by coming to Japan?
I think the Scrum was one of my strengths even before I came to Japan, and I also think that ball playing and ball carry are my strengths. Scrum is complex and can be set up in many ways. Japan has a lower scrum than any other country, so I think I was able to improve my understanding of how things operate here in Japan.
The scrum core program here is different in Japan. So adapting to those methods combined with playing at Suntory's tempo being a lot faster has helped me compliment my teammates.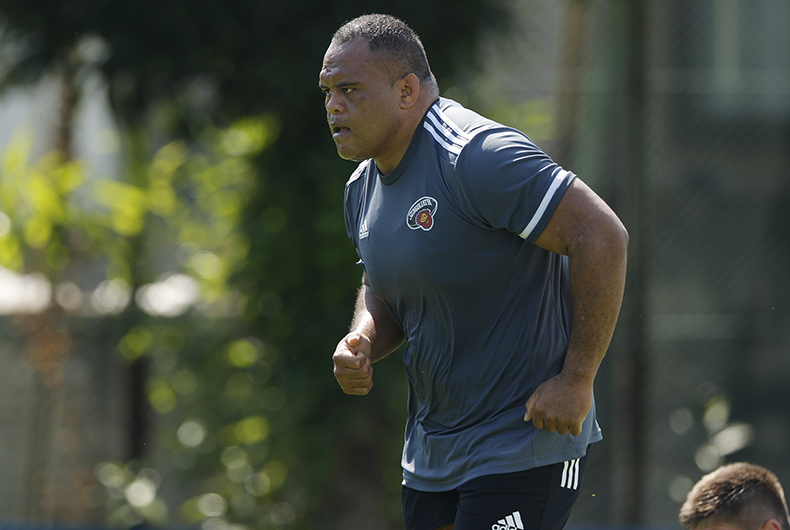 ◆Act for the team
――It seems that you have played rugby since you were little. What was the onset?
When I was four, my cousin played in the final of the rugby league, and when I saw that match, It became my dream to become a rugby player. I played in rugby league and rugby union from the age of six until around the age of 18, I continued to play rugby union on Saturdays and rugby league on Sundays every week.
――The appearance of your cousin in the rugby league final must have been inspiring.
I thought it was wonderful that my cousin was standing there. The stadium was full, and when I saw the support from the stands, it made me also wanted to stand there one day. As I continued to play rugby, my love for rugby grew and my feeling to achieve this grew stronger.
One big difference between Australia and Japan is that the youth's program such as junior programs are very good. So I loved the game very early and I played it continually every week. It would be tough to create that here with so many other sports like Baseball, Soccer etc but it is doable.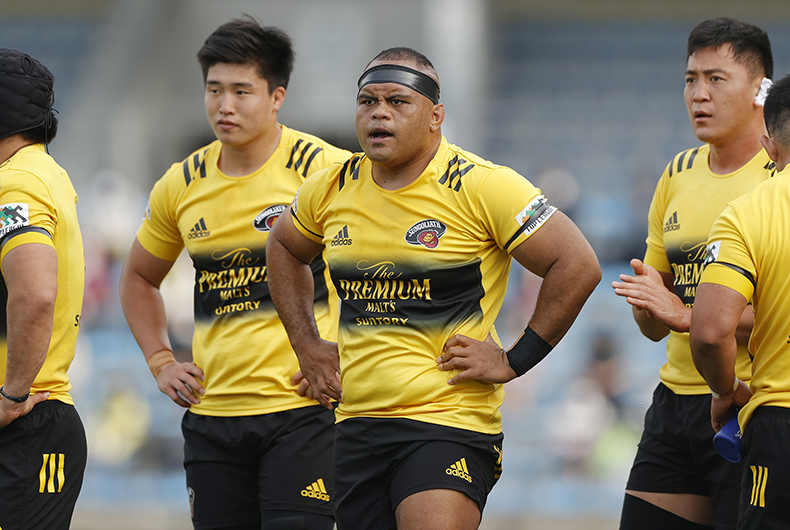 ――Now that you are a rugby player have you been able to experience playing a match at a packed stadium?
Having had that kind of experience in my first match at Super Rugby, I became more motivated to play in that sort of atmosphere.
――How did you feel when you fulfilled your dream?
First of all, I felt a sense of accomplishment because I was able to fulfill my dream, but my next goal soon changed. What do I have to do for the team? It made me realize I needed to contribute more for the team.
The first match left a strong impression on me, but it made me realize how important the team was and that I need to always act for the team.
――I don't think there is a limit for acting for the team, but do you have a sense of accomplishment within that?
In the sport of rugby, I think we must always achieve the goal of acting for the team. Even if I sacrifice myself, I am acting for the team. Sometimes I think I have been a bit too selfless, but I'm always thinking about how I can act for the team. I always act for the team and always support the players around me so that I can get the best out of them.
◆Dreams come to gather
――Where does your attraction to rugby come from?
My dad, uncle, and cousins all played rugby, so I've always talked about rugby and played rugby since I was little, so that's where it started. I also like to think about the details of why and how, which made me love rugby even more.
――Listening to your story, I thought you might be an intellect type.
I think that's one of my strengths, and I'm a rugby nerd (laughs).
――What are your future goals for rugby?
I'm living my dream, so I think I have constantly improve so that I can achieve the best results year after year. In order to make my career as long as possible, I think that I must constantly grow, and I think that I must make efforts for that.
Suntory is also a team aiming to win every season, so we are always thinking about how much I can contribute to my teammates and how much we can support them. And I am thinking about how I can represent my family.
――What are your thoughts about becoming a representative?
I don't think about it because the current Australian rules do not allow me to be selected as a representative. I try not to think about it because of the rules. If the rules change and there is an opportunity, I would like to work hard toward it. Now that I'm in Suntory, I want to contribute 100% to this team.
――Please tell us your goals for this season and the points you want the fans to pay attention to.
Personally, it depends on whether or not I am selected as a member on the match, but I would like to set a foundation in the set piece for attack which allows that Backs can easily attack. And I think it's also important to be stronger than our opponent in the physical battle and dominate them in defense. I also want to win as a team. I've lost in the finals continuously, so I definitely want to win this season.
――I feel that you have a strong feeling of working for the sake of those around you, but where does that feeling come from?
I think it's in the environment where I grew up. Having been playing rugby since I was young, everyone working 100% and doing it for each other creates special feelings. Having had that experience, I think it's better to act for others. I think it makes it easier and more special for everyone to have that kind of mindset. I think it is more fun when everyone is on the same page and working hard together.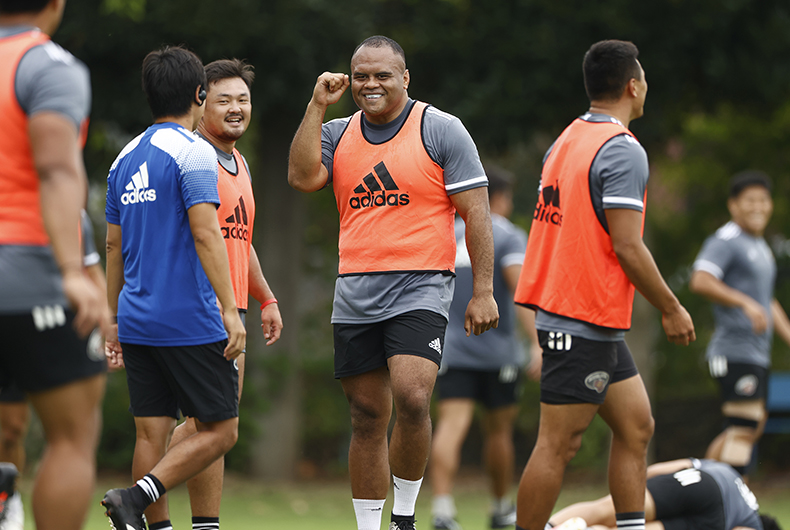 (Interview & Structure: Kazuyoshi Hariya /Translator: Hino Jesse Okitaro /Editing: Yutaro Igarashi)
[Photo: Aki Nagao]