20 May. 2022
SPIRITS OF SUNGOLIATH #797 SAMU KEREVI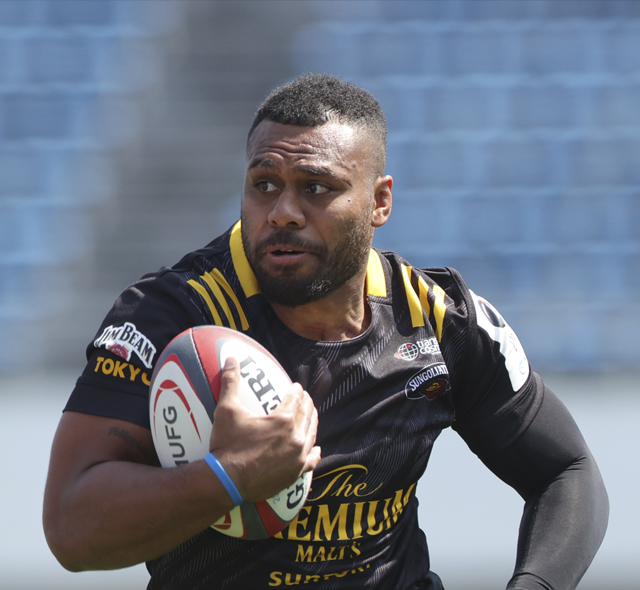 Samu Kerevi 『 Take my skills to the next level 』
Every time I interview Samu Kerevi, I am struck by his humility. He has mentioned a number of things that he needs to work on in order to improve his game, and I think the gap between his humility and his ruthless play when it comes time to compete is perhaps the most attractive thing about him. (Interviewed on Mid May,2022)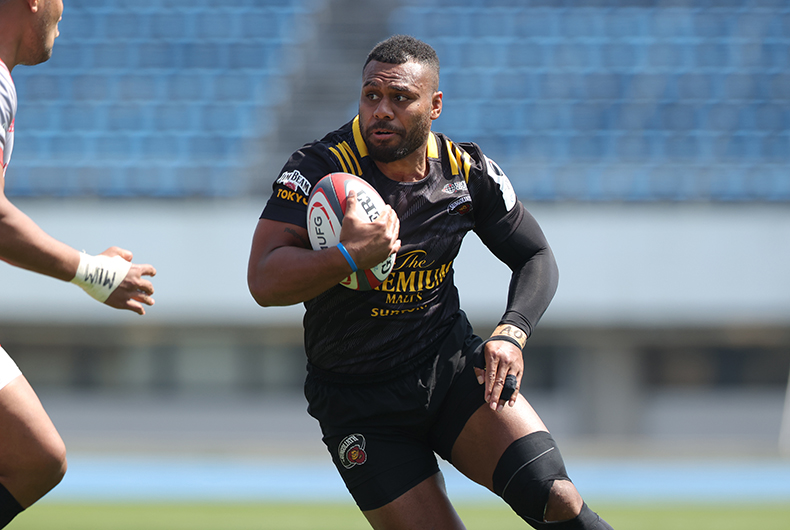 ◆A great season
――Have you achieved the results you wanted so far?
I think there are some areas where we have been able to compete at our own high standard so far. I think our performance in the opening game was high, but we lost against Panasonic in the 7th game and against Toshiba in the 15th game, and I think our performance against NTT Docomo was not very good either. However, those games are also very important, and I think it is important to learn and grow even more from them and move on to the playoffs, so yes, I think we have had a great season so far.
――How is yourself doing?
I think I am performing well, and as a center, I always want to be in great shape, so in order to grow and play better, I still have a lot of work to do, but I am always consciously working on my training every day so that I can always get better.
――In one of the league games, there was a try that "looked like you flew at an angle", taking advantage of your speed, strength, and body spring!
I think that try was made that way as a result of team effort and all I had to do was put the ball down at the end.
――I feel that your speed, strength, and physical spring have been further refined.
I have to thank the S&C (Strength & Conditioning) Coaches for that. I have played for the Wallabies (Australian national team) and also for the 7's national team, and the S&C staff at Sungoliath, JP (John Pryor) and Sean Yoshiura (Head S&C Coach) have done a great job in finding the best balance between my weight, fitness and speed.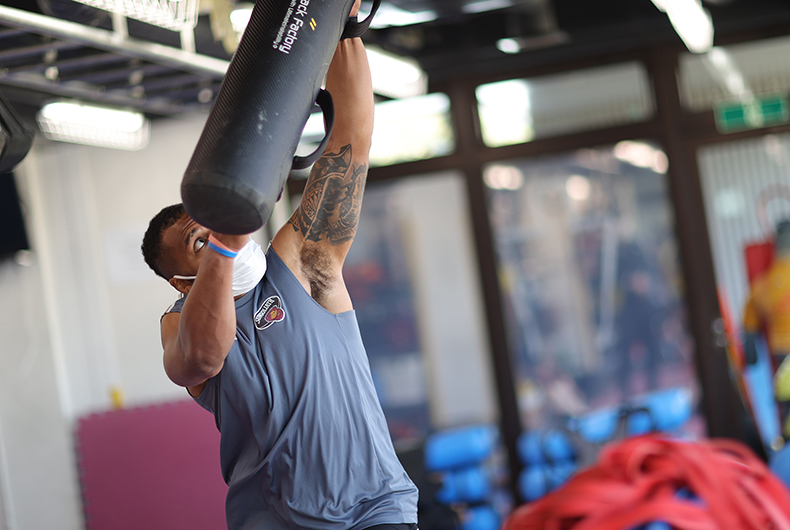 ◆Increase ball touches
――And what is your main work-on at the moment?
I am looking to increase my touches on the ball as many as possible to give momentum to the team. I am especially working on my movement off the ball particular.
――The ball often goes to you.
It is true that the ball often comes to me, but I am working on refining the quality of my play so that I can get others around me involved and finding ways to get involved without the ball.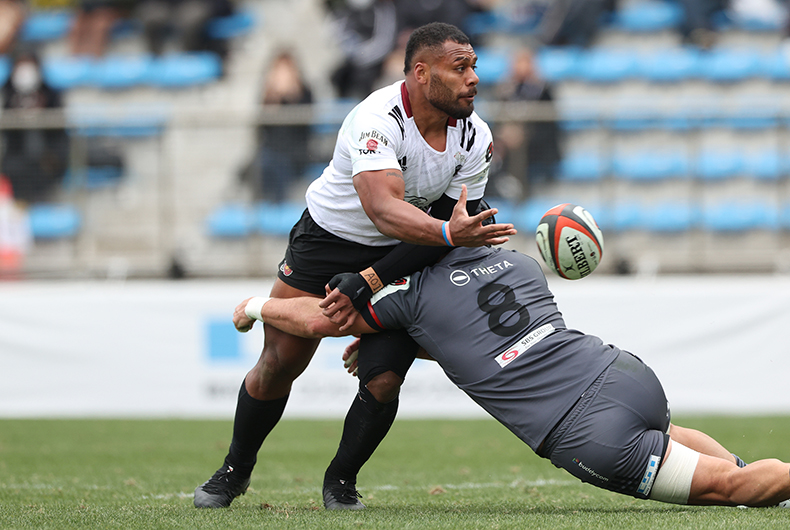 ――I believe other Japanese players are improving their offload game due to your influence.
I am constantly refining my offload skill so that I can evolve it more, but it is also an area where the coaches of Sungoliath are focusing on. I believe that my strengths lie in my strong ball-carrying and offloading, so I have trained in these areas with younger players, especially Shogo Nakano, during the off-season. Also, other players have great offload game like Niguma, Taiga Ozaki, Ryoto Nakamura, and Seiya Ozaki. We can improve each other's skills while also improving our own skills, and I think we have a great relationship in the team.
――You are a playing offload coach.
If I can be that kind of coach when I retire, I would be happy (laughs).
◆A relationship of lifelong friends
――You have played on the same team as a current All Blacks player for two consecutive seasons, how is Damian McKenzie doing this season?
There are things I have learned in terms of skills, and I believe there are many things we have learned from each other in terms of mindset, preparation, and attitude before going into a game. We have built relationship that lasts lifetime.
――On the other hand, I think there are many things that Sungoliath players can learn from you.
Thank you. Arigatou.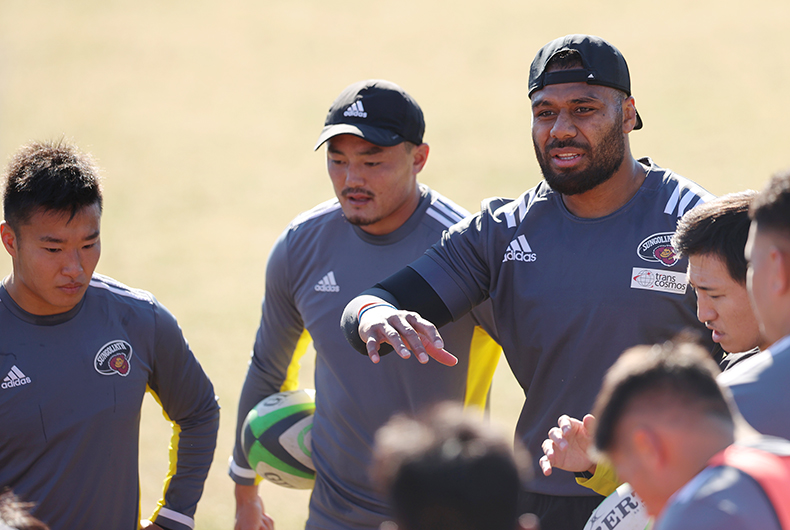 ――In your profile, you write, "I value training more than motivation, I am constantly refining my skills, and I am never satisfied with my current situation." Is the pursuit of technique/skills and the pursuit of the physicality what makes rugby so interesting?
The physicality part is also important in terms of playing with confidence. I think the mindset part, playing well and ruthlessly in terms of feelings, is also important. I think it is important to develop good habits in the skill-set part from training, and to be aware of it so that I can be confident in my skills and execute great plays even under pressure.
――I think one of your greatness is that you play without mercy.
To become more of a world class player, the skill set is the part I am working on now. I play with a competitive mindset in every game, and I have been conscious of playing hard in games and showing physicality in tackles for the past 7 to 8 years, so I hope to improve my skill set further and become more of a world-class player.
――There will be a Rugby World Cup in 2023, and of course you are aiming to represent your country?
First of all, I am focusing on playing my best at Suntory. In order to play in the World Cup next year, there are many good centers in Australia, so I hope to perform well for Suntory so that I can be involved in the World Cup squad.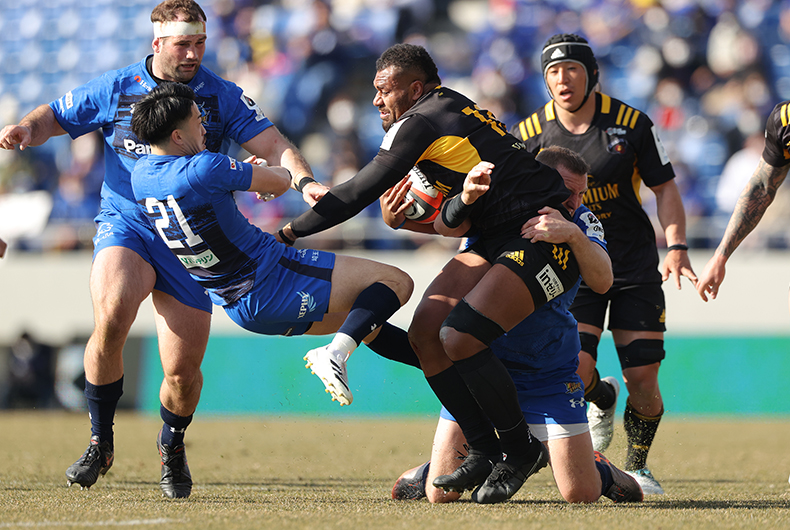 ――How confident are you?
Of course, I am confident, but I have to focus on what I can do and do it well so that I can perform well. I try not to focus on the parts I can't control, such as selection, injuries, or how other players perform. I believe that how I prepare myself is important, so I think that if I prepare well and commit myself to doing so, my performance will follow.
◆Team must connect well
――What do you think is important for the finals?
In order to win the finals, I think the team must connect well, and it is also important to play with confidence as a team, as one person cannot accomplish this alone. In order to perform well as a team, not only the members but also non-members and staff must be a single unit, and it is very important to fight with a calm mindset, not focusing too much on the result, but on our process and believing in our own abilities.
――How confident are you that you can play well and have a great game?
There was a little time off after the league games, but team practice has resumed and there is still time to prepare, so I hope to prepare for a great performance by working hard on the preparation part, gaining confidence, and trusting the other players and staff.
――In the previous interview you mentioned that you are not married yet, have you got married yet?
No (laughs), I am still single. If any Japanese single ladies are out there like. (laughs).
(Interview & Structure: Kazuyoshi Hariya /Translator: Yuji Yamaguchi /Editing: Yutaro Igarashi)
[Photo: Aki Nagao]