27 May. 2022
SPIRITS OF SUNGOLIATH #798 DAMIAN McKENZIE
Damian McKenzie 『 Have a go 』
This is a remote interview due to COVID-19, but Damian McKenzie has a wonderful voice that you can hear through the screen clearly. We asked him to talk about the finals in such an attractive voice. (Interviewed on Mid May,2022)
◆It is important to adapt well and play well
――The league games are over, congratulations to the top scorer!
(In Japanese) Arigatou Gozaimasu.
――Does that mean you were able to play your own way by winning the scoring title?
My teammates have been playing very well, and we have been able to score a lot of tries as a team, and I was able to score many goal kicks in the process. Now the playoffs are starting, and we are entering the final phase of the season, which is very important, so I hope to put in a solid performance there.
――I believe you had talked to Beauden Barrett before you came to Japan, but did it go as you had imagined when you actually played in Japan?
There was not much difference in the information about the team or the style of play from what Beaudy (Beauden Barrett) had told me. In contrast, I look back on how important it was for me to adapt and play well. It's a really great club and I feel honored to be a part of it.
――At the press conference when you came to Japan, you said "I want to bring back to New Zealand what I would learn" Did you gain anything to bring back?
It is more of a personal part of the game, and there is a lot to learn about how to win an up-tempo game by exceeding fitness, and I think I can bring those things back and contribute to the New Zealand club as well. The physicality part is high in New Zealand / Super Rugby to begin with, so I think I was able to gain speed and up-tempo aspects of the game.
◆Move to get the ball
――You don't lose speed or fitness in a game, and you are powerful and instantaneous, including mentally. In addition, you have the ability to sustain them!
I am aware that I am smaller than other players, so I believe that the areas in which I surpass other players are speed and fitness. I make an effort not to lose in those areas, and I play with the desire to contribute to the team by showing what I can do in terms of physicality.
――I get the impression that there is no end to the desire to play.
I am consciously working on that, and I am working on my work-rate off the ball. I am conscious of how to move so that I can get the ball when I am not receiving many passes, and I think this is also related to fitness.
――Do you train for fitness during the season?
As for fitness, there is quite a load of running in practice, so I think it is well prepared there.
――You have a great voice. I'm sure your instructions during the game go over well.
Since we are communicating in language, we have to think about how to best communicate with each other. I have to be able to communicate specifically about where I want the ball and when I want the ball. There are many players in the team who can speak English, so I can communicate with some of them, but I have had some experiences where I could not.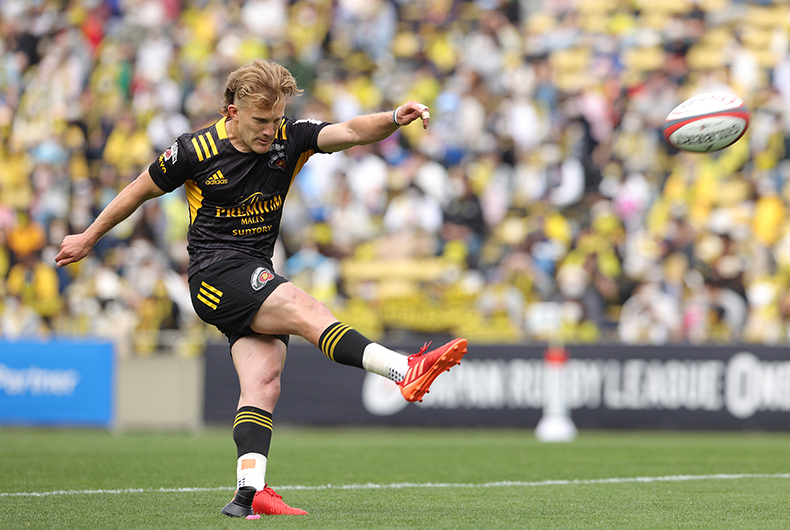 ◆Relax and kick
――Smiling before a kick has become your trademark, but is it now a natural routine without conscious thought?
It's a routine I've been doing for years, and I started doing this routine so that I can relax and kick without thinking too much about goal kicking, and now I can do it naturally.
――How did you start doing it?
This is a routine that I started doing after a suggestion from a mental skills coach I had when I played for the Chiefs. I continue to do it because it is a routine that helps me relax, not think too much about the kick or the result, and it works well.
――Are there any challenges / work-on at present?
There is no part of rugby where I am really satisfied and don't need to learn any more, so I am always striving to improve in all areas, including passing, tackling, high ball skills, and also how to bring out my physicality in the game, as there are still areas where I can improve.
――I feel your desire to play is so strong that 80 minutes long game is not enough!
It may be a part of the game that changes from match to match. There is a lot of time for ball in play, and matches are played at a quick tempo in Japan, and sometimes I am exhausted after the match. However, when I get my chance, I want to be prepared and play in a way that my fitness is not an issue.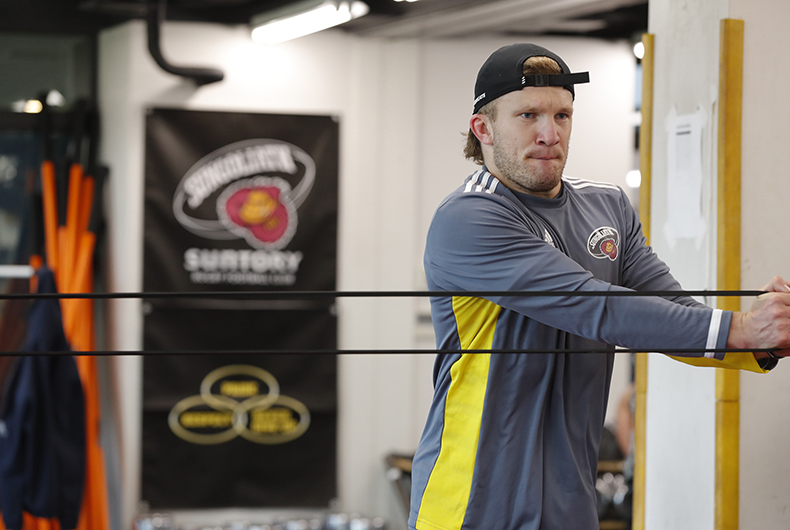 ◆Working hard to play better
――Once again, what do you find exciting about rugby?
Especially in unstructured situations, countering with the ball and setting up with the ball off turnovers is an exciting part of my game, and I really enjoy finding holes and breaking tackles with the ball when the opponent's defense is not set up properly.
――Creating a new attacking opportunity?
It's also the part of practice where I strive to play better, and I really enjoy the turnovers and catching the ball that the opponent kicks and how I can break tackles when the opponent's defense is not set. And I am working on improving my skill level there.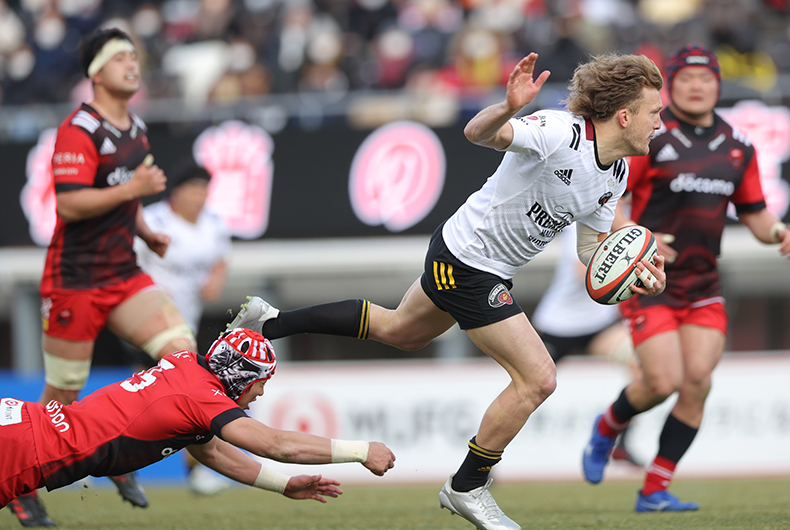 ――Do you have any plans to play in Japan again after the 2023 Rugby World Cup?
First of all, I would go back to New Zealand, play well, and then do my best to be selected for the All Blacks (New Zealand national team). I have had a really great experience in Japan and Suntory, and I would like to come back. When that will be is the part I don't know yet.
――To what extent do you envision your plans for the future?
I haven't thought that deeply about it yet, but there may be a path for me to continue to be involved in rugby after I retire. I have not thought about it specifically yet.
◆Your support
――What is important in the finals?
In the playoffs, it is important to win each game. It is important to believe in ourselves and play with more accuracy, and I think we have to work harder, more skillfully, and more than in previous games. I also believe that if we train hard and improve the quality of our execution, we can have a great game, so I hope we can prepare well around execution quality as a team.
――What are your own points of interest?
We have received a lot of support from many fans, both individually and as a team, and in many games the support has been a source of strength during tough moments, so I believe we will need your support in the battle ahead. Thank you.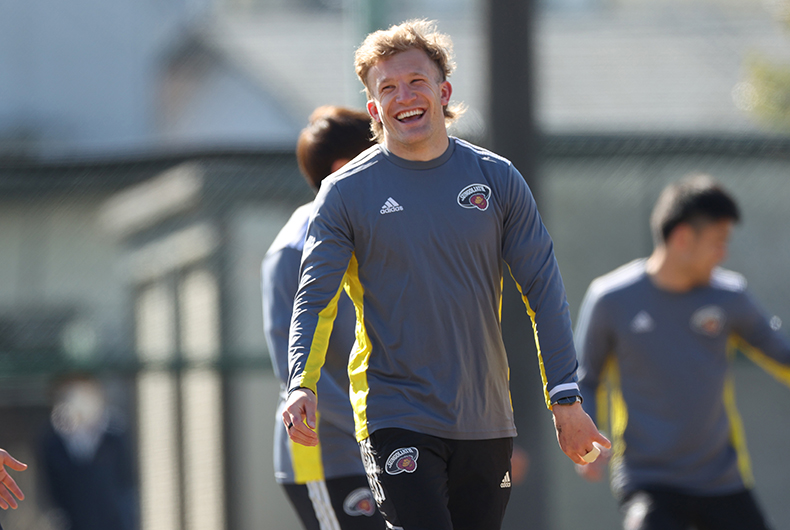 (Interview & Structure: Kazuyoshi Hariya /Translator: Yuji Yamaguchi /Editing: Yutaro Igarashi)
[Photo: Aki Nagao]