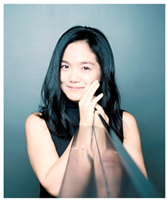 ©Marco Borggreve
The Suntory Foundation for the Arts (Directors General: Tsuyoshi Tsutsumi and Shingo Torii) has announced Hisako Kawamura as the recipient of the 51st (2019) Suntory Music Award, which is presented to individuals or ensembles for notable contributions to the development of Western-style music in Japan.
▽ Selection process
The first round of selections to choose candidates was held on Monday, January 13, 2020 at ANA InterContinental Tokyo. The competition continued with final qualifying round at the Ark Hills Club on Thursday, February 27, 2020. After careful consideration, Hisako Kawamura was chosen as the winner of the 51st (2019) Suntory Music Award, a decision that received the formal agreement of the Board of Directors of the Foundation on Tuesday, March 31, 2020.
▽Prize-money ¥7,000,000
▽The members of the selection committee
Atsuya Funaki, Morihide Katayama, Akane Matsudaira, Yuji Numano, Akio Okada, Miyuki Shiraishi (In alphabetical order)
▽Reason for the award
It is not particularly difficult to put forward the name of one of today's outstanding Japanese pianists. Nevertheless, how many people are truly capable of playing music with the richness of expression and the humanity of Hisako Kawamura?
Her performances are characterized by meticulous architectural design, but what is most surprising is the way she builds on this foundation with countless flashes of inspiration, underpinned by catlike agility, leading to one explosion of moments replete with vitality and musicality after another. Every phrase, every forte, every crescendo is imbued with such distinct intent and emotion that one clearly understands how she is interpreting the music and her approach to it. Her performances remind the listener that music is a sort of movement, a living thing of some kind.
In 2019, as well as completing a series of signature performances for the Beethoven Piano Sonata Project, Hisako Kawamura released "Beethoven Piano Sonatas 1 and 2" with RCA. Of particular note in her performances were the elasticity of No.29, and the mystical joy of No.32, whereas in her CD recordings, the exquisiteness of No.18 and her protean interpretation of No.8, amongst others, give an impression of the richness of the results. In addition, in her performance of Akio Yashiro's "Piano Concerto" with the NHK Symphony Orchestra, conducted by Kazuki Yamada, she deploys tonal diversity and rhythmic sensitivity to the full, opening new possibilities in the performance of contemporary works.
At the qualifying round, while every member of the selection committee acknowledged the way her performances spoke to the listener, some of the opinions advanced included the point that her rendering of Beethoven's later works may yet have room for further refinement. Ultimately, however, there was general agreement on the remarkable richness of her recent years, and on the possibility of further significant progression in the future.
For these reasons, it was judged that the musical accomplishments of Hisako Kawamura in 2019 make her a worthy recipient of the 51st Suntory Music Award. (Yuji Numano, Committee Member)
▽Biography
Born in Nishinomiya (Japan), Hisako Kawamura moved to Düsseldorf (Germany) with her family at the age of 5 where she started studying piano with Kyoko Sawano. She continued her studies with Malgorzata Bator-Schreiber in Göttingen who provided her with musical and artistic training, and Prof. Vladimir Krainev at the Hannover University of Music and Drama who nurtured the development of her artistic personality.
Hisako Kawamura has performed with orchestras including Rundfunk Sinfonieorchester Berlin, City of Birmingham Symphony Orchestra, Czech Philharmonic, Hungarian National Philharmonic Orchestra, Radio Symphony Orchestra Moscow, St. Petersburg Philharmonic Orchestra, Russian National Orchestra, Yomiuri Nippon Symphony Orchestra, Kyoto City Symphony Orchestra under the direction of conductors Jiří Bělohlávek, Vladimir Fedosseyev, Junichi Hirokami, Eliahu Inbal, Paavo Järvi, Marek Janowski, Zoltán Kocsis, Alexander Lazarev, Mikhail Pletnev, Tatsuya Shimono and Yuri Temirkanov, Kazuki Yamada among others.
Her sixth album 'Beethoven Sonata Vol.1' including 'Pathétique' and 'Moonlight' was re-leased in April 2019 with the RCA Red Seal label. Previous critically acclaimed releases include the ʻChopin 24 Préludes & Polonaise-Fantasie', ʻRachmaninoff- Album', ʻChopin Ballades', ʻChopin Sonata No. 3 and Schumann Humoreske' and ʻNotturno'.
Other recordings include works by Mozart, Schubert and Prokofiev (DiscAuvers), works by Schubert and Schumann (audite), works by Scarlatti, Debussy and Franck (Edition Klavierfestival Ruhr), Schumann's Piano Quintet (Nippon Columbia), Rhapsody on a Theme of Paganini with the Kyoto Symphony Orchestra under Junichi Hirokami (Kyoto Symphony Orchestra label), Mozart's Piano Concerto KV 467 with the Argovia Philhar-monic under Douglas Bostock (Coviello Classics).
The soundtrack of the Japanese movie 'Bees and Thunder' ('Mitsubachi to Enrai') released by Sony Music Labels, features Kawamura as soloist performing for lead actress Aya Eiden. Based on the Riku Onda novel of the same name, the film tells a story of an international piano competition.
In Japan, Kawamura's musical activity was recognised by the prestigious Art Encouragement Prize for New Artists of Music by the Minister of Education, Culture, Sports, Science and Technology. She was also awarded three important music prizes in 2009: the Fresh Artist Music Prize from the Nippon Steel Corporation, the IDEMITSU Music Prize from Idemitsu Kosan and the Prize of the Chopin Society Japan. Kawamura received also the Iue-Culture and Art Prize from Iue Memorial Foundation and the Hotel Okura Music Prize.
Committed to sharing her musical experience with the next generation Hisako holds a professorship at the Folkwang University of Arts in Essen (Germany) and teaches masterclasses at the Tokyo College of Music.
See here for more on the Suntory Music Award
See here about the Suntory Foundation for the Arts