The Suntory Challenged Sports Project
Supporting the challenging spirit and infinite potential of the athletes
As part of the Great East Japan Earthquake reconstruction assistance, the Suntory Group launched "Supporting Challenged Sports" in 2014 to bring more cheer and smiles to the areas affected by the Great East Japan Earthquake. We have supported challenged sports in Japan since 2015, when we entered into an official partner agreement in Japan with the Japanese Para-Sports Association.
A basic introduction to the rules of wheelchair basketball, supported by Suntory
Supporting Japanese national wheelchair basketball team candidates
Since having entered into an official partner agreement with the Japan Wheelchair Basketball Federation (JWBF) in 2015, Suntory Holdings Limited has supported the athletic activities of Japanese national wheelchair basketball team candidates and helped run competitions. The entire Suntory Group is promoting the initiative through volunteer activities and exchanges with the company rugby club, volleyball club, and the like, by the Suntory Group employees.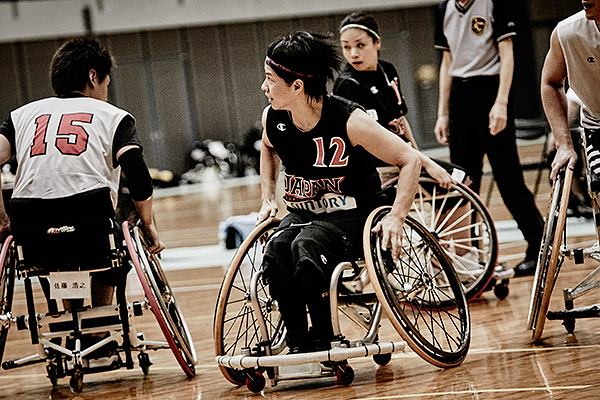 In addition, we have held more than ten hands-on wheelchair basketball classes a year in elementary and middle schools as well as public facilities with some 3,000 participants so far, in order to promote understanding of challenged sports.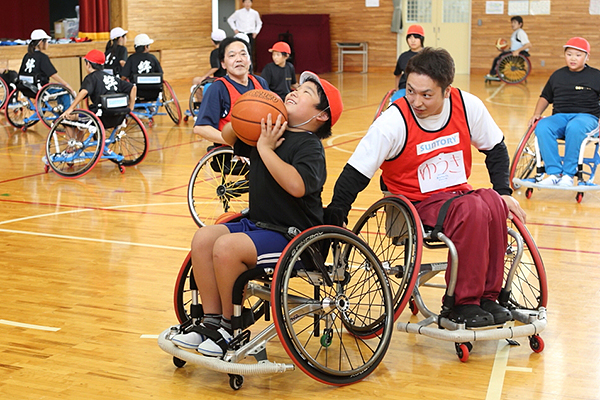 We also provide grants for the promotion of challenged sports as well as developing and enhancing world-class athletes through assistance for athletes and organizations in the Tohoku area. To date, we have provided grants to 99 individuals and 40 organizations, which are used to purchase equipment for competitions, to cover the costs of traveling for away games, and the like. Further, in order to strengthen the foundation and improve the environment for challenged sports, we donate equipment for competitions, renovate the facilities, and conduct introductory classes targeting those who have not yet experienced wheelchair sports.
We will stay right with the athletes and continually support their challenging spirit and unlimited potential with the slogan, "PASSION FOR CHALLENGE—Realizing our Dreams Together." We hope that dreams and aspirations will spread through these activities, in Tohoku and throughout Japan.
Related Links
・Official Partner Agreement Concluded with the Japan Wheelchair Basketball Federation (JWBF)