Promoting Initiatives for LGBT to Further Accelerate Diversity Management
Suntory Holdings Limited received the highest Gold evaluation for the PRIDE Index*1, an index that evaluates companies and organizations on their initiatives on LGBT and sexual minorities, managed by work with Pride*2 in October 11, 2017.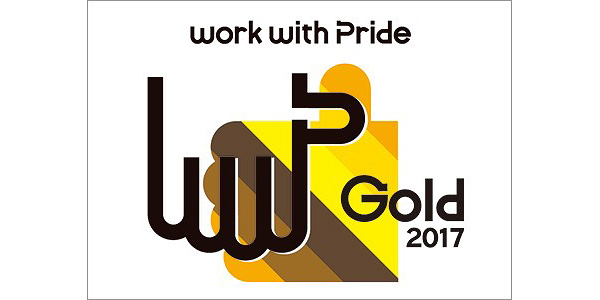 About Diversity Management
Suntory Group embraces diversity management that creates greater value through promoting and incorporating diverse human resources which enable various values and ideas as its basic policy on human resources. We aim to create a work environment that is full of creativity and enable every employee to exert their potentials by creating an organization that promote diversity in employee type and accept the differences.
This is promoted by the Diversity Promotion Section established in 2012 and are engaging in initiatives based on four areas of "Overcome age," "Overcome gender," "Overcome countries," and "Overcome handicap."
Being unable to exert their talent due to differences in individuality and values are significant loss not only to the people involved but also for the company. Having various values and perspectives would bring greater benefit through creation of new values through various individualities reacting to one another.
Product needs and expectations of customers are also diversifying in recent years. Responding to them through developing products that meet each need and method of delivering products require various perspectives from various people. Thus, we believe that we need a work environment that enables diverse human resources to exert their potential.










Four Prioritized Areas and
Five Prioritized Initiatives Set in 2012


Kazuhiro Hirata
Diversity Promotion Section,
Human Resources Division,
Suntory Holdings Limited




Initiatives on LGBT
We have established a project team and started fully engaging in strengthening initiatives on LGBT as part of our diversity management since 2016.
▽Included same sex partner in the definition for spouse in the company regulations and revised childcare leave, housing policies, and other benefits to be receivable by same sex spouse
▽Started consultation service related to LGBT
▽Changed sign for multi-purpose toilet so anyone can use it
▽Held e-learning on sexual, power, and other harassments including issues related to LGBT
▽Made handbook for LGBT Ally available on the intranet
▽Announced our corporate stance publicly to our customers, etc.
We believe we received the "Gold" evaluation base on these initiatives. Disseminating our initiative continuously using various methods throughout the Group is how culture is gradually nurtured .We will continue to promote diversity management including initiatives on LGBT to realize a Group where everyone can work enthusiastically and realize "Growing for Good" for each employee.
*1 Formulated in 2016 as the first evaluation index for LGBT in Japan. Separated into five categories of 1. Policy, 2. Representation, 3. Inspiration, 4. Development and 5. Engagement/Empowerment.
*2 Unincorporated association that promote and support establishment of diversity management for LGBT and other sexual minorities. It provides information to Japanese companies to support them in actively engaging creation of a workplace where LGBTs can work as who they are.