Development of "FtoP Direct Recycle Technology" for Use in Soft Drink PET Bottle Preform Production
In 2011, we have developed first Bottle to Bottle (B to B) mechanical recycling system*1 for the PET bottles in Japan with Kyoei Industry Co., Ltd. Continuing to pursue recycling of PET bottles, we have further advanced this technology and developed an innovative PET bottle preform manufacturing*2 method called "F to P*3 Direct Recycling Technology." This direct molding technology uses 100% recycled PET flakes as raw materials and eliminates the need of four processes including drying resin which were conventionally necessary.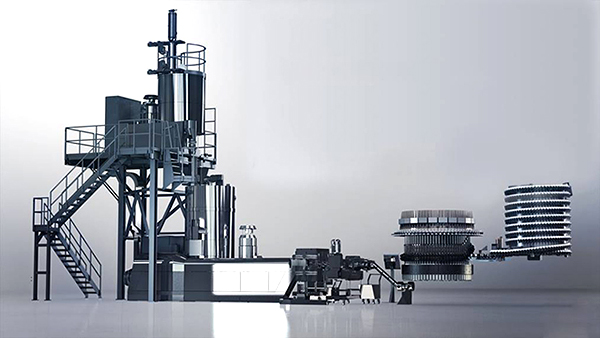 This technology was co-developed by Kyoei Industry Co., Ltd.; S.I.P.A. S.p.A., a major preform molding equipment manufacturer in Italy; EREMA GmbH, world's top plastic recycler in Austria, and Suntory Holdings. Suntory Beverage & Food Ltd. plans to start using PET bottles made using this method for part of its products including Suntory Oolong Tea (525ml) from the summer of 2018.

Naoya Ogasawara
Packaging Material Department,
Supply Chain Management Division,
Suntory MONOZUKURI Expert Ltd.
Conventional manufacturing method melted plastic flakes made from smashing and cleaning the collected PET bottle at about 300°C and crystallize them in to resin pellets. The pellets were then dried during the preform process and melted again for preform molding. As explained above, drying and melting were necessary process for conventional technology and required large amount of electricity. The new technology eliminates four processes that were carried out in two separate plants and reduced the melting process to just once. As a result, CO2 emission is estimated to be reduced by 25%*4.
Japan is one of the leading PET bottle recycling country in the world, achieving approximately 90% recovery rate. However, only half the recycled PET are circulated in Japan and others had largely been exported to China. PET bottles in Japan are in high demand as high quality material due to being properly separated and cleaned as well as not using colorants and being transparent and used for polyester fiber overseas.
Once the recycled plastics are made into polyester, it can never be recycled as PET bottles and the cycle stops there. So, preventing recycled plastics from being exported had been a major issue for beverage industry in Japan.
The B to B recycling on the other hand theoretically allows recycled plastics to be recycled infinitely without degradation and does not stop the cycle. We believe the use of new "F to P Direct Recycling Technology," which has superior environmental performance and cost effectiveness compared to conventional method, should be spread to increase the circulation of recycled plastic in Japan and that it will lead to reducing environmental impact of the industry.
The reason why quality of recycled plastic in Japan is so high is because they are collected in way that is easy to be recycled, thanks to the efforts of consumers and local authorities. I believe we have a responsibility as a beverage manufacturer and personally as a person in charge of the development of PET bottles to not waste those efforts and effectively use recycled plastics as valuable resource.
Suntory Group is already implementing the use of 30% plant-derived PET bottles as part of its 2R+B strategy*5. We have built an experimental plant in Texas, U.S. to further develop this technology to enable manufacturing of 100% plant-based PET bottle in the future.
As two pillars in initiatives to reduce environmental impact from PET bottles, we will continue to promote the R&D to achieve manufacturing 100% plant-derived PET bottles, and spread the use of recycled plastics that does not use petroleum-derived raw materials.
*1 Mechanical recycling: A method of recycling PET bottles. A method that smash and clean used PET bottles and processing them for a regulated period under high temperatures and low pressure to remove impurities from the regenerated materials. Implemented in Suntory from 2011.
*2 A test tube shaped mold of PET bottle made from PET resin. Processed into PET bottles by heating and blowing in high pressure air.
*3 F to P: Abbreviation of "Flake to Preform." Meaning eliminating the process of turning flake into resin and directly making preform.
*4 Per manufacturing 1kg of preform for PET bottles (based on electric power condition in Japan)
*5 2R+B (Reduce/Recycle + Bio): Suntory's concept of thoroughly using resources efficiently by reducing the amount of resins used and by using recycled materials, while replacing petroleum-based raw materials with bio-based raw materials as much as possible in the development of PET bottles
Related Links
・3R in Containers and Packaging
・Promoting the Reduction and Recycling of Waste