Tomi Red 2013 is The First Japanese Wine to Win a Trophy in The IWC 2018!
Suntory Tomi no Oka Winery's flagship wine, Tomi Red 2013, was awarded a Gold medal and Trophy (highest award in the division and the first ever given to a Japanese wine) in the Japanese wine (red) category of the International Wine Challenge (IWC) 2018, one of the world's largest wine competitions.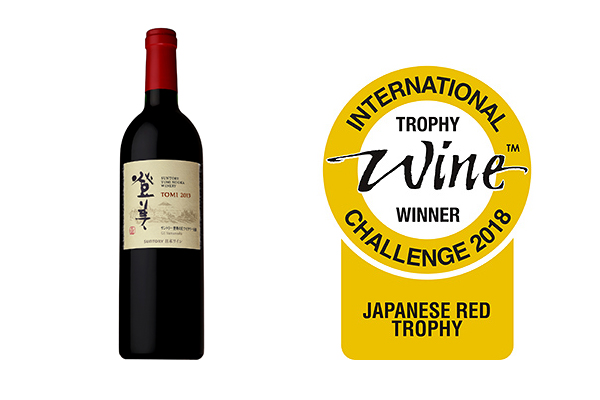 The award-winning wine,
"Tomi Red 2013"


Trophy awarded in International Wine Challenge 2018




The IWC has been held every April since 1984. It is the world's largest wine competition where over 10,000 wines are exhibited. The categories are divided according to combinations of country and wine types, such as French wine (red) and Italian wine (sparkling). The Trophy is an award bestowed on a brand distinguished from among wines that won the Gold award in each category.
The Tomi no Oka Winery series has received many high evaluations as a winery brand that represents Japanese wine. For instance, last year Tomi Red 2012 was awarded two prizes in the Japan Wine Competition 2017: highest award in the division and the Gold Medal in the Vinifera (Red) category. In addition, this year Tomi No Oka Red 2015 was the only Japanese wine selected for ANA's Premium Wine Selection 2018 served in First Class on international flights.
Aiming to make Japanese wine that inspires emotions across the world, Suntory Wine International will work to increase the number of Japanese wine fans in Japan and overseas, and to further increase its value and quality. Please keep an eye on the Tomi no Oka Winery series!
●Tomi Red 2013*
Tomi is produced with only the highest quality grapes cultivated through meticulous limited harvesting at Tomi no Oka Winery (Yamanashi Prefecture). The flagship brand of Suntory's Japanese wine is the culmination of the skill and passion of the winemakers. Tomi Red 2013 strikes a superb balance between a sweet fruity aroma, black olives, dried tomatoes, pepper, and the aroma of licorice. It features a refined mouthfeel and high-quality tannin that envelops the palate.

*sold out
●Promotional Video of Tomi no Oka Winery: "Landscape"

Click here to see the video(0:30)
●Promotional Video of Tomi no Oka Winery: "Soil"

Click here to see the video(0:30)
●Promotional Video of Tomi no Oka Winery: "Harvest"

Click here to see the video(0:29)
●Promotional Video of Tomi no Oka Winery: "Winemaking"

Click here to see the video(0:31)
Related Links
・Suntory Japanese Wine