A Round Of "APPLAUSE": Suntory Celebrates the Blue Rose's Second Year at the GRAMMY Awards®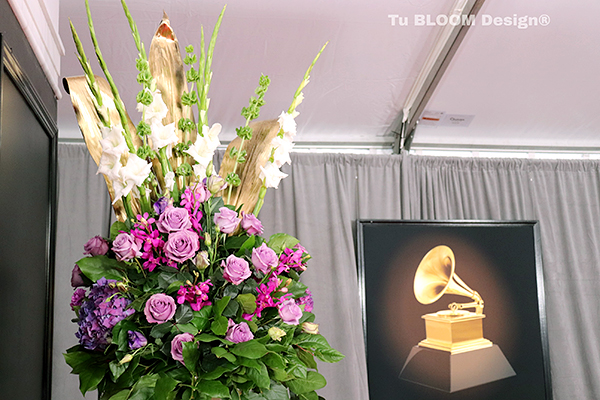 On February 10th, the 61st annual GRAMMY Awards® celebrated the achievements of some of the greatest musical artists from the past year. The event also marked the return appearance of Suntory's signature blue rose, "APPLAUSE," on the GRAMMY's® red carpet.
For many artists, receiving an award at the GRAMMY's® is a fantastic achievement, signifying the accomplishment of a life-long dream. APPLAUSE similarly represents those who dreamed a lofty dream, and achieved what people thought that it is seemingly impossible. Unlike other flowers, roses lack the pigment that produces the color blue – and thus, it was thought that blue roses could not exist. But Suntory's scientists accepted this challenge and after more than 14 years of research, produced the world's first blue rose, "APPLAUSE," in 2004.
Last year, APPLAUSE made its debut as the official flower of the GRAMMY's® alongside the FLORIGENE MOONCARNATION. This year, the blue rose returned to the spotlight in a partnership with Tu Bloom of Bloom Designs Inc., the Official Botanical Artist of the GRAMMY's®. Bloom created multiple blue rose arrangements that lined the red carpets of the GRAMMY's® entrance. Suntory has had a long history of supporting musicians, both in our local community of Tokyo through Suntory Hall, and across the globe, and was proud to be a part of the most important night in American music.
Because the blue rose embodies achievement, celebration, and dreams coming true, we believe that it's the perfect flower to celebrate the talented and accomplished artists at the GRAMMY's®. By the flowers which was created with our bold ambitious spirit of "Yatte Minahare," we hope that more musicians and artists have the passion and drive to follow their dreams.