Suntory participates in "Water is Life 2018"
Through July 24 to 28, "Water is Life 2018" was hosted by Shibuya Kyoiku Gakuen (Shibuya & Makuhari Senior High Schools) in Tokyo, Japan. "Water is Life" is an international conference intended to deepen high school students' awareness and understanding of global water issues. The first "Water is Life" was held in 2014 in Singapore; this was the 3rd time the conference took place, with 29 high schools from 18 countries around the world. The students shared their research regarding water issues in their countries from scientific, political, and economic perspectives in order to gain more comprehension of various water issues and create robust worldwide networks to resolve them.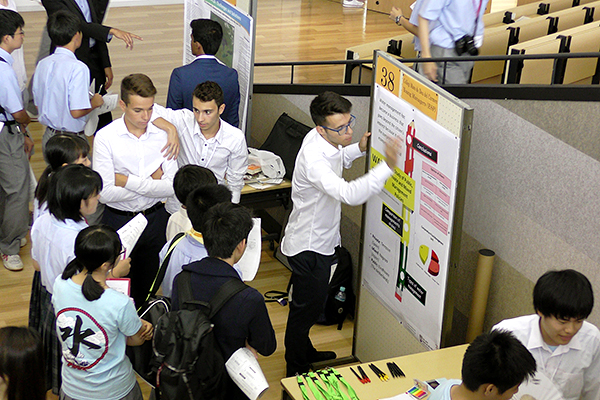 As a notable Japanese consumer goods company with a strong record on water issues, Suntory was invited to the conference; staff members participated in the poster presentation program as guest presenter and judge, selecting three winners of the "Suntory Prize" out of 43 teams. Through the program, Suntory introduced its long term visions for sustainable business, such as its initiatives towards Sustainable Development Goals (SDGs), Environmental Vision towards 2050, "Sustainable Water Philosophy," and more.
Furthermore, Ken Suzuki (Corporate Sustainability Department, Suntory Holdings Ltd.) described the key points of "Natural Water Sanctuary" activities, a project which aims to preserve and protect the natural environment in order to nurture clean and safe natural water. Shinjiro Yano (Institute for Water Science, Suntory Global Innovation Center Ltd.) explained comprehensive research to evaluate and define the uneven distribution of water resources in the world and environmental impacts of water use.
At the end of the conference, Suntory chose three schools – Makuhari Senior High from Japan, River Valley High School from Singapore, and Col·legi Mare de Déu del Carme from Spain– to receive the "Suntory Prize." As a company which values the spirit of "Yatte Minahare"–a word expressing and encouraging the unflagging movement towards bold and ambitious goals– Suntory judged that these schools deserved the prize for their bold and creative research and concrete solutions.
Participation in the conference was a valuable opportunity, including discussions of the value and methods of preserving the natural environment with students. As a company whose promise is "Mizu To Ikiru," literally meaning "living with water," Suntory pledges to continue various activities toward coexistence with nature, conserving natural resources to pass down a sustainable future to the generations to come.