"The Heavy Rain Event of July 2018"
Interview: 88 Suntory employees participated in volunteer to support disaster-afflicted areas in Okayama

Saya Ogiwara
CSR Department
Corporate Sustainability Division
Suntory Holdings Limited
Heavy rains struck western Japan in early July of this year. Due to continuing heavy rain, flooding occurred in various places, and it is predicted that it will take long time for the disaster-afflicted areas to fully recover.
To help the afflicted areas, Suntory determined to carry out various support, sending volunteers to the affected area of Mabi-cho, Kurashiki-shi, Okayama Prefecture for two days, August 26 (Sunday) and 27th (Monday). A total of 88 people from 19 Suntory Group companies participated in the activity.
The Suntory Group has been focusing on disaster relief support for events such as the Great East Japan Earthquake and the Kumamoto earthquake. To support the areas afflicted by heavy rains as well, we donated total 300 million yen to Okayama, Hiroshima, and Ehime Prefectures as an aid for the relief activities and reconstruction assistance in the afflicted areas. Furthermore, Suntory delivered 13,500 bottles of beverages (water and tea) to shelters in Kure City, Hiroshima Prefecture, and 2,400 bottles of tea to Uwajima City, Ehime Prefecture.
Meanwhile, among employees, voices began to rise:
"We want to do something as individual employees, not just as a company."
"We need to contribute something other than support by grants."
In response to these voices, we determined to carry out volunteer activities in one of the afflicted areas, Hiroshima Prefecture.
Suntory had conducted many kinds of disaster recovery supports, but it was the first time to carry out this kind of volunteer activities. However, despite an application period of only 10 days, many employees came from not only the Osaka-Kyushu areas but also from distant places such as Tokyo and Nagano.
Mabi-cho, Okayama Prefecture, where we conducted our volunteer activity, is one of the areas where flooding occurred extensively. The most serious damage occurred due to the washout of the bank of the Odagawa River. One and a half months have passed since the heavy rain, the water has already receded and the mud has dried thoroughly, but the damaged house remained and the condition of the town seemed still difficult to people to live there.
On the days of work, we carried home goods from the affected homes, peeled off the floorboards, swept away the mud, dried it, cleaned away mold at the flooded areas and took out the dirt filling the walls. Though the dry mud was heavy, and there were many heavy lifting jobs, the participants worked hard. There was a limit to what we could do in a limited time, but we were able to receive sincere thanks from the people who used to live in the afflicted area. Many participants remarked that they would like to participate in these activities more, and Suntory will continue to conduct these volunteer activities.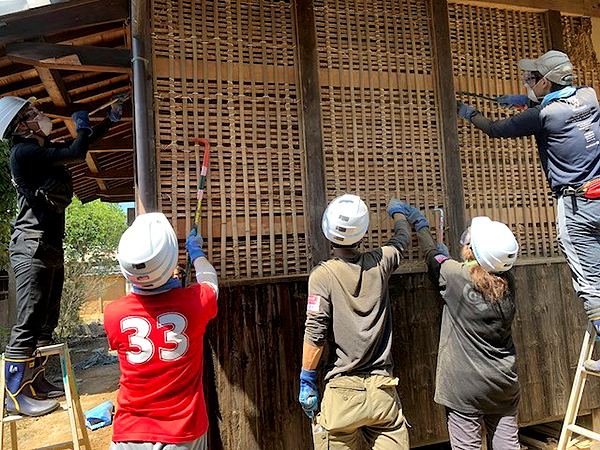 As well as Group-wide activities, Suntory has been engaging in on-site volunteer activities when disasters occur. These activities include helping clean up our partner businesses such as supermarkets, convenience stores, and restaurants, on the part of volunteers from our local sales branches. After the heavy rains of July 2018, we prioritized increasing the stocks of Tennensui mineral water in partner stores, and visited our partners.
Our employees are always in tune with our mission "To create harmony with people and nature" and our corporate philosophy "Giving back to society," striving to contribute to society. Thus, Suntory strongly supports and encourages its employees' participation in social activities, and will keep work together Group-wide on various supports to contribute to the society.