Investing in Our Leaders: Suntory Launches Virtual Learning Series Amid COVID Business Challenges
Suntory University program has been inspiring, supporting and connecting Suntory employees around the world ever since it first began in 2015. Through programs such as these, our aim is to continue becoming an authentic global company where each employee, working as an independent professional, can design his or her own career and continue to create value for Suntory.
This year, we are very pleased to have launched Suntory University's first virtual Expert Insight Series (EIS).
The Expert Insight Series consists of two types of webinar series: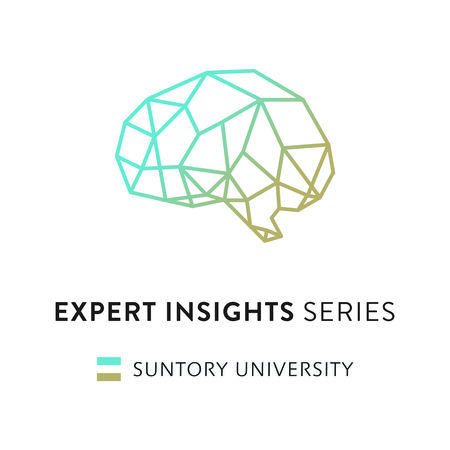 1. EXPERT INSIGHTS SERIES (EIS)
The Expert Insight Series was designed to respond to the immediate and emerging leadership challenges businesses face as a result of the COVID-19 pandemic. To support Suntory's employees through the paradigm shift in online work environments due to the ongoing pandemic, this series brings leaders together from around the world to discuss, debate and learn from world class experts, as well as one another. The series is sponsored by Tak Niinami, President & CEO of Suntory Holdings (SHD), who is committed to supporting Suntory employees' learning journey even in these challenging times. He kicked-off the series in June by hosting a "Conversation with our CEO" session where he shared his perspective on the business implications of COVID-19 and the post-COVID environment, and listened to company leaders discuss both the challenges and opportunities they are facing during this time.
The six-month webinar series consists of numerous sessions tailored to specifically support Suntory's leaders and features original content developed from cutting edge research in collaboration with world class experts and our partner business schools. These sessions cover topics such as "Global Outlook," "Digital Transformation," "Leading through Ambiguity" and more. To accommodate Suntorians from across the globe, the series includes a combination of recorded personalized content and live webinars, enabling our leaders to access or participate in the sessions as needed. Throughout the series, participants are able to engage with leading experts, gain a deeper understanding of the topics and feel inspired by new ways of thinking.
2. EXPERT INSIGHTS SERIES featuring HR
The second model of the Expert Insight Series brings together our collective, global HR community for the first time. The HR Expert Webinar Series was created to support Suntory's HR community as they work to ensure we remain prepared to manage the long-term business challenges faced in 2020 and beyond. The series allows Suntory's HR leaders to learn, reflect and share proactive approaches to the paradigm shift prompted by COVID-19. Additionally, the customized series features external perspectives to challenge our thinking, gain new insight and support continued growth within our business and Suntory's HR community.
We kicked off this series with a session focused on the topic of "Employee Experience (EX)". Ben Whitter, CEO of HEX Organization, joined Sarah Langley, Deputy Chief Operating Officer, Global Human Resources Department at Suntory Holdings, for a discussion on how EX has become increasingly important in the current environment, specifically as a means to further strengthen the day-to-day work experiences of our people. EX allows us to embed our culture and values in everyday moments, create stronger connections and engagement with employees, and ultimately lead to better business outcomes. The webinar was attended by 120 HR employees. Second topic was Culture at work, led by Michael Henderson, Corporate Anthropologist. Considering the disrupted contexts within and across our organizations, we explored the implications for organizational cultures, ways of working and ways of leading. Afterwards, many of the participants shared they had learned something new and felt a greater sense of unity as ONE SUNTORY and ONE HR.