Roughly 10 minutes' walk from JR Yamazaki Station or Hankyu Oyamazaki Station.
An outline of the access routes from the nearest train stations is shown above.
The time required is a guideline for the area and depends on the time of day, etc.
Check online for the status of your transportation method before going out.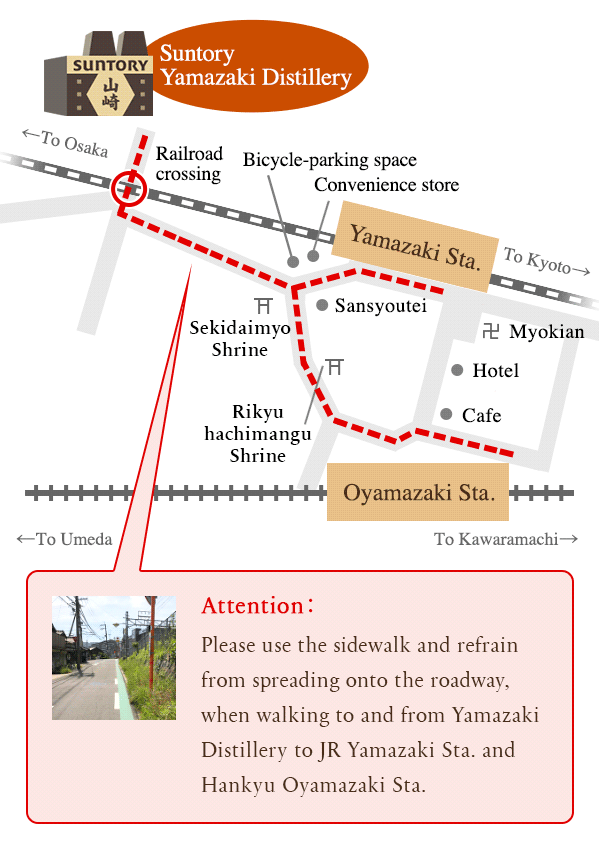 For visitors in tour buses or those who would like to use the parking lot for the disabled
Please contact us when making your reservation, as there is additional information available.
Frequently asked questions
Q: Does Yamazaki Distillery have general parking?

A: Yamazaki Distillery does not have general parking. We recommend taking public transportation.

Q: Is there toll parking nearby?

A: There are a few lots near the JR Yamazaki Station and the Hankyu Oyamazaki Station, but space in nearby toll parking lots is limited. We recommend that you come well in advance because of the possibility that you might not find anywhere to park if the nearby lots are full. (This information is as of April 2022.)
Requests for visitors
* Individuals under the age of 20 must be accompanied by a supervisor over the age of 20.
* Please follow our instructions inside the facility to ensure your safety as well as product cleanliness and quality.
* As this is a food processing facility, in order to maintain food sanitation, we ask that visitors not bring food or drinks into the facility.
* As this is a food processing facility, pets are not allowed except assistance dogs.
* It may occasionally be necessary to cancel factory tours in the case of bad weather (typhoons, heavy snow, etc.), natural disasters and so on.
Please check with the website or by telephone in advance.
Please note in advance that in the case of canceled tours, visitors are asked to bear any cancellation fees relating to travel and accommodation costs.