Suntory Tops Nikkei BP "Eco-Brand Survey 2015" for Five Years Running
On July 8, Nikkei Business Publications, Inc. (Tokyo) announced the results of the "Eco-Brand Survey 2015," a questionnaire that looks into how the environmental efforts of companies are perceived by consumers. Suntory surpassed companies such as Toyota, Panasonic, and Nissan to capture the top spot for the fifth consecutive year.
* March 18–April 24, 2015: The internet-based questionnaire is conducted
* No. of Valid Responses: 19,639
* No. of Companies Targeted: 560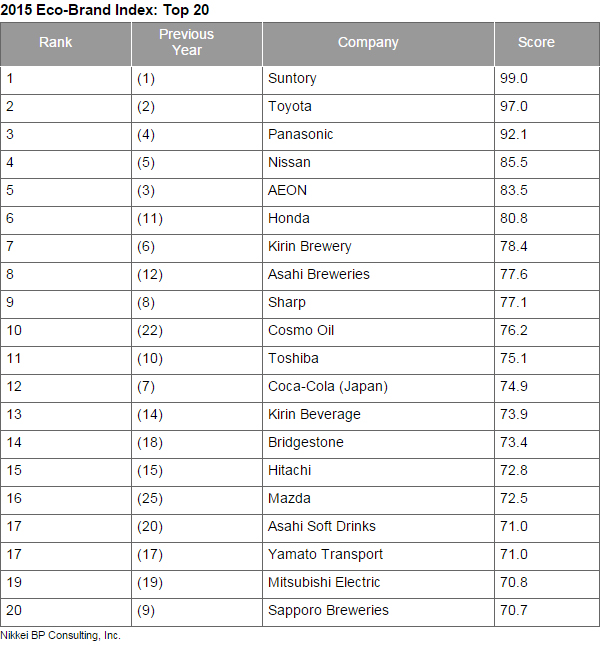 * The Eco-Brand Index is derived from the total of four indexes that impact brand building: contact to environmental information, environmental communication, environmental image, and environmental evaluation. The scores express the deviation value (average=50).
Of the 4 indexes that comprise the Eco-Brand Index, Suntory ranked No.1 in "contact to environmental information" and "environmental image." In the specific company image, "environmental image," Suntory came out on top in categories such as "making efforts to reduce waste," "making efforts to preserve biodiversity and plant/animal resources," and "making efforts to conserve nature."
The global environment is an important business resource for the Suntory Group, and to pass it on to the next generation the entire Group is promoting environmental management that includes "Natural Water Sanctuary Activities" and the development of "Suntory Mizuiku - Natural Water Education Program," an endeavor that communicates the importance and workings of nature to elementary school children in Japan and abroad.
In January 2014, Suntory Group established the Suntory Environmental Vision toward 2050 and set targets toward 2020 to provide clear direction to its environmental management. We strive to achieve the corporate philosophy - In Harmony with People and Nature - through the promotion of environmental management based on the two viewpoints of "Preserving and Regenerating the Natural Environment" and "Reducing Environmental Impact."
Related links
Suntory Environmental Vision toward 2050
Natural Water Sanctuary Activities
Suntory Mizuiku - Natural Water Education Program
Information on the Brand Imagery Study on Environment * Japanese Only