Suntory Receives the Top Overall Ranking in the "Brand Imagery Study on Food Safeness 2014-2015"
The results of the "Brand Imagery Study on Food Safeness 2014–2015" were announced on January 5th.
The study, which was conducted in November 2014 by Nikkei BP Consulting, Inc., looked at 160 major food and beverage companies in Japan. Approximately 10,000 consumers evaluated these corporate brands based on seven evaluation indices*1, and an overall score for evaluating brand imagery of food safeness in Japan was calculated to serve as a comprehensive index.
Suntory received the top overall score for the second year in a row, following its win the last time the study was implemented (August 2013).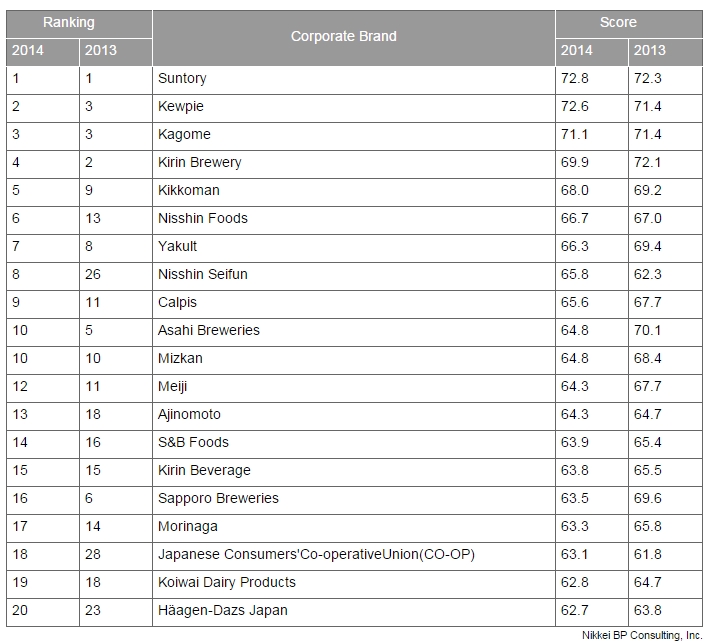 Suntory received a high score in all seven evaluation indices, but notably ranked No.1 in both this study and the previous study "in indices that primarily evaluate work approach."
Under the Suntory Group Quality Policy, "All for the Quality," that explicitly states Suntory's passion and approach toward quality, all employees will continue striving to maintain and improve product quality in order to bring our customers products and services that are safe and genuine.

*1
Study Aim:
To understand the image and reality of food safety from the consumers' point of view in regard to major food brands in Japan, and at the same time, gather reference data for purposes, including risk management and marketing activities.
Study Method:
Internet questionnaire

Study Participants:
Product/service testers for Nikkei BP Consulting, Inc., registrants with internet media run by Nikkei Business Publications, Inc., persons who cooperate in research conducted by partner research companies, etc.

Valid Responses:
9,830 – calculated by weighting the sample for sex/age; the number of valid responses after the sample was weighted was 9,949 (men: 5,008; women: 4,941)
Targeted Brands:
160 major corporate brands related to food in Japan (manufacturing, food service, ready-made meals, delivery, PB, CVS)

Study Period:
November 5, 2014 (Wed.) – November 16, 2014 (Sun.)

Study Planning/Implementation:
Nikkei BP Consulting, Inc.: A company wholly owned by Nikkei Business Publications, Inc. that provides consulting and content-related marketing solutions for matters such as research/consulting, planning/compilation, and production.
(established on March 1, 2002; capital: 90 million yen)
Related links
Suntory safety initiatives * Japanese Only
Information on the Brand Imagery Study on Food Safeness * Japanese Only