SUNTORY TOMI NO OKA WINERY "From the Site of Viticulture"―Conversation With Winemakers Vol.1: Skills Learned in Bordeaux are Used for TOMI
[Special interview]
Keiichi Shiina (Vice chairman, Château Lagrange)
Naoki Watanabe (Oenologist, Suntory Tomi no Oka Winery)

Keiichi Shiina helms Château Lagrange, a maker of Bordeaux Grand Cru wines. He visited TOMI NO OKA WINERY on a winter day with blue skies and clear views of Mount Fuji. His talk with senior general manager Naoki Watanabe revealed the close ties between the TOMI NO OKA winery and Château Lagrange.


Lessons in Bordeaux led to Tomi
Watanabe: I actually spent almost six months doing practical training after graduating from the University of Bordeaux. I learned how to understand vineyard characteristics and determine harvest timing, as well as important points for viticulture. I studied these theories in university and then put them into practice during my internship at Lagrange.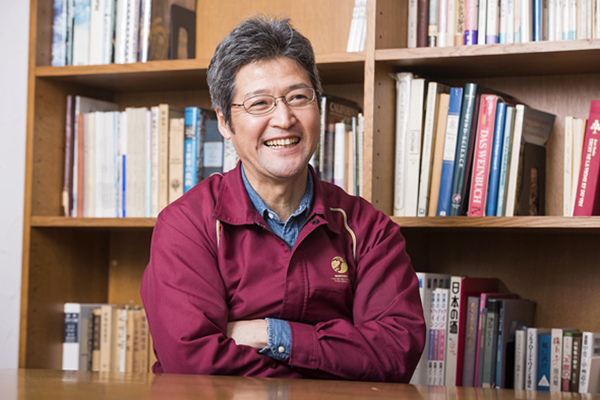 Naoki Watanabe, senior general manager, SUNTORY TOMI NO OKA WINERY
Shiina: That's right. I was still in Tokyo at that time.
Watanabe: My impression of wines from that time was that they were quite complex. Rather than just strong tannins, they gave a sense of highly concentrated grape flavor. I thought, "What makes them different from Japanese wines?" During my practical training I took countless photographs to verify this, such as cross-sections of grape pomace and the different stages in stem ripeness. This taught me various things. For instance, we use the phrase "gently crush in a crusher," but TOMI NO OKA and Lagrange have different definitions of "gently."
Shiina: How so?
Watanabe: Compared to Lagrange's method, TOMI NO OKA's machinery crushes the grapes more rigorously. At Lagrange, "gently" just refers to splitting the skins delicately. I learned at Lagrange that we can't merely use similar phrases; it is essential to verify exactly what they imply.
Shiina: Did you put that into practice at TOMI NO OKA when you returned to Japan?
Watanabe: Yes, I applied what I had learnt in Bordeaux without reservation, and results were apparent in the 1996 and 1997 vintages. This is still visible in today's TOMI style that is round, soft, and delicate.
Shiina: I see.
Watanabe: Tomi had strong tannins from the late 1980s to 1990s. The focus was on growing robust grapes and highlighting their strong flavor during vinification.
Shiina: We were trying to produce Bordeaux-like wines in that era.
Watanabe: Yet when I went to Bordeaux, I realized that we had an understanding at TOMI, for example, of the concept of "robust" that we wanted to achieve, which was totally different from the one in Bordeaux. It referred not to the amount of polyphenols, but to the tannin quality and unique qualities of ripe fruit. I came to understand that this was a concentrated flavor that also featured roundness and softness. This gave me the idea that we should aim for a "supple strength," which I saw as something finely concentrated and powerful yet still mild, soft, and delicate. I wanted to apply what I had learned from Lagrange at TOMI NO OKA while keeping its local characteristics in mind.
Shiina: That led to the 1996 and 1997 vintages. At that time, I was in Tokyo working to create a vision for Japanese wines.
Watanabe: How did you see TOMI NO OKA WINERY back then?
Shiina: I hoped to make Tomi a wine that could become number one in Japan with the expression of the terroir in Yamanashi and then be recognized as a well-made Japanese red wine across the world.
Carefully assessing the land and refining the wines
Watanabe: To that end, we had to make wine that revealed the characteristics of our land. Japanese winemaking has a history of just under 150 years, so it is totally different from the long history and traditions of Europe. I think it's still too early to identify the characteristics of the grape varieties or methods we use. We must keep taking on challenges to make wines that bring out the qualities of this land.

Keiichi Shiina, vice chairman, Château Lagrange
Shiina: At Lagrange, we think it is important to refine the classic style which has been nurtured by its long tradition. Styles are determined mainly by terroirs, so every day we must simply devote time and effort to bringing out the unique qualities of our land. What can we add to this? In the end I hope to express in our wines just a touch of Japanese style, aiming to reflect the finesse, harmony and delicacy characteristic of the Japanese people. Perhaps this has been the added value achieved since Suntory became the owner of Lagrange 30 years ago.
Watanabe: How far can we bring out the good qualities of the land? I totally agree with that idea.
Shiina: Winemaking is a type of agriculture; we have to have a profound understanding of the soil, cultivate vineyards, and calculate the timing at which the grapes are ripe. That is the only way to make good wines. Over the past few years Lagrange has made efforts to set up smaller plots and use more compact vinification vats. Soil has different characteristics even over a distance of two meters. Working with smaller plots, we can better reveal the potential of the land and estimate harvest timing in more detail. We brought in optical sorting machines in 2009, which have enabled us to precisely sort grapes and harvest at optimum ripeness.
Watanabe: I look forward to seeing what happens in the near future.
Shiina: I want to take each step and day at a time so that we can express Lagrange's unique grace and elegance.
Watanabe: I hope that at TOMI NO OKA, we will carefully assess the characteristics of its land to discover value it can offer to the world.
Shiina: I feel that both TOMI NO OKA and Lagrange must still learn through trial and error. However, if we didn't continue doing this, we would never succeed in our quest for the ultimate quality.
Watanabe: That's exactly the spirit of "Yatte Minahare." (Go for it)*
*"Yatte Minahare" means "Go for it" in Japanese. It is the symbolic motto of Suntory, which has been passed down since its founding.
(To be continued by Vol.2)
Related Links
・Suntory Japanese Wine
・Château Lagrange Grand Cru Classé Saint-Julien