SUNTORY TOMI NO OKA WINERY
- "From the Site of Viticulture"
New Wine Appraisal Meeting 2017
Wine appraisal meetings are held frequently at the Tomi no Oka Winery. The purpose of these meetings is to taste wines, experience their characteristics, and openly share opinions to acquire tips for viticulture and vinification moving forward.

The most important of such meetings is the New Wine Appraisal Meeting 2017, which was held in December 2017. This meeting was attended by people throughout the company involved with Suntory's Japanese wines, including employees from the Tomi no Oka Winery, the Wine Development & Production Division, and the Marketing Department.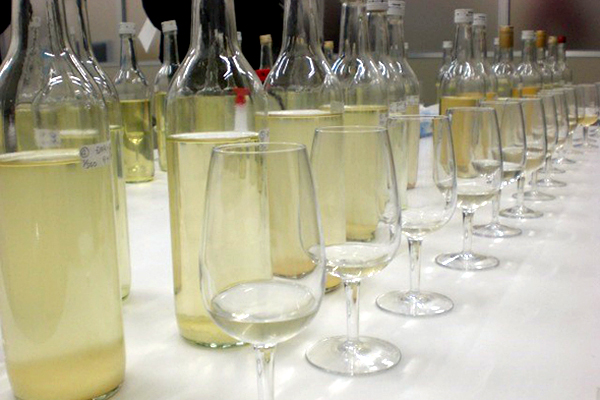 In the New Wine Appraisal Meeting, participants first taste different wines vinified during the year. These wines are categorized by grape variety, vineyard, and farmer. The participants evaluate more than 100 base wines from Tomi no Oka Winery, Shiojiri Winery, and Iwanohara Vineyard. They give points to the wines for appearance (clarity); aroma (naturalness, strength, quality); flavor (naturalness, strength, persistence, quality); and harmony, taking into account their current state and potential state after aging.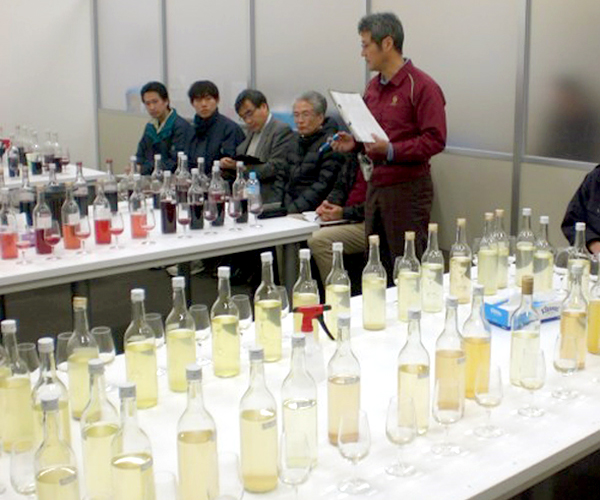 The participants discuss how their various efforts and experiments (e.g. squeezing methods and yeast used) in accordance with climates contributed to enhance the taste and quality of the wines.
Suntory constantly improves the quality of our wines because we are intimately involved in all aspects of wine-making, from soil preparation in the field to viticulture, vinification, and aging. This is the strength of Suntory's Japanese wines. Our wine-making aims to express the characteristics of the land through the grape variety, while interacting closely with the climate and natural environment of each winery.












Suntory Tomi no Oka Winery
Tomi no Oka (Red) 2015


Suntory Tomi no Oka Winery
Koshu (white) 2016


Suntory Tomi no Oka Winery


Chardonnay

(white) 2015




Related Links
・Suntory Japanese Wine