"The health is the first most important thing, but also the health of the mind. And music helps."

— Riccardo Muti, the Wiener Philharmoniker New Year's Concert 2021 —
Since 1999, Suntory Hall has invited Wiener Philharmoniker / the Vienna Philharmonic and hosted the Wiener Philharmoniker Week in Japan. In 2021, Maestro Riccardo Muti, who celebrates his 80th birthday this year, will be making an appearance. During Wiener Philharmoniker Week, in addition to the Open Rehearsal, a diverse lineup of programmes is planned, including performances for students, and a master class by a member of the Orchestra.
▼Performers
▼Details & Booking
▼Related Programmes
▼Video message from Chairman Froschauer of Vienna Philharmonic
Presented by
Suntory Hall /
Supported by
Daiwa Securities Group /
Under the auspices of
Austrian Embassy, Austrian Cultural Forum, Ambasciata d'Italia, Istituto Italiano di Cultura

■Performers
Riccardo Muti, Condctor
Wiener Philharmoniker

■Details & Booking
WEDNESDAY, NOVEMBER 3 | 16:00 (Doors open 15:20) ▶Book Now
MONDAY, NOVEMBER 8 | 19:00 (Doors open 18:20) ▶Book Now
Schubert: Symphony No. 4 in C Minor, D. 417, "Tragic"
Stravinsky: Divertimento ― Symphonic Suite from "The Fairy's Kiss"
Mendelssohn: Symphony No. 4 in A Major, Op. 90, "Italian"

THURSDAY, NOVEMBER 11 | 19:00 (Doors open 18:20) ▶Book Now
FRIDAY, NOVEMBER 12 | 19:00 (Doors open 18:20) ▶Book Now
Mozart: Symphony No. 35 in D Major, K. 385, "Haffner"
Schubert: Symphony No. 8 in C Major, D. 944

Riccardo Muti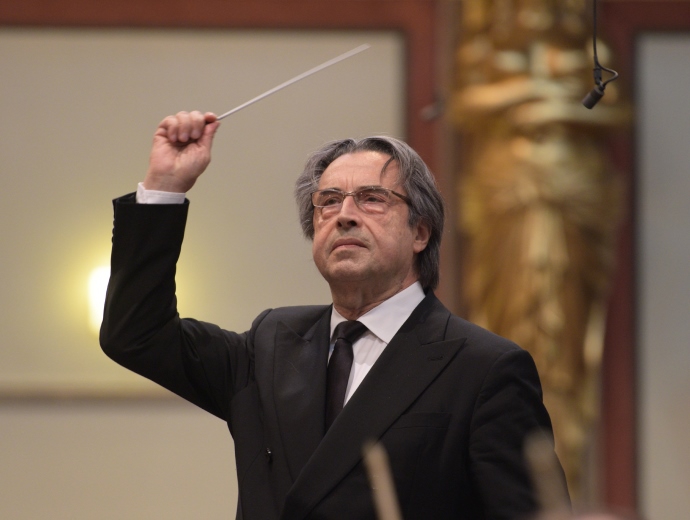 Born in Naples, Riccardo Muti studied piano under Vincenzo Vitale at the Conservatory of San Pietro a Majella, graduating with distinction. He subsequently received a diploma in composition and conducting from the Giuseppe Verdi Conservatory in Milan, where he studied under the guidance of Bruno Bettinelli and Antonino Votto.
He first came to the attention of critics and the public in 1967, when he won the Guido Cantelli Conducting Competition – by unanimous vote of the jury – in Milan. In 1968, he became principal conductor of the "Maggio Musicale Fiorentino," a position he held until 1980. In 1971 Muti was invited by Herbert von Karajan to conduct at the Salzburg Festival, the first of many occasions, which led in 2020 to a celebration of fifty years of artistic collaboration with the Austrian festival. During the 1970s, he was chief conductor of the London's Philharmonia Orchestra (1972 to 1982) succeeding Otto Klemperer. From 1980 to 1992, he inherited the position of Music Director of the Philadelphia Orchestra from Eugene Ormandy.
From 1986 to 2005, he was Music Director of the Teatro alla Scala and during his tenure he directed major projects such as the Mozart-Da Ponte Trilogy and the Wagner Ring Cycle. Alongside the classics of the repertoire, he brought many rarely performed and neglected works to light, including pieces from the Neapolitan school of the Eighteenth Century, as well as operas by Gluck, Cherubini, and Spontini. Poulenc's Les dialogues des Carmélites earned Muti the prestigious Abbiati Prize from the critics.
The long period spent as Music Director of Teatro alla Scala culminated on December 7th, 2004, in the triumphant re-opening of the restored opera house with Antonio Salieri's Europa riconosciuta.
Incredible his contribution to Verdi's repertoire, he conducted Ernani, Nabucco, I Vespri Siciliani, La Traviata, Attila, Don Carlos, Falstaff, Rigoletto, Macbeth, La Forza del Destino, Il Trovatore, Otello, Aida, Un ballo in Maschera, I Due Foscari, I Masnadieri. His tenure as music director was the longest of any in La Scala history.
Over the course of his extraordinary career, Riccardo Muti has conducted the most important orchestras in the world: from the Berlin Philharmonic to the Bavarian Radio Symphony Orchestra, from the New York Philharmonic to the Orchestre National de France, as well as the Vienna Philharmonic, an orchestra to which he is linked by particularly close and important ties, and with which he has appeared at the Salzburg Festival since 1971.
When Muti was invited to conduct the Vienna Philharmonic's 150th anniversary concert, he was presented with the Golden Ring by the orchestra, a special sign of esteem and affection, awarded only to a few select conductors. After 1993, 1997, 2000, 2004 and 2018, in 2021 Riccardo Muti conduced the Vienna Philharmonic in the New Year's Concert for the sixth time. For the recording of this concert, in August 2018 he was awarded the Double Platinum on the occasion of his concerts with the same orchestra at the Salzburg Festival.
In April 2003, the French national radio channel, France Musique, broadcast a "Journée Riccardo Muti" consisting of 14 hours of his operatic and symphonic recordings made with all the orchestras he has conducted throughout his career. On December 14th of the same year, he conducted the long-awaited opening concert of the newly renovated "La Fenice" Opera House in Venice. Radio France broadcast another "Riccardo Muti Day" on May 17th, 2018, when he conducted a concert at Auditorium de la Maison de la Radio.
In 2004, Muti founded the Luigi Cherubini Youth Orchestra, which is composed of young musicians selected by an international committee from more than 600 instrumentalists from all over Italy.
Muti's recording activities, already significant in the Seventies, range from symphonic music and opera to contemporary compositions. His recordings have won many prizes. The recording label dealing with his recordings is RMMusic (www.riccardomutimusic.com).
Riccardo Muti's social and civic conscience as an artist is demonstrated by his concerts performed in places symbolizing our troubled past and contemporary history, which he has conducted as part of "Le vie dell'Amicizia" (The Roads of Friendship) project, produced by Ravenna Festival. Concerts were given in Sarajevo (1997), Beirut (1998), Jerusalem (1999), Moscow (2000), Yerevan and Istanbul (2001), New York (2002), Cairo (2003), Damascus (2004), El Djem, Tunisia (2005), Meknes (2006), Concert for Lebanon (2007), Mazara del Vallo (2008), Sarajevo (2009), Trieste (2010), Nairobi (2011), Ravenna (2012), Mirandola (2013), Redipuglia (2104), Otranto (2015), Tokyo (2016), Tehran (2017), Kiev (2018), Athens (2019) and Paestum (2020) with La Scala Philharmonic Orchestra and Chorus, the Orchestra and Chorus of the Maggio Musicale Fiorentino, the "Musicians of Europe United" – a group made up of the top players of Europe's major orchestras – and most recently with Orchestra Giovanile Luigi Cherubini.
Muti has received innumerable international honors over the course of his career. He is Cavaliere di Gran Croce of the Italian Republic and a recipient of the German Verdienstkreuz, he received the decoration of Officer of the Legion of Honor from French President Nicolas Sarkozy in a private ceremony held at Élysée Palace. He was made an honorary Knight Commander of the British Empire by Queen Elizabeth II in Britain. The Salzburg Mozarteum awarded him its silver medal for his contribution to Mozart's music, and in Vienna was elected an honorary member of the Gesellschaft der Musikfreunde, Vienna Hofmusikkapelle and Vienna State Opera.
Russian President Putin awarded him the Order of Friendship, and the State of Israel has honored him with the Wolf Prize for the arts. In October 2018, Muti received the prestigious Praemium Imperiale for Music of the Japan Arts Association in Tokyo.
He has received more than 20 honorary degrees from the most important universities of the world.
He conducted the Vienna Philharmonic in the opening concert for the celebrations of the 250th anniversary of Mozart's birth in Salzburg at the Grosses Festspielhaus. In 2019 the continuous collaboration between Riccardo Muti and the Vienna Philharmonic reached 49 years.
During the 2007 Whitsun Festival in Salzburg, Muti began a five-year project with the Cherubini Orchestra dedicated to the rediscovery and valorization of the operatic and sacred musical heritage of the Neapolitan School of the 18th Century.
In September 2010, Riccardo Muti became Music Director of the Chicago Symphony Orchestra and was named 2010 Musician of the Year by Musical America. At the 53rd annual awards ceremony in February 2011, he was awarded two Grammy Awards for Best Classical Album and Best Choral Performance for his live recording of Verdi's Messa da Requiem with the Chicago Symphony Orchestra and Chorus. In March 2011, Riccardo Muti was selected as the recipient of the coveted Birgit Nilsson Prize, presented in a ceremony on October 13th at the Royal Opera in Stockholm in the presence of H.M. King Carl XVI Gustaf and H.M. Queen Silvia. In April 2011, he received the Opera News Award in New York and in May 2011 he was awarded Spain's prestigious Prince of Asturias Prize for the Arts. The award was presented the following autumn in Oviedo at a grand ceremony chaired by H.R.H. the Prince of Asturias. In July 2011 he was named honorary member of the Vienna Philharmonic and in August 2011 honorary director for life at the Rome Opera.
In May 2012, he was awarded the highest Papal honor: the Knight of the Grand Cross First Class of the Order of St. Gregory the Great by Pope Benedict XVI.
In 2016 he was honored by Japanese Government with the Order of the Rising Sun, Gold and Silver Star.
In July 2015, Riccardo Muti's desire to devote even more to the training of young musicians was realized: the first edition of the Riccardo Muti Italian Opera Academy for young conductors, répétiteurs and singers took place at Teatro Alighieri in Ravenna.
Talented young musicians and an audience of music-lovers coming from all over the world took part. The Academy has the purpose to pass on to young musicians Riccardo Muti's experience and teachings and to make the audience understand in all its complexity the journey that leads to the realization of an opera.
The focus of the first Academy was the opera Falstaff , while in the next years Maestro chose to work on La Traviata (in Ravenna and Seoul – 2016), Aida (2017), Macbeth (2018 in Ravenna and April 2021 in Tokyo), Le nozze di Figaro (2019), Rigoletto for the first Italian Opera Academy in Tokyo in March 2019, Cavalleria rusticana and Pagliacci (2020). Info: www.riccardomutioperacademy.com.

www.riccardomuti.com