Tumultuous Times
―Painters in the Bakumatsu and Meiji
October 11 to December 3, 2023
*Download the list of changes in works on display
*There will be an exhibition change during the course of exhibition.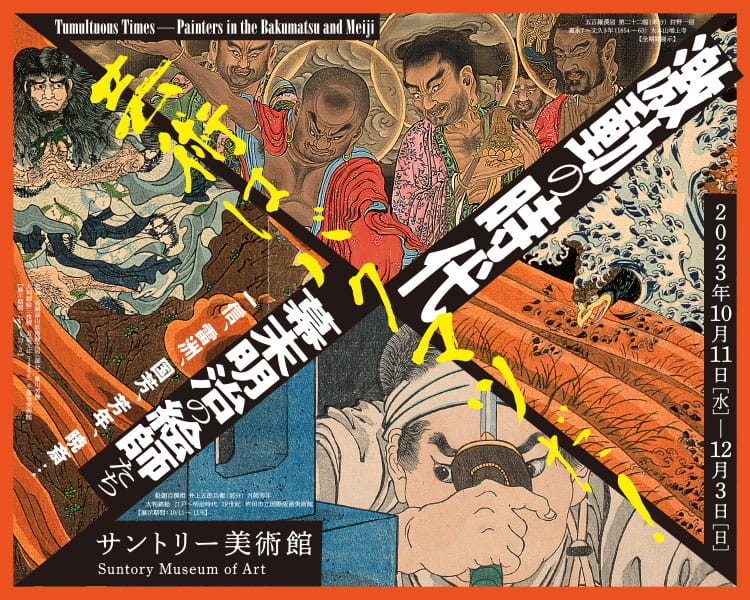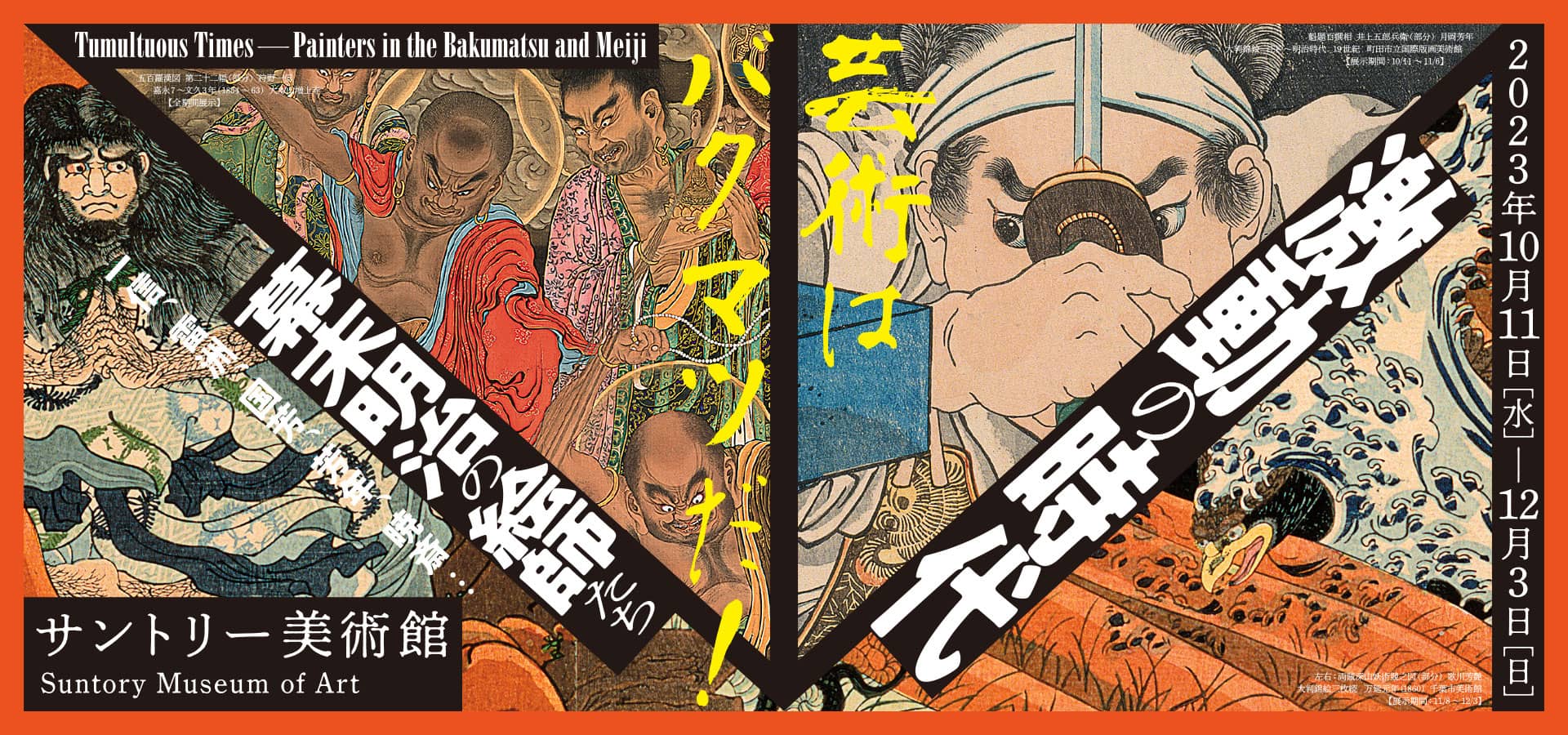 During the 19th century—a tumultuous time as Japan shifted from the late Edo (bakumatsu) to the Meiji periods—painters and print artists challenged themselves to find new expressive forms while continuing the Japanese painting traditions they had inherited. This exhibition focuses on the individualistic, and at times, revolutionary works of these late Edo (bakumatsu) and Meiji painters, print artists, and painting schools.
The paintings and prints of this period—roughly from the 1850s to the early 20th century—are a previously overlooked field, falling in the divide between the Edo (pre-modern) and Meiji (modern) art historical periods. Recent art historical studies, however, have come to value the connections between the late Edo (bakumatsu) and Meiji periods, with a growing focus on this timeframe and its production of a diverse array of talented painters and print artists.
This exhibition primarily focuses on the unusual late Edo (bakumatsu) and Meiji painters and printmakers who were active in the capital city of Edo (Tokyo) as it considers the at time enigmatic, at times bewitching, at times decadent, at times eerie fascination of their works. The Tenpō Reforms, the arrival of Perry's Black Ships, plagues, the Great Ansei Earthquake, and the movement to overthrow the Tokugawa shogunate all occurred during this period. Dramatic, powerfully depicted, compellingly realistic and weirdly strange pictorial styles were born amidst such chaotic social conditions. Works were also produced in Western-influenced painting schools that reflected the period's full-scale introduction to Western art, while others added novel creativity to traditional forms. These characteristics found in late Edo (bakumatsu) paintings then carried over into the early Meiji period.
Just like that time period, today, with its great changes in society, could also be called a "tumultuous time." This exhibition is an important compilation of late Edo (bakumatsu) and Meiji works that people both then and today experience as vivid, surprising, and powerful. We hope you enjoy this opportunity to feel the creative force of these artists who lived in tumultuous times.
Period

October 11 to December 3, 2023

*Download the list of changes in works on display
*There will be an exhibition change during the course of exhibition.

Hours

10:00-18:00 *Friday and Saturday 10:00-20:00

*Open until 20:00 on November 2 and 22
*Last admission: 30 minutes before closing

Closed

Tuesdays

*Open until 18:00 on November 28

Admission

Adult
General
¥

1,500

Advance
¥

1,300

University and
High School Student
General
¥

1,000

Advance
¥

800

Elementary, junior high school students and under are free.
*With a certificate of disability, the admission fee of a disabled person and a care-giver will be waived.
*Advance tickets will be available on the website from July 22 to October 10.

Discount

◇100 Yen Discount
•For presenting a ticket to a thematic exhibition at the National Art Center, Tokyo, or Mori Art Museum
•For parties of 20 or more

*Only one discount per person

Audio Guide

¥600

English audio guide available
*Unauthorized reproduction or use of texts or images from this site is prohibited.