Natural Water Sanctuary Initiative -- For the future of water and life
Suntory is a "water" company.
Without high quality water, we are unable to produce any beer, soft drinks, or whisky.
This is because water, especially groundwater, serves as Suntory's lifeline.
This precious groundwater is nurtured in the forest.
In order to maintain safety and reliability of groundwater as well as sustainability, we are cultivating water resources in forests which is more than twice the amount of water withdrawn by our plants. Therefore, plant water source recharge areas are specified, with a focus on our Institute for Water Science, and mid-to-long-term agreements are established with local government and forest owners to maintain forests, leading to the establishment of Natural Water Sanctuaries.
In addition to the first sanctuary location established in Aso City, Kumamoto Prefecture in 2003 and the newest sanctuary called "Natural Water Sanctuary Tokyo Hinohara" (located in Hinohara Village, Tokyo) in February 2023, there are 22 Suntory Natural Water Sanctuaries in 15 prefectures which comprise a total area of approximately 12,000ha.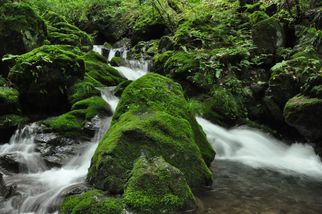 <Natural Water Sanctuary> Development Targets
(1)

Forests with a great capacity for cultivating water resources

(2)

Forests rich in biodiversity

(3)

Forests able to withstand flooding and landslides

(4)

Forests with great CO2 absorption capabilities

(5)

Beautiful forests where visitors can encounter nature in all its abundance
(used for education programs, etc.)
*1

When there are contracts and agreements with different durations, the longest duration is given.

*2

Planned to conserve for a century.

*3

Planned to conserve for several decades.

*4

In Nagaokakyo, Kyoto, we are a member of the Nishiyama forestry development promotion committee and we are cooperating in local forest preservation activities with people in the community. The area of the forests subject to this activity is not counted as part of our total Natural Water Sanctuary area.
Looking at Groundwater -- Comparing simulation models with results from field surveys
One of the main purposes of our Natural Water Sanctuary Initiative to improve the function of forests for recharging water resources. As a way to evaluate the results, Suntory has been trying to quantitatively evaluate the amount of groundwater recharge using a groundwater flow simulation model since 2006 and is finally approaching a level of accuracy which would allow the model to be used. Through the simulation of groundwater flow, we attempt to simulate where groundwater passes and how long it takes to reach the factory, and combine it with field survey information to deepen understanding of the underground which we normally cannot see. We would like to incorporate these results into the maintenance plan which will lead to more effective cultivation of water source recharge areas.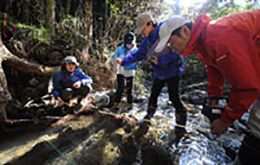 Forest Cultivation Which Looks 50 years and 100 Years Into the Future
All forests are different. So what are the special characteristics of each Natural Water Sanctuary as well as the issues that they face?
At first, we engage in activities that follow the RPDCA cycle which includes scientifically-based survey and research (Research), which serves as the foundation, creation of a vision (development plan) suited to each forest (Plan), maintenance work conducted by professionals (Do), verification of results (Check), and consideration of measures for improvement/conducting re-examination (Action).
The areas and fields of investigation and research targeted by Natural Water Sanctuary Initiative are diverse and linked organically. In doing so, cooperation based on the knowledge and skills of experts in various fields and of people in local communities are indispensable. We also use Natural Water Sanctuaries to conduct activities including human resource development support for passing on knowledge and skills (road creation, preventing damage from harmful animals, etc.), Suntory Mizuiku - Education Program for Nature and Water, which allows children to experience the importance of forests since they cultivate water, and The training program of First Hand Experience with Forestry by Suntory employees.
Suntory continues implementation of Natural Water Sanctuary Initiative in order to provide the blessing of nature, something that cannot be replaced, to our children, grandchildren, and future generations to come by first humbly listening to various related issues and work together with local communities to gain knowledge.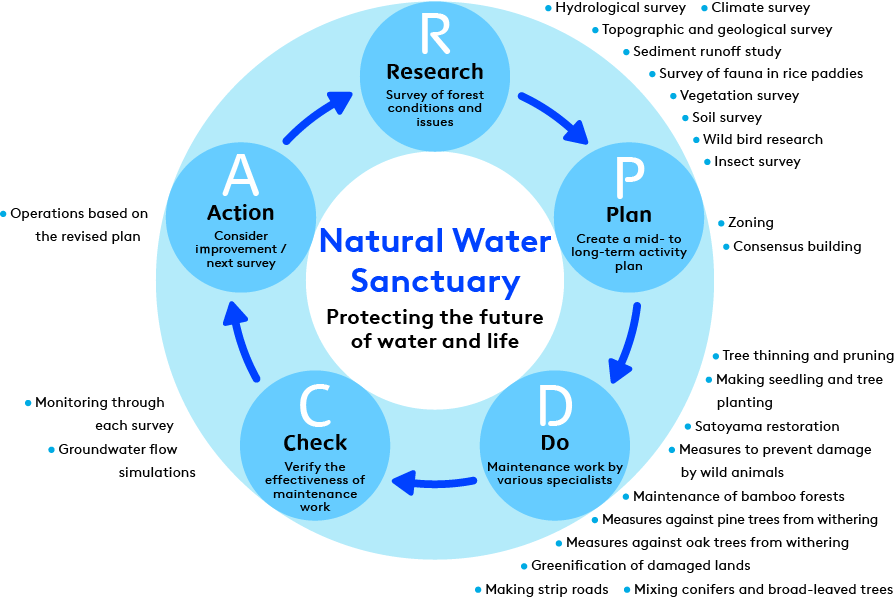 A Healthy Forest is One Full of Life -- Protecting Biodiversity
If there are many different types of plants in a forest, there will be an increase in the types of small animals that eat them, resulting in attracting animals that eat those small animals. In a healthy environment like this, a pyramid formed by various organisms is completed.
In 2022, we published the Suntory Natural Water Sanctuary Biodiversity Restoration Report. This report consists of two sections, a "Facts & Data" section that summarizes various issues facing Japanese forests and an "Actions" section which provides simple explanations and examples of activities taken to address these issues in "Suntory Natural Water Sanctuary."
Suntory Natural Water Sanctuary Biodiversity Restoration Report
Biodiversity in a Natural Water Sanctuary from a Bird's Perspective
The plant and animal life living in the forest will change if the typical functions of the forest can be revitalized. Focusing on wild birds, which are said to serve as a barometer of a given environment, we conduct wild bird surveys by specialists in the Natural Water Sanctuaries every year based on the idea that it is possible to comprehensively grasp the changes in the entire ecosystem that supports them.
In addition, We have been promoting the project of nest building and rearing of chicks by eagles and hawks at all the Natural Water Sanctuaries in Japan with the purpose of advancing the development of a forest rich with biodiversity by taking the perspective of natural wild birds in the Natural Water Sanctuaries.
Becoming More Familiar with Natural Water Sanctuaries
Ikurinzai - Timber From Cultivated Forests Project
It is necessary to cut down trees in order to keep a forest healthy. The Suntory Group calls wood material made from Natural Water Sanctuary Initiative to nurture sustainable water and forests "Ikurinzai - Timber from cultivated forests, carefully using all the conifer and broad-leaved trees removed during tree cutting, road creation, and other activities.
Case Examples of Timber Utilization Inside and Outside of the Company
Natural Water Sanctuary Forum
Based on the goal of "Creating Forests Which Nurture Water and Life," specialists in a variety of fields who provide coaching and collaborate in Natural Water Sanctuary Initiative are invited the form which serves as an opportunity to share the newest expertise and policies for future activities. The forum was held nine times in total from 2011 to 2019.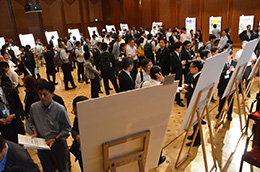 Training Program for Employees
Many group employees and their families have volunteered for the forest stewardship program in Natural Water Sanctuaries up to 2013. Since 2014, so that each employee experiences and understands the values of our corporate philosophy "To Create Harmony with People and Nature," a total of about 7,400 people (including about 800 volunteers) participated in the First Hand Experience with Forestry as a training program for Suntory Group company employees, mainly current employees of Suntory Holdings Ltd. and Suntory Beverage & Food Ltd.
Participate in "30by30 Alliance for Biodiversity" in Japan
The Suntory Group joined the "30by30 Alliance for Biodiversity" in Japan, which targets to halt and reverse biodiversity loss by 2030. As a coalition of governments, companies, and non-profit organizations, the "30by30 Alliance for Biodiversity" has been established in Japan to achieve the "30by30" targets to conserve or protect at least 30 percent of the country's land and ocean by 2030.
The objective of this alliance is to promote and actively communicate the initiatives that aim to expand national parks and register socio-ecological production landscapes (Satochi-satoyama) and company-owned forests to the World Database as OECM*. The Suntory Group aims to contribute to achieving the global "30by30" goal by having its Natural Water Sanctuaries certified as OECM through participating in this alliance. The company will continue to promote sustainability management in order to preserve biodiversity and to realize a sustainable society.
*

OECM is an acronym for "Other Effective area-based Conservation Measures." OECM is an area conserved by initiatives of private organizations or an area where conservation is achieved mainly as a by-product of other management.
Wisdom of Water (Suntory) Corporate Sponsored Research Program Organization for Interdisciplinary Research Project The University of Tokyo
Suntory Holdings Ltd. established the Wisdom of Water (Suntory) Corporate Sponsored Research Program Organization for Interdisciplinary Research Project The University of Tokyo in April 2008, and it has held this research program for five years. By cultivating more social interest in water, we are engaging in the various activities below with the aim of contributing to the education of research in academic fields while promoting solutions of water issues as well as developing a rich water environment.
Official Partnership for National Parks
The Suntory Group has concluded the "Official Partnership for National Parks" with the Ministry of the Environment in 2016. Through this program, we aim to deepen people's understanding of the conservation of the natural environment and to revitalize the areas where the national parks are located. We will continue to promote the wonders of the national park along with our Natural Water Sanctuary Initiative.