Its History and Achievements
- A Huge Arcive of Modern Music
Three Conditions
In 1986, Suntory Hall opened in Akasaka, Tokyo. At the same time, "Suntory Hall International Program for Music Composition" Series was inaugurated.
PC and the internet weren't generally in use yet, and major CD shops like HMV and Tower Records dealing with classical music were also few. We had to depend on letters and postcards in order to keep in touch with friends abroad (do today's young people still send a postcard?). Of course, there was little information about European contemporary music coming to Japan at that time.
In such a situation, Suntory Hall conceived a plan to invite "great contemporary composers" from overseas every year. They would give lectures as well as premiere new orchestral pieces…it was just like a dream at that time. Thanks to the Series, I myself was able to meet Cage and Xenakis and other composers in person for the first time.
Three conditions were probably necessary for the birth of the Series.
First, it strongly depended on Toru Takemitsu, who was the first artistic supervisor of the Series. Receiving many commissions from various foreign countries, he came to feel the importance of establishing commissions "made in Japan." In the 1980's he has already earned the international renown and made friendship with many famous composers outside Japan. Indeed, the commissions were mainly made through his connection in the early period. It could be said, therefore, that the Series might not have existed without Takemitsu.
Second, the financial support of Suntory Corporation and the Japanese economic condition of those days must be mentioned. Suntory is, first and foremost, a drink manufacturer, but they have engaged in a wide range of cultural activities for a long time. When they constructed Suntory Hall in 1986, influential cultural activities native to the concert hall appeared to be necessary, thus this Series was included in their cultural tactics. It was also the Japanese economy, which highly progressed in the 1980's that made the project with a huge financial burden possible. "Bubble economy" in a narrow sense had not come in the time, but Japan has gotten out of the long depression by the time of the second Nakasone Cabinet, for the economic situation drew to an intense upward-sloping turn. For that timing, a series of such a breadth could take off smoothly.
As the third condition, we have to point out the fact that, in the 1980's, the expectation concerning "contemporary music" existed widely in society. Compared to the 60's, the interests might have decreased, and it could also be said that the composers of the first period (mentioned below) had passed their prime time already. The new pieces released in the Series were, however, accepted by society as a sort of "big cultural event," well beyond small musical circles. Contemporary music still carried an expectation for the future, somewhat too innocently.
With these three conditions met, "Suntory Hall International Program for Music Composition" Series was realized.
The Future Spun from The Past
How are the three conditions changing at present? After Takemitsu's death in 1996, Joji Yuasa and, most recently, Toshio Hosokawa duly inherited the supervision of the Series. The Series is still going strong as ever. How about the cultural grants funded by Suntory? That also still exists, even in the long economic stagnation of Japan. If this were the case, the third point would be the most problematic of today.
Now, in 2015, the importance of "contemporary music" in a narrow sense doesn't seem to be recognized sufficiently compared to the other art fields. At least, the number of persons who think a new attractive world must be in the contemporary music is certainly decreasing.
It should be appreciated that new musical pioneering has never died out. The "newness" doesn't exist in a finite number, so new music must keep being made in the future. Yet it is also true that the simple progressive view of history has slightly become old and various infrastructures such as "composition class in Music College" have also been rickety. It is beyond the scope of this essay to consider these factors in full, but it is clear that quick improvement would have been impossible at any rate.
For that reason, now we have to reconsider present-day composition attentively in the long span. In fact, it has been a process of reexamining the "contemporary music" that has progressed from the end of the previous century. We will pick up many aspects of contemporary music thrown away as the "already-answered questions" in this procedure, inquire them again, then fortify them to catapult toward the future. After all, "Suntory Summer Festival" in the recent years, has mainly focused on the composers from the past such as Cage, Xenakis, Stockhausen, Zimmermann and so on. We are trying to get over today's "stagnant period" while unconsciously reconsidering the past.
Incidentally, Brahms was the first composer who did such work. He had musicological interests, brought much attention to Renaissance and Baroque composers, published complete works of Bach and Schubert, and then, refined the expertise into his own compositions. That attitude was quite new at that time. Though he always suffered from being labeled as a "conservative composer" during his lifetime, it was Schoenberg who vindicated him with a lecture entitled: "Brahms, the progressive" in 1933 in honor of the Brahms' centenary.
If that is the case, we should not pass a judgment hastily. While looking back to history of the Series, we have to think about the various strands of contemporary music that are upcoming or have been forming. This Series has already a lot of historical depth and is probably the most ideal material for consideration.
Hereinafter, I will survey these 30 years of history dividing into five periods.
The First Period: An Impact of Five Great Composers
I call the opening year "the First Period." This beginning was so shocking (How I went into raptures at seeing the handbill for the first time!).
Commissioned works were: Gémeaux by Takemitsu, Horos by Iannis Xenakis, Symphony IV by Isang Yun, Etcetera 2 by John Cage and Il catalogo è questo IV by Sylvano Bussotti. During only four months from October of 1986, these five composers visited Japan, gave lectures and premiered new orchestra pieces one after another.
These five composers came from different nationalities as well as different generations. The oldest was Cage (born in 1912) and the youngest was Bussotti (born in 1931). Yet they all were of the first generation after the war in the broad sense, for they started their careers influenced by postwar avant-gardes.
Not only were the new pieces premiered, by director's (Takemitsu's) idea, all of them had to select the "most influential works" (i.e. works that influenced them the most) and "favorite young composer's works" for their concerts. In case of Takemitsu, he picked Prélude à l'après-midi d'un faune by Debussy as the former, and George Benjamin's Ringed by the Flat Horizon as the latter (Benjamin was still 26 years old and almost unknown in Japan).
Many Japanese audiences paid much attention to the "young composer's pieces," no less than commissioned pieces especially in the early period, for audiences at that time sought "something new" earnestly and the information of the new generation was scarse. However that may be, the definition of "young composers" was not a strict one, since Cage selected Christian Wolff, and Xenakis selected François-Bernard Mâche as their "young composers" (it was difficult to call them young also in those days).
Although it is quite important as considering personal history of a theme composer, "influential works" have often been well known even in Japan. The first-period composer, indeed, selected masterpieces written by such composers as Debussy, Messiaen, Webern and so on. The only unique selection was made by Bussotti. He went ahead and chose Mendelssohn's Fourth Symphony. It might suggest his unique curatorship.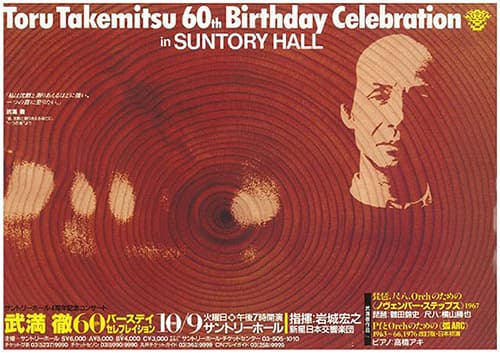 The Second Period: The Reflection of Takemitsu's Taste
From 1987 to 92, I would like to call it "the Second Period". Commissioned composers were: Wolfgang Rihm, Bernard Rands, Luigi Nono, Luis de Pablo, Lukas Foss, Rodion Shchedrin, Roger Reynolds, Arne Nordheim, Per Nørgård, José Maceda and Hans Werner Henze.
One glance was enough to tell that, in this period, it contains wider types of composers than the first period: Young Rihm, leading figures such as Nono and Henze, close friends of Takemitsu such as Rands and Reynolds, Scandinavian composers such as Nordheim and Nørgård, quite distinguished figures such as de Pablo and Maceda and so on. It is obvious that the lineup reflected Takemitsu's personal taste or connections.
Rihm was only 35 years old in 1987. Considering his age, he might as well have been invited as a "favorite young composer" of a theme composer, but he has already attracted the world attention as the standard-bearer of New Romanticism at that time, sothere is no wonder Takemitsu would decide on the commission (In 1985, the large-scale conference about New Romanticism was held in Tokyo. As Takemitsu participated in the conference almost every day, he might have come to know Rihm's music in the conference). Rihm chose Beethoven and Schumann as influenced composers and selected Lachenmann's Fassade as the frame of "young composer" (naturally Lachenmann is older than Rihm).
It's Nono's concert (1987) that culminates this period. In his commissioned work No hay caminos, hay que caminar, seven instrumental groups were situated spatially in the vineyard-type hall, then the stoic beautifulness struck audience and also gave an opportunity for rethinking about the postwar avant-garde. It was Sciarrino that Nono selected as a young composer, and after that, Sciarrino's music became known widely to Japanese audiences.
It seems to me that the programing of de Pablo (1988) was a sophisticated one: Schoenberg's Begleitungmusik zu einer Lichtspielszene, Halffter's Parafrasis, Stravinsky's Variations for orchestra and de Pablo's Senderos del Aire. On the other hand, both the concerts of Shchedrin from the Soviet Union and of Maceda (born in Philippines), whose orchestral work was conducted by the Japanese left-wing musician Yuji Takahashi, brought about a kind of political atmosphere.
The Third Period: Young Talent and Composer from The "Border"
The Third Period is from 1993 to 98 (Takemitsu died in 1996, but he had chosen the recipients of the commissions up to 1998).
Commissioned composers were: Tan Dun, Magnus Lindberg, Oliver Knussen, R. Murray Schafer, Zygmunt Krauze and Peter Sculthorpe. Among them, the first half of them were young (born in 1950's), the second half of them were known for their original styles related to their countries of origin. We can see how the concept of early time of the series was gradually changing by this period.
In Tan's Orchestral Theater II, audiences also had to incant the magic word "HO-N-MI-RA-GA-I-GO" (a rehearsal for the audiences was held just before the concert). In addition to the uniqueness of the piece, we were very impressed by the enormous energy and charm radiated by Tan himself on the stage. Lindberg's Aura is large-scale work controlled by his sensitive ears and is also blessed with a chance of repeat performances. Knussen (1994) had been chosen by Foss as his "favorite young composer" in 1988. In other words, he jumped up from a young composer to a theme composer six years later. (Both Sciarrino and Gervasoni would experience that kind of "success.")
It is also interesting to note that in this period Krause premiered his new Piano Concerto as a soloist (1996) and Sculthorpe selected Japanese old Gagaku music as the "influential work" (1998).
By the way, Stockhausen, Boulez, Reich, Ligeti and Berio had been not selected as a theme composer in spite of their world fame. Takemitsu, however, designated Ligeti and Berio as jury of "The Next Millennium Composition Prize" ("Toru Takemitsu Composition Award" at present) in the late 90's simultaneously. These two festivals might be synergetic for Takemitsu.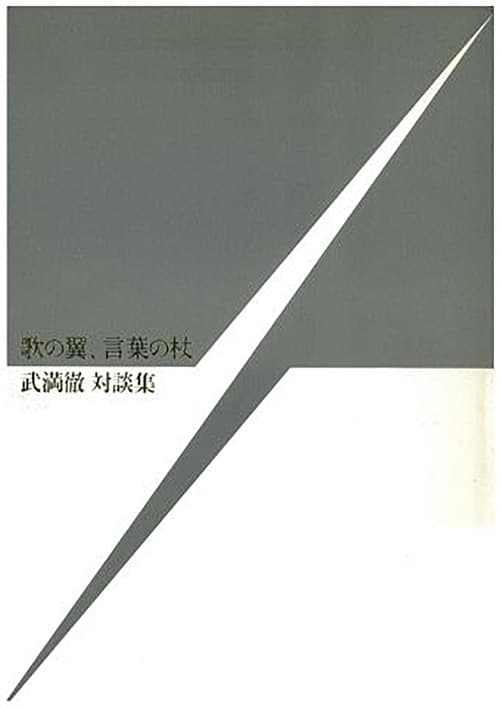 The Fourth Period: The 21st Century Has Come
After Takemitsu's death, Joji Yuasa was appointed as a director from 1999 to 2011. I'd like to name this term "the fourth period". Many composers who weren't chosen in the Takemitsu era and composers reflected Yuasa's connections were summoned one after another, so that the series was getting more colorful.
Composers in this period were: Joji Yuasa, Gilbert Amy, Doina Rotaru, Esa-Pekka Salonen (commissioned under Takemitsu's supervision, then succeeded by Yuasa), Helmut Lachenmann, Vinko Globokar, Salvatore Sciarrino, Marc-André Dalbavie, Jean-Claude Risset, Stefano Gervasoni, Unsuk Chin, Jonathan Harvey and Julian Yu. It is worthy to note that there are at last two theme composers (Gervasoni and Chin) born in the 1960's.
As a matter of fact, Gérard Grisey was supposed to be commissioned in this period. Nevertheless, his sudden death in 1998 brought the programming to a halt. It was a great pity, but his masterpiece Les espaces acoustiques had its Japanese premiere in 2008 at the "Suntory Summer Festival", that was like an echo of the Series.
The Fourth Period has, rising above unfortunate accidents, opened at many elaborate works such as Yuasa's Chronoplastic II(1999)、Amy's Concerto for Cello and Orchestra (2000), Salonen's Insomnia (2001, Salonen conducted the NHK Symphony Orchestra himself) and so on. It might be worth mentioning that, as a work of young generation, Salonen selected a Japanese female composer Karen Tanaka's Rose Absolute which traversed tonality and atonality smoothly. That was a sort of "reimport". Lachenmann was one of the major composers that weren't selected at Takemitsu era, yet since he has already taken notice in Japan a point in time (his Das Mädchenmit den Schwefelhölzern had been premiered in Japan in 2000), this selection was quite reasonable.
Since 2004, the Series was integrated into "Suntory Summer Festival" (therefore it may be called "the Fifth Period" from here). The integration looks like a reduction or a curtailment at a glance, but it is indeed an expansion because the Series is now held for two nights (an orchestral concert and a chamber music concert). It could be said that the Series became enriched.
It was Globokar that first enjoyed the benefit of this new system. His commissioned work Les Otages was highly impressive and his old Labour, Leibowitz's Concerto for Trombone and Orchestra and Vrhunc's Hologram were also stimulating. Moreover, in the chamber music concert at Blue Rose (Small Hall), he proved that he was still thriving as a performer and showed his marvelous multi-sided talent.
The same as Globokar, orchestral and chamber music concerts entirely revealed the sonic peculiarity of Sciarrino (2005) and the alert and agile sound motion of Gervasoni (2008). On the other hand, Risset, the first electronic music composer ever to be introduced by the Series, could present both acoustic orchestral and small electroacoustic music.
Harvey, selecting Wagner's Parsifal as an influential work, also showed his mystic world thoroughly in the commissioned work 80 breaths and old Body Mandala, filling the hall with smoky and bewitching aura that night.
The Fifth Period: Toward a New "International"
The series did not have a new commission in 2012, but Toshio Hosokawa, the third director, took charge of selecting old works (Xenakis's Horos, Sciarrino's Shadow of sound and Lachenmann's Schreiben), and he assumed his position as the director of the Series from 2013. The switchover from Takemitsu to Yuasa, then from Yuasa to Hosokawa is extremely suitable and understandable. In the fifth period under the supervision of Hosokawa, who knew more about the European music scene than the previous two, the meaning of the word "international" was further transformed in parallel with the development of the Internet. This period began with Toshio Hosokawa's commissioned work, In the Mist, and was followed by works by Pascal Dusapin, Heinz Holliger, Kaija Saariaho, Georg Friedrich Haas, Jörg Widmann, Michael Jarrell, and Matthias Pintscher. Of these, Wittmann and Pincher were born in the 1970s.
This period includes many composers who are also performers themselves. Holliger (2015), Widmann (2018), and Pintscher (2021) conducted as well as composed, and in addition, the first two also appeared on stage as wind players. Another significant feature was that the programming by composers now included "classical" composers such as Sibelius (Saariaho), Weber (Widmann), and Ravel (Pintscher). Haas's transformation of Mendelssohn's overture in his commissioned work "Traum in des Sommers Nacht" (2009) is a clear example of this recent trend.
Incidentally, the name of the festival changed to "Suntory Hall Summer Festival" in 2018, as the festival is now hosted by Suntory Hall. From this year, workshops for young composers have been held, and the publicity has become more pop and inventive. This series is now open to a wider audience than just contemporary music enthusiasts.
We thus have briefly looked back to the 35 years of history. This is, after all, a huge Japanese archive of contemporary music, indeed. We have to spin the future from this accumulation.
(March, 2022)