Top message
Striving to contribute to the brilliance of life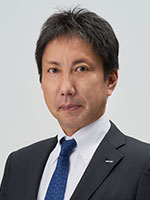 Contributing to the happiness and brilliance of humankind, our customers, through products and services of the highest quality marks the starting point for the Suntory Group.
The Suntory Global Innovation Center was established in 2013 to undertake research in core technologies for the Suntory Group.
We have made it our mission to create value for our future customers through our research.
That driving force has been the "Yatte Minahare – Go for it!" spirit that has been continuously passed down since our founding.
That intrepid spirit inherent in research premises that we must boldly tackle the unknown through research without fear of failure, or nothing new would be created.
For inspiring the brilliance of life, each and every employee strives to energetically demonstrate the "Yatte Minahare – Go for it!" spirit both in pursuit of new customer value and to excel further in the natural sciences.
Suntory Global Innovation Center Limited
Representative Director, President & CEO
Noriyuki Ando