Corporate philosophy

Our Mission --Corporate philosophy--
To create "Dream big" growth opportunity
through advanced research outputs
originated from leading edge science.
The environment we work in is constantly changing, with lifestyles, attitudes, and corporate activities undergoing ceaseless transformation. Our mission is to use our cutting-edge research findings to create new value that the world has never seen before.
Passionately devoted to our work, we strive to live out this philosophy day in and day out in the hopes that we might help make the world a better place while fostering growth within the Suntory Group.
Our Vision --Our aims--
Grow to the origination creating "culture" and "change"
as the Center of Excellence of Suntory
connecting leading edge science and customers.
Our vision is to use cutting-edge science to link Suntory to its customers, develop a fresh culture, and inspire changes that transform the world.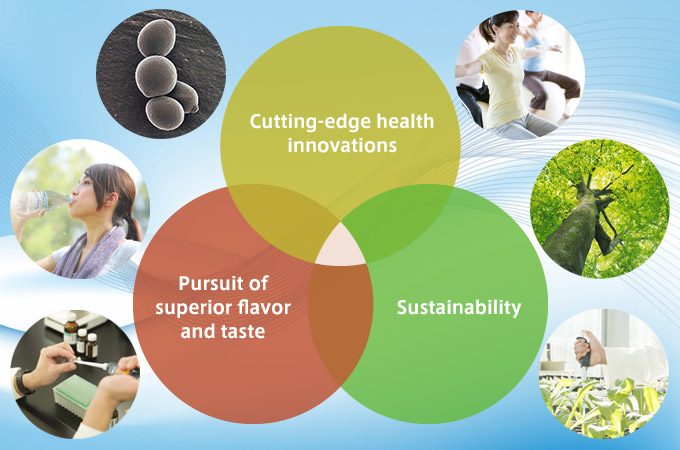 Our Value --Our cherished values--
Our Value --Our cherished values--

| | |
| --- | --- |
| Forward-thinking Consumer Insights | Mutual Respect |
| Science and Technology Insights | Communication |
| Entrepreneurship | Responsibility |
| Open Mindedness | "Yatte‐Minahare" -Go for it! |
We are a specialized research company dedicated to these eight cherished values. It is our professional responsibility to develop a thorough and accurate understanding of social currents as well as individual consumers, as this knowledge gives us the power to develop positive and workable strategies for the future. New ideas and fresh innovations demand the combined creative talents of diverse groups—different generations, different fields of expertise, different nationalities and different genders. We respect one another and value what others have to teach us, eagerly synthesizing insights from various fields. We will never stop growing, and we will never stop challenging ourselves to reach the next level. At Suntory, this is simply who we are. Yatte Minahare! Go for it!