"Mono no Aware" and Japanese Beauty
April 17 to June 16 2013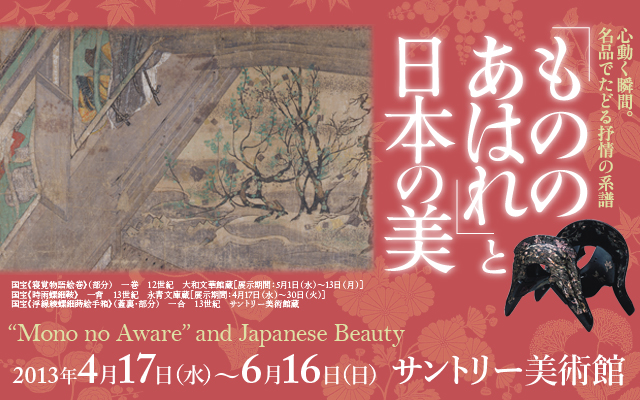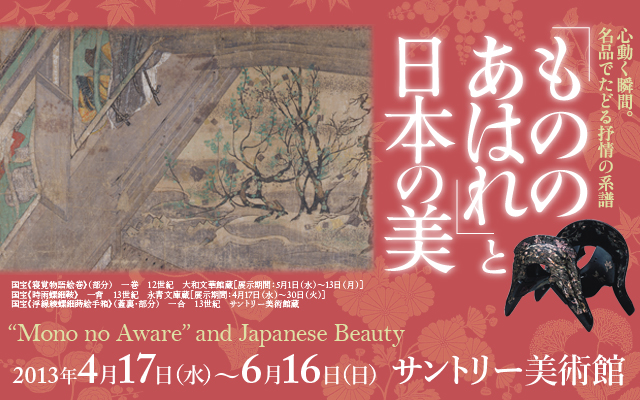 Mono no Aware signifies the deep, sensitive, exquisite feelings experienced in encountering the subtleties of human life or the changing seasons. The phrase, which has a long history in Japanese literary criticism, continues to have elegant resonances for us today.
As the Heian-period Poems Ancient and Modern and The Tale of Genji tell us, the Japanese have long spun the beauties of nature and the joys and sorrows of human life into poems and tales. The diaries, poems, and narrative works created by aristocrats at the Heian imperial court reveal their love of the cherry blossoms of spring, the foliage and grasses of autumn, the calls of the uguisu and hototogisu, birds that herald the arrival of spring and summer, the moon gleaming in the night sky: archetypical natural phenomena invoking the beauties of nature in Japan and its seasonal transitions.
Chosen as the subject matter for paintings and designs for craft objects, these iconic seasonal markers have been rendered, with ever-greater refinement, in many styles and media. This exhibition focuses on the aesthetic grounded in mono no aware, in an empathetic response to the beauty and transience of existence, in illustrated narrative scrolls with aristocrats as their protagonists and in poems on nature, with such classic subjects as snow, the moon, and flowers or the beauties of nature (birds and flowers, the wonders of nature). From that starting point, it explores continuity and change in those aspects of the world of art, from the Heian period to the present.
This exhibition is an opportunity for a clearer understanding of mono no aware, a core concept in Japanese aesthetics, across many creative areas ― literature, painting, craft arts ― and for a deep appreciation of the elegance of the richly lyrical world of art that has resulted.
Period

April 17 to June 16 2013

Hours

10:00-18:00 Friday and Saturday 10:00-20:00

*Last admission: 30 minutes before closing.
*Closes at 20:00 on April 28th, May 2nd, and May 5th.
*Hours subject to change.

Closed

Tuesdays

Open on April 30th

Admission

Adult
General
¥

1300

Advance
¥

1100

University and
High School Student
General
¥

1000

Advance
¥

800

Elementary, Junior-High school students and under are free.
*A group discount applies for a party of 20 or more.
*With a certificate of disability, the admission fee of a disabled person and a care-giver will be waived.

Audio Guide

¥500
*Unauthorized reproduction or use of texts or images from this site is prohibited.