Koyasan 1200th Anniversary
Treasures of the Sacred Mountain
October 11 to December 7 2014
*There will be an exhibition change during the course of exhibition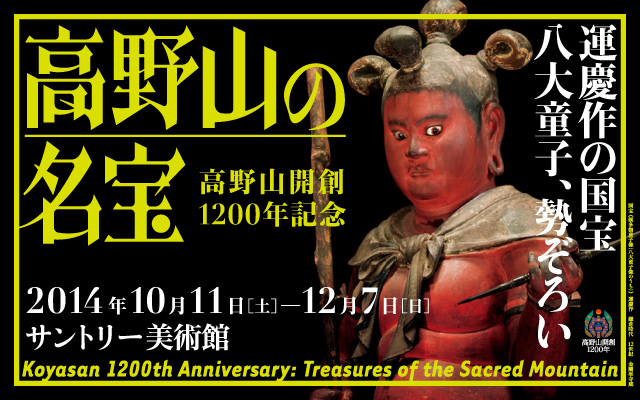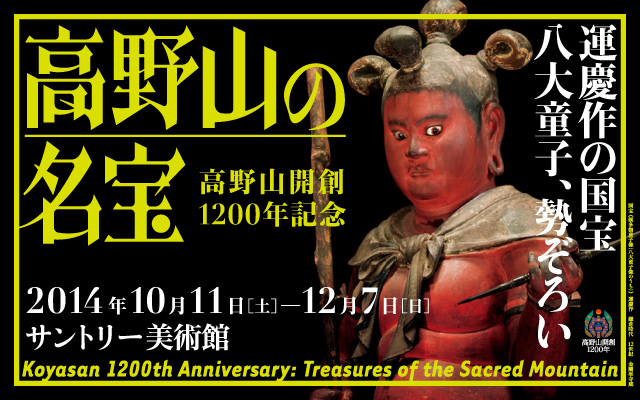 The monk Kukai founded a Shingon esoteric Buddhist monastic training center on Mt. Koya in 816. Over 1200 years, Mt. Koya has remained sacred ground for Buddhism in Japan while one of the most remarkable collections of treasures of Buddhist art has been assembled atop the mountain. This exhibition offers an opportunity to see rare works from that mountaintop, including implements for rituals and script associated with Kukai , Buddhist paintings based on the doctrines of Shingon esoteric Buddhism, and Keiha school Buddhist sculptures, including the Standing Statues of Eight Attendants of Fudo Myoo. This exhibition is a not-to-be-missed opportunity to experience the essence of this aspect of Japanese culture, nurtured spirit of Kukai and over the centuries at Mt. Koya.
Period

October 11 to December 7 2014

*There will be an exhibition change during the course of exhibition

Hours

10:00-18:00 Friday and Saturday 10:00-20:00

*Last admission: 30 minutes before closing.
*Open until 20:00 on October 12th, November 2nd, November 23rd
*Hours subject to change.

Closed

Tuesdays

Admission

Adult
General
¥

1300

Advance
¥

1100

University and
High School Student
General
¥

1000

Advance
¥

800

Elementary, Junior-High school students and under are free.
*A group discount applies for a party of 20 or more.
*With a certificate of disability, the admission fee of a disabled person and a care-giver will be waived.

Audio Guide

¥500
*Unauthorized reproduction or use of texts or images from this site is prohibited.