Section 1
Ninnami's Father, Takahashi Dohachi Ⅰ
Ninnami Dohachi was born in 1783. He was the second son of Takahashi Dohachi I, a potter based in Awataguchi in Kyoto. His given name was Mitsutoki; at the death of his father in 1804, he became Takahashi DohachiⅡ. He studied pottery making with the Unrinin Hozan family, long famous for its Kyoto Awataguchi ceramics. He also studied with Okuda Eisen, a pioneer in the production of Kyoyaki porcelains, whose forte was Chinese style porcelains. But by far the greatest influence on him was the instruction in pottery making he received from his father, Takahashi DohachiⅠ,who had given up his status as an Ise-kameyama domain retainer to become a potter in Awataguchi. In Section 1,we present works that show the kind of pottery Takahashi DohachiⅠcreated.
The early nineteenth century, when Ninnami Dohachi was active, was a second golden age for Kyoyaki ceramics, which had first flourished in the era of Ninsei and Kenzan. This section also exhibits works by some of the many other notable potters that period produced, including Ninnami`s younger brother Ogata Shuhei and Aoki Mokubei, who was one of Ninnami`s fellow apprentices when he studied with Okuda Eisen.
Section 2
Ninnami`s Tea Ceremony Wares and Utsushi
From the days of Nonomura Ninsei, Kyoyaki potters have made effective use of techniques and designs from Chinese and Korean ceramics and excelled at creating superd utsushi, "copies with a difference." In the nineteenth century, as the tea ceremony spread more widely and became an essential training for social interaction among important priests, government ministers, members of the warrior class, and prominent businessmen, demand for tea ceremony wares increased. To meet that demand, Kyoyaki potters were commissioned to produce utsushi, creative copies of esteemed wares associated with the tea ceremony. To potters producing Kyoto ceramics, the ability to exercise the art of copying to create utsushi of prestigious tea ceremony wares became an important key to success. Ninnami was no exception. He left us many outstanding examples of utsushi.
Section 2 presents numerous examples of Ninnami Dohachi`s distinctive tea ceremony wares, including several utsushi.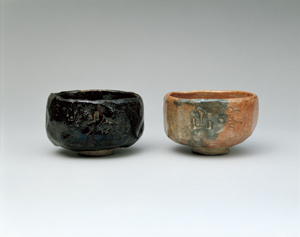 Section 3
Ninnami`s Sencha Tea Wares
From the late eighteenth through the nineteenth century, sencha or green tea(in contrast to the matcha or powdered tea served in the classic tea ceremony)became popular among literati(scholars and poets, regardless of their status or occupation).Responding to growing demand for sencha wares, Ninnami Dohachi produced many teapots, braziers, and tea bowls.
Section 3 introduces these sencha wares.As Dohachi tea wares became well-known and, in effect, a popular brand, pottery centers in other regions began producing imitations.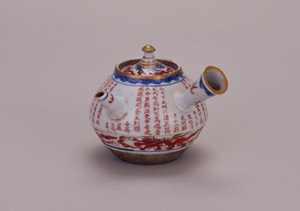 Section 4
Ninnami Bowls, Kaiseki Masterpieces
One category of tea ware is the implements used to serve the kaiseki meal that proceeds a formal tea function. Ninnami`s bowls for serving kaiseki cuisine are powerful demonstrations of his originality.Among the many famous examples that survive, two of particular note are a bowl with handle(tebachi) decorated with a snow and bamboo design and depicting snow falling on bamboo and an unkinde(cherry blossom and maple leaf design)bowl in which cherry blossom and autumn maple leaf motifs each cover half of the bowl.
Section 4 draws particular attention to these two pieces but also offers many other examples of Ninnami`s bowls bringing their gorgeous brilliance to the service of kaiseki meals.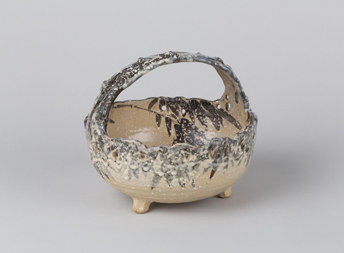 Section 5
Sculptural forms: Ornamental Objets, Hand Warmers, Hearth Covers
Among the tea ceremony wares that demonstrate Ninnami`s penetrating insight and powers of observation, his objets, hand warmers and hearth covers vividly exemplify the humor that he brought to sculptural forms.
At times he even used the bottoms of ornamental figures to depict lively patterns that would be concealed when the piece was put down. His hand warmers in the shape of animals that look warm to the touch, and covers for hearth in the tea ceremony room are immensely appealing.
Section 5 presents these sculptural forms from Ninnami`s oeuvre.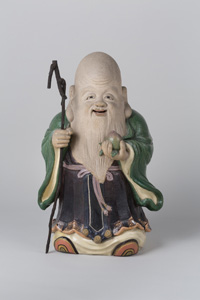 Section 6
Instructor to other Aristocratic Amateurs
While Ninnami Dohachi continued to operate his own kiln on Kiyomizu-Gojozaka, he was frequently invited to other parts of Japan to instruct aristocratic amateurs who pursued pottery making as a hobby. Two notable examples are the Kishu Kairakuen-yaki kiln(at a Kishu Tokugawa villa in what is now Wakayama Prefecture), in whose creation he participated in 1827 at the invitation of Tokugawa Harutomi,lord of the Kishu-Wakayama domain,and the Sangama kiln, which he created in what is now Kagawa Prefecture at the invitation of Matsudaira Yorihiro, lord of the Sanuki-Takamatsu domain, in 1832.Legend says that he was also involved in running the Ippodo-yaki, the private kiln of Suminokura Genmei, a wealthy merchant who lived in the Sagano neighborhood of Kyoto.
Section 6 presents wares from the Kishu Kairakuen-yaki, Sangama, and Ippodo-yaki kilns, with which Ninnami is believe to have collaborated.
Section 7
The Start of a New Era
In 1842, Ninnami handed over the Kiyomizu-Gojozaka kiln to his son Takahashi Dohachi Ⅲ(1811-1879).After retiring to the Fushimi-Momoyama area of Kyoto, he built and operated his own Momoyama kiln, where he worked until his death in 1855.
Takahashi Dohachi Ⅲ,an excellent, sensitive potter, carried on the style created by Ninnami and, with his son Takahashi Dohachi Ⅳ,were major figures in Kyoyaki production during the Meiji era.
Today, Takahashi Dohachi Ⅸ continues the family tradition, producing vividly colored Kyoyaki tea ceremony wares.
Section 7 includes works by Takahashi Dohachi Ⅲ and his successors. Here you can experience works that embody the Dohachi spirit: We do more than learn the styles of our predecessors. We always create our own worlds in tune with our times.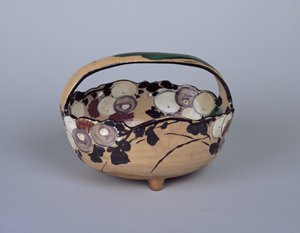 *Unauthorized reproduction or use of texts or images from this site is prohibited.